Achieves tactical-grade performance with the smallest and lightest package in its class
(Cary, NC - Aug. 13, 2013) - LORD Corporation MicroStrain® Sensing Systems - a global leader in developing embedded sensing systems for aerospace and industrial markets - has introduced its new tactical grade GPS-Aided Inertial Navigation System (GPS/INS): 3DM-RQ1™ -45.

Designed to meet DO-160, the 3DM-RQ1™ -45 provides cost-effective ruggedized airborne navigation with 5°/hour gyro bias stability. Additionally, the innovative MEMS architecture achieves tactical-grade performance with the smallest and lightest package in its class.
The new 3DM-RQ1™ -45 GPS/INS is built on the MIP™ protocol, LORD MicroStrain's standard inertial data architecture. With MIP™ users access a robust communication standard that ensures efficient long-term development, maximum versatility, and full forward compatibility.
"The 3DM-RQ1™ -45's unique combination of performance, size and affordability makes it ideal for primary and/or secondary navigation systems, platform stabilization, antenna pointing, or unmanned systems," said Michael Robinson, Manager, Sensing Systems Sales for LORD MicroStrain. "High-performance MEMS combined with rigorous calibration and sophisticated onboard estimation filtering allows LORD MicroStrain to offer tactical capabilities to markets that demand precision, but are sensitive to additional weight and integration costs. The new 3DM-RQ1™ -45 achieves airborne ruggedness in a miniature package that is 23mm tall and weighs only 205 grams. We look forward to working with customers to implement this flexible sensing solution at leading edge of unmanned applications."
About LORD MicroStrain
LORD MicroStrain Sensing Systems is a value stream of LORD Corporation. LORD MicroStrain's range of sensing solutions includes inertial measurement systems, micro-displacement transducers, wireless sensor networks and energy harvesting technologies. Solutions range from rapidly deployed test and measurement to long-term embedded health monitoring. Applications include structural health monitoring, condition-based maintenance, navigation and control, environmental monitoring, and rotating component health. Recognized as a leader in the sensor industry, LORD MicroStrain has received numerous product innovation awards. Visit http://www.microstrain.com for additional information.
About LORD Corporation
With global reach and extensive technical capabilities, LORD has the ability to work on complex formulations, balancing contradictory property and process requirements to deliver the solutions that meet customer and market demands. LORD builds on its more than 85 year history with a track record of successful long-term partnerships with technology leaders in industries ranging from aerospace to automotive, electronics to industrial heavy equipment.  
Founded in 1924, LORD Corporation is a privately-held company that designs, manufactures and markets mechanical devices and electromechanical systems to control vibration, motion and noise; formulates, produces and sells general purpose and specialty adhesives, coatings and electronic materials; and develops products and systems utilizing magnetically responsive technologies. With global headquarters in Cary, N.C., and sales in excess of $860MM, LORD has manufacturing facilities in eight countries and more than 90 sales and support centers. LORD Corporation employs more than 2,900 worldwide. Visit www.lord.com for more information.
Featured Product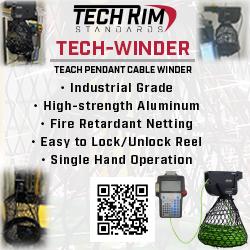 Tech-Winder is a robust solution for industrial cord management. Aluminum body, for hard impact protection. Flame retardant netting, for added protection against any sparks that may land on the cord. This industrial grade cord reel keeps your pendant cords protected and organized. Stores up to 50 meters (164 ft.) of cable in length with a diameter of 4.5 mm to 10.0 mm. Adapts to NAAMS or Modular Fencing when mounting. Help prevent your next $1,200 factory cable incident, by getting organized with Tech-Winder from Tech Rim Standards.