Features a series of hollow-shaft angle sensors with very good price/performance
Southborough, MA - Novotechnik U.S. announces the WAL300 Series of hollow-shaft angle sensors, made by our affiliate Contelec, that combines high resolution of <0.3° with low cost of $22 in quantities of 1,000.

Housing diameter is 32 mm, and WAL300 Series is available with 6 or 8 mm D shaped hollow-shaft as well as 3/8 inch round bore with set screw. Housing height is 10 mm. Repeatability is 0.3° and operating temperature range is -25 to +75°C. Electrical travel is 0 to 340° with continuous mechanical travel.
WAL300 Series sensors' life is 4 million movements. The sensors are specified to operate when exposed to up to 50 g shock and 10 g vibration and shaft loading of
up to 1 N.
Flat tabs are integrated into the housing for easy mounting. Applications WAL300 Series sensors are found in include robotics, door controls and automotive including convertible roofs and automatic tailgates of cars.
For more information on the WAL300 Series and Novotechnik's complete range of
sensors contact Novotechnik U.S., Inc. • Phone: 508-485-2244 · email: info@novotechnik.com · Web: www.novotechnik.com/wal300
Featured Product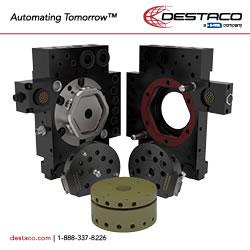 The Accelerate Collection is a range of products designed to help stamping press operators speed up their production lines with higher efficiencies. Working with our customers helped to bring innovative new products to the market, which in turn helps them produce more stamped parts per hour, while reducing moment forces and overall system wear and tear. Accelerate Collection products include Lightweight Tooling, Polyurethane Vacuum Cups, Sheet Metal Grippers, Plastic Proximity Switch Mounts, and new Digital Solutions.