Morgan Advanced Materials (MGAM) announces its extensive range of ceramic capacitors for high voltage DC and AC and high power radio frequency (RF) applications.
MGAM's line of high voltage ceramic capacitors includes high voltage encapsulated discs, live line capacitors, and voltage multiplier assemblies, as well as pulse power capacitors. They are ideal for laser power supplies, medical power supplies and electrical distribution, as well as high voltage electrostatic applications and powerline coupling.

RF high voltage ceramic capacitors, including disc/plate, feedthrough, tubular/shell, pot and barrel/doorknob capacitors, are widely used in medical MRI systems and semiconductor processing equipment, as well as numerous other telecommunications and industrial applications.
Renowned for its high dielectric materials, the Technical Ceramics business has extensive material and engineering expertise, which allows the company to produce experimental and prototype components in addition to the standard range of products.
Working with customers throughout the design, prototype, and commercialization process, our applications engineers use their design expertise and specialist manufacturing capabilities to assist and advise customers seeking new solutions to problems involving dielectric materials and components.
For more information about ceramic capacitors please visit:
About Morgan Advanced Materials
Morgan Advanced Materials is a global materials engineering company which designs and manufactures a wide range of high specification products with extraordinary properties, across multiple sectors and geographies.
From an extensive range of advanced materials we produce components, assemblies and systems that deliver significantly enhanced performance for our customers' products and processes. Our engineered solutions are produced to very high tolerances and many are designed for use in extreme environments.
The Company thrives on breakthrough innovation. Our materials scientists and applications engineers work in close collaboration with customers to create outstanding, highly differentiated products that perform more efficiently, more reliably and for longer.
Technical Ceramics is a business of Morgan Advanced Materials, which has more than 9,000 employees across 50 countries serving specialist markets in the energy, transport, healthcare, electronics, security and defence, petrochemical and industrial sectors. Morgan Advanced Materials (MGAM) is listed on the London Stock Exchange in the engineering sector.
Featured Product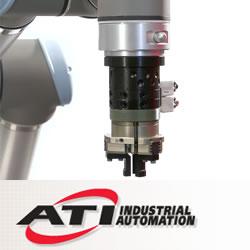 ATI Industrial Automation's MC-10 Manual Tool Changer provides a cost-effective solution for quickly changing tools by hand. Its compact yet robust design is optimized for collaborative robot applications. The ergonomic twist-collar locking mechanism ensures a secure attachment of the tool and easy manual operation with tactile feedback. This Manual Tool Changer can carry payloads of up to 22 lbs and includes multiple fail-safe features that resist vibration and prevent loosening. The MC-10 Manual Tool Changer has integrated air pass-through connections and options to connect electrical utilities if needed. ATI will feature the new MC-10 along with a variety of other robotic demonstrations and product displays at this year's IMTS show in Chicago (Booth #236417).