We are proud to announce that CSF Robotics becomes a Robotmaster reseller for Australia and the Asia Pacific region.
Montreal (QC) - Jabez Technologies is pleased to announce that CSF Robotics has become a reseller for Robotmaster. Based in Melbourne Australia, CSF Robotics will supply and implement Robotmaster software for end-users who already have existing equipment as well as providing a complete turn-key (hardware and software) solution with their integrated robotics manufacturing cells.

"One of the reasons we developed Robotmaster was to provide robot integrators easy programming tools, required for short-batch manufacturing, helping them to enter into these emerging markets. We are pleased to be working with a partner like CSF Robotics with their extensive experience and proven track record, in a wide variety of industries and robotic applications," says Chahe Bakmazjian, president of Jabez Technologies.
"Robotmaster is a revolutionary approach to robot programming, providing the most advanced technologies to achieve precise tool motion control for both tool-on-robot and part-on-robot applications. In conjunction with the powerful off-line programming tools of Robotmaster, we can take our customer's automation systems to the next level," adds Steph Gooden of CSF Robotics
About CSF Robotics
CSF Robotics are an Australian robotic engineering company, based in Melbourne, and are leading robotic integrators within Australia and the Asia Pacific region.  CSF Robotics specialises in custom robotic automation, surface finishing, machining and high-end materials processing.  CSF provides turn-key automation solutions to a wide variety of industries and robotic applications including:  Trimming, cutting, machining, de-burring, fettling, welding, linishing, polishing, buffing, assembly, packaging, quality assurance and much more.  CSF also specialises in multi-process robotic integration and have developed engineering innovations such as compliant robotic tooling, unique robot grippers, and the integration of vision and part recognition with complex processing.  CSF provides equipment and systems from initial process concept through to on-site testing, validation and after-sales support.
About Intercam SA
Robotmaster is distributed in Europe, South East Asia and China by Intercam SA. Pioneers in CAD/CAM software distribution since 1991, Intercam's current focus is the development of the robotic software market through Robotmaster.
About Robotmaster
Robotmaster seamlessly integrates CAD/CAM based robot programming, simulation and program generation. Common robot programming challenges typically require intricate user intervention or costly manual editing for producing error free programs. Robotmaster provides innovative new tools to effortlessly optimize robot programs producing error-free robot paths avoiding singularity zones and collisions, working around joint and reach limitations and optimizing tool orientations along the entire trajectory. Robotmaster is ideally suited to program robots for such tasks as trimming, 3D machining, de-burring, polishing, welding, dispensing, grinding and painting, and supports most industrial robot models.
About Jabez Technologies
Robotmaster is a product of Jabez Technologies, specialized in dedicated software solutions for industrial automation, manufacturing and robotics since 1996. For more information please visit our web page http://www.robotmaster.com or email us at info@robotmaster.com
Featured Product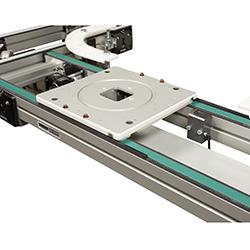 Dorner's 2200 Series Precision Move Pallet Systems are ideal for assembly automation. With features such as an innovative timing belt conveyor design and industry best pallet transfers, they get your product to the exact location, at the exact time and in the exact position it needs to be. They are now available with new options such as heavy load corner modules with 150 lb. capacity and 180 degree tight transfer corners for compact loops.