SoftBank, Alibaba and Foxconn cooperate to spread global adoption of robotics
TOKYO--(BUSINESS WIRE)-- SoftBank Corp. ("SoftBank"), Alibaba Group Holding Limited ("Alibaba") and Foxconn Technology Group ("Foxconn") today announced an agreement under which Alibaba and Foxconn will each invest JPY 14.5 billion in SoftBank Robotics Holdings Corp. ("SBRH"), the SoftBank Groups intermediate holding company responsible for its robotics business. Under the agreement, upon the completion of the investment by Alibaba and Foxconn, SoftBanks SBRH share ownership ratio will become 60%, and Alibaba and Foxconn will each hold ownership stakes of 20%.

SoftBank, Alibaba and Foxconn will build a structure to bring Pepper and other robotics businesses to global markets, and cooperate with the aim of spreading and developing the robotics industry on a worldwide scale.
Masayoshi Son, Chairman & CEO of SoftBank, said, "Since foundation, we have followed our corporate philosophy of 'Information Revolution - Happiness for everyone. I am very excited that we will partner with Alibaba and Foxconn, and challenge to go global with our robotics business, including Pepper, as a first step to realize our vision. To bring more smiles to people around the world, we will aim to be the No.1 robotics company."
Jack Ma, Alibaba Group Founder and Executive Chairman, said, "As we enter the data technology era, robotics will become a critical field that catalyzes technological breakthroughs in numerous sectors such as healthcare, public services, research and at home. Our partnership with SoftBank and Foxconn combines the best hardware and software talent in the industry to pave the way for robotics research and development. We are delighted to play an active role in the emerging field of robotics, that with cutting-edge technology and transformative products and services, can positively impact millions of lives."
Terry Gou, Founder and CEO of Foxconn Technology Group, said, "Foxconn is pleased to be partnering with SoftBank and Alibaba as part of our effort to drive the advancement of robotics engineering. This is a strategic area of focus for our company as we continue to advance our capabilities in intelligent manufacturing and realize our Industry 4.0 vision." He added, "As a leading global technology company, Foxconn is committed to investing in innovation that enables us to deliver cutting-edge solutions to our customers and that supports our goal of leveraging technology to bring greater convenience to the lives of consumers around the world."
About SoftBank
SoftBank Corp. (TOKYO: 9984), through its subsidiaries and associates, offers a comprehensive range of advanced mobile communications, fixed-line communications and Internet services around the world. With Sprint joining in July 2013, the SoftBank Group became a leading global carrier that now has over 100 million subscribers. Maximizing synergies across its Group companies worldwide, SoftBank aspires to realize lifestyle innovation through IT. SoftBank is also encouraging the adoption of clean and safe energy through its business activities. To learn more, please visit http://www.softbank.jp/en/corp/
About SoftBank Robotics Holdings
SoftBank Robotics Holding Corp. is the SoftBank Groups intermediate holding company responsible for its robotics business. Guided by the SoftBank Groups corporate philosophy, "Information Revolution - Happiness for everyone," companies belonging to SoftBank Robotics Holdings develop robots and offers robot-related products and services, including "Pepper".
About Alibaba Group
Alibaba Groups mission is to make it easy to do business anywhere. The company is the largest online and mobile commerce company in the world in terms of gross merchandise volume. Founded in 1999, the company provides the fundamental technology infrastructure and marketing reach to help businesses leverage the power of the Internet to establish an online presence and conduct commerce with hundreds of millions of consumers and other businesses.
Alibaba Groups major businesses include:
Alibaba Groups major businesses include:
Taobao Marketplace (www.taobao.com), China's largest online shopping destination
Tmall.com (www.tmall.com), Chinas largest third-party platform for brands and retailers
Juhuasuan (www.juhuasuan.com), Chinas most popular online group buying marketplace
Alitrip (www.alitrip.com), a leading online travel booking platform
AliExpress (www.aliexpress.com), a global online marketplace for consumers to buy directly from China
Alibaba.com (www.alibaba.com), Chinas largest global online wholesale platform for small businesses
1688.com (www.1688.com), a leading online wholesale marketplace in China
Aliyun (www.aliyun.com), a provider of cloud computing services to businesses and entrepreneurs
About Foxconn
Established in 1974, Foxconn Technology Group ("Foxconn"), under the leadership of Founder and CEO Terry Gou, offers the most competitive production manufacturing technology in the world. A recognized global industry leader, Foxconn created the 3C OEM service business model, eCMMS, incorporating vertical integration of mechanical, optical and electronic components. Foxconn offers many of the worlds leading companies a one-stop integrated manufacturing solution. Foxconn has in recent years expanded into technology services, providing customers the most comprehensive solutions for their technology and manufacturing needs. In addition to maximizing value creation for customers, Foxconn is also dedicated to enhancing the concept of environmental protection in the manufacturing process. In addition to being a trusted partner for its customers, Foxconn is working to be a best-practices model for global enterprises.
Featured Product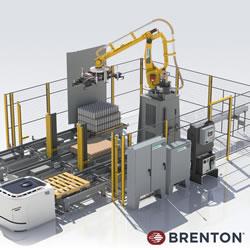 Brenton is a leader in robotic solutions with standard product offerings including palletizing and depalletizing for efficient an option for carrying hard-to-handle products, as well as larger scale systems with an optimized footprint; and case and carton loading solutions for numerous industries. In addition, Brenton works with customers on integrated solutions, offering robotics in a broad spectrum of robotics to fully integrate end of line systems. Brenton helps packaging customers protect their reputation and grow the trust of their consumers.