Investment to Capture Growing Demand for Complex, High-Performance Parts for Aerospace and Beyond
* $60 million expansion to include state-of-the-art additive manufacturing center focused on feedstock materials, processes, product design and qualification

* Investment advances development of proprietary metal powders engineered specifically for 3D printing
* Company unveils Ampliforge process, an Alcoa-invented technique combining additive and traditional manufacturing for enhanced properties
* Builds on over 100 years of metal powder production history and 20 years of additive manufacturing expertise with capabilities in California, Georgia, Michigan, Pennsylvania and Texas
NEW YORK & PITTSBURGH--Lightweight metals leader Alcoa (NYSE:AA) is expanding its R&D center in Pennsylvania to accelerate the development of advanced 3D-printing materials and processes. Alcoa will produce materials designed specifically for a range of additive technologies to meet increasing demand for complex, high-performance 3D-printed parts for aerospace and other high-growth markets such as automotive, medical and building and construction. The $60 million expansion is under construction at the Alcoa Technical Center, the worlds largest light metals research center near Pittsburgh, Pennsylvania.
"Alcoa is investing in the next generation of 3D printing for aerospace and beyond," said Alcoa Chairman and Chief Executive Officer Klaus Kleinfeld. "Combining our expertise in metal alloys, manufacturing, design and product qualification, we will push beyond the limits of todays additive manufacturing. This investment strengthens our leadership position in meeting fast-growing demand for aerospace components made using additive technologies."
Demonstrating this integrated strategy, the Company today unveiled its Ampliforge process, a technique combining advanced materials, designs and additive and traditional manufacturing processes. Using the Ampliforge process, Alcoa designs and 3D-prints a near complete part, then treats it using a traditional manufacturing process, such as forging. The Company has shown that the process can enhance the properties of 3D-printed parts, such as increasing toughness and strength, versus parts made solely by additive manufacturing. Further, the Ampliforge process significantly reduces material input and simplifies production relative to traditional forging processes. Alcoa is piloting the technique in Pittsburgh and Cleveland.
The Companys comprehensive approach to advancing additive manufacturing includes:
Materials Leadership: Alcoas material scientists will produce proprietary aluminum, titanium and nickel powders designed specifically for 3D-printing. These powders will be tailored for various additive manufacturing processes to produce higher strength 3D-printed parts, and meet other quality and performance requirements. Alcoa has a long history in metal alloy and powder development, having invented over 90 percent of the aluminum alloys used in aerospace today and with a 100-year history in aluminum metal powder development for rocket fuel, paint and other products.
Combination of Process and Design: Alcoa will further its development of advanced 3D-printing design and manufacturing techniques—such as Alcoas Ampliforge™ process—to improve production speeds, reduce costs, and achieve geometries not possible through traditional methods. Direct production of 3D-printed metal parts represents a new way to manufacture aerospace components and requires a new suite of innovative design tools to realize its full potential. By connecting our materials scientists with our manufacturing experts, we enable a rapid development feedback loop to inform new software tools and processes that take full advantage of additive capabilities.
Qualification Expertise: With the industrys longest-running history of certifying aerospace components and qualifying processes, Alcoa will use its testing and process control expertise to overcome challenges with certifying new 3D-printed parts, starting with aerospace applications.
This expansion of the Alcoa Technical Center builds on Alcoas additive manufacturing capabilities in California, Georgia, Michigan, Pennsylvania and Texas. The Company has been creating 3D-printed tools, molds and prototypes for the past 20 years and owns and operates one of the worlds largest HIP (Hot Isostatic Pressing) complexes in aerospace, a technology that strengthens the metallic structures of traditional and additive manufactured parts made of titanium and nickel based super-alloys. Through the recent RTI acquisition, Alcoa gained 3D printing capabilities in titanium, other specialty metals and plastics for the aerospace, oil and gas and medical markets. This expansion positions Alcoa to industrialize its advanced 3D printing capabilities across these and other manufacturing facilities.
Construction of the new facility is expected to be completed in the first quarter of 2016. The project will create more than 100 full-time positions—including materials specialists, design experts, and process and inspection technologists—by 2017 and approximately 45 temporary jobs during construction.
The Pennsylvania Department of Community & Economic Development, Westmoreland County, Upper Burrell Township and Burrell School District have agreed to support the project through a mixture of financial support and tax abatements, resulting in an estimated cost savings of up to $10 million.
About Additive Manufacturing
Additive manufacturing refers to the production of three-dimensional products by depositing one layer of material—such as metals and plastics—on top of another layer, based on a digital model. The process can help increase productivity, help customers bring products to market faster and enable the creation of complex designs not possible using traditional materials and processes.
About Alcoa
A global leader in lightweight metals technology, engineering and manufacturing, Alcoa innovates multi-material solutions that advance our world. Our technologies enhance transportation, from automotive and commercial transport to air and space travel, and improve industrial and consumer electronics products. We enable smart buildings, sustainable food and beverage packaging, high-performance defense vehicles across air, land and sea, deeper oil and gas drilling and more efficient power generation. We pioneered the aluminum industry over 125 years ago, and today, our more than 60,000 people in 30 countries deliver value-add products made of titanium, nickel and aluminum, and produce best-in-class bauxite, alumina and primary aluminum products. For more information, visit www.alcoa.com, follow @Alcoa on Twitter atwww.twitter.com/Alcoa and follow us on Facebook at www.facebook.com/Alcoa.
Featured Product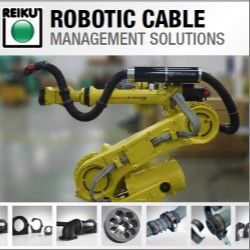 REIKU's Cable Saver™ Solution eliminates downtime, loss of revenue, expensive cable and hose replacement costs, maintenance labour costs. It's available in three sizes 36, 52 and 70 mm. All of the robots cables and hoses are protected when routed through the Cable Saver™ corrugated tubing. The Cable Saver™ uses a spring retraction system housed inside the Energy Tube™ to keep this service loop out of harms way in safe location at the rear of the Robot when not required. The Cable Saver™ is a COMPLETE solution for any make or model of robot. It installs quickly-on either side of the robot and has been tested to resist over 15 million repetitive cycles.