Attendees learn powerful best practices on how to best deal with scheduling issues, job costing, and implementing lean at Chicago-based event
BOSTON--Exact, a global frontrunner in business software in the cloud for small- and medium-sized businesses, today announced that Dave Lechleitner, Product Marketing Principal for Exact, US Cloud Solutions and Chair of the Software Technology Council for the Fabricators and Manufacturers Association (FMA), will share his expertise with fabricators through a series of workshops at FABTECH 2015. FABTECH is the largest trade show in the U.S. devoted specifically to fabricators and their related industries. This years event is taking place November 9-12, 2015 at McCormick Place in Chicago, Illinois. The event provides a convenient venue for fabricators and others in the manufacturing supply chain to see the latest industry products and developments as well as learn ways to leverage new technology and new tools to improve productivity and increase profits. Lechleitner is leading three sessions this year:

Maximizing Your ERP Scheduling Tools
Monday, November 9, 2015: 8:00-10:00 a.m.
Room: S401D
Leading ERP vendors will discuss scheduling issues and present a successful case study. Ample time will be provided for a Q&A pertaining to scheduling and ERP software in general.
Activity Based Costing for Job Shops - It's as Easy as A-B-C
Monday, November 9, 2015: 1:30-3:30 p.m.
Room: S503A
Understanding the true cost and conducting a thorough financial analysis of orders can seem overwhelming at times. This presentation will help attendees break down the process to fully understand the cost lifecycle of orders from quote to shipping - including analyzing true profitability using activity based costing.
Improving Flow Through Practical Lean Technologies & Tools
Wednesday, November 11, 2015: 8:00-10:00 a.m.
Room: S403B
During this session, attendees will learn how to do a basic SWOT analysis to determine core competency; determine what steps are required to prepare for a successful lean journey; see a practical demo of how a Flow Assessment Tool can help visualize different routings of parts produced in a high mix, low volume shop; leverage information gathered from the Flow Assessment Tool to streamline material flow, complete orders faster, and increase shop floor productivity.
In addition to time during the specific workshop sessions, Lechleitner will be available to answer questions or provide product information about Exact Online for Manufacturing on the exhibition floor in booth C917 immediately after the workshops.
About Exact
Vigorous business software. Thats what Exact builds. For more than 250,000 businesses around the world. For entrepreneurial doers who dare and, if they fall, always get up again. Exact breathes that same spirit. Thirty years ago a garage start-up by six students, now a global company, employing 1,550 people in 15 countries with revenues of €188 million in 2014.
With Exact, businesses can quickly respond to shifting market conditions and grasp opportunities with both hands when they arise. Our business software enables customers to focus on their next goal, and look ahead to the next challenge. For further information about Exact, visit http://www.exactonline.com.
Featured Product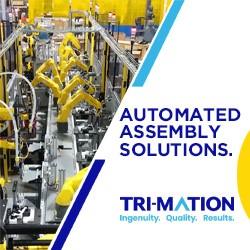 Tri-Mation reduces labor costs, improves accuracy, and production speed. Our integrators specialize in building automated assembly manufacturing systems for part production in any required volume or level of complexity.