Global distributor Mouser Electronics will continue its popular Empowering Innovation Together(TM) Program with celebrity engineer Grant Imahara in 2016. To learn more about the exciting topics, visit www.mouser.com/empowering-innovation. (Graphic: Business Wire)
DALLAS & FORT WORTH, Texas--(BUSINESS WIRE)--Mouser Electronics, the global authorized distributor with the newest semiconductors and electronic components, announced today that it is continuing its groundbreaking Empowering Innovation Together™ program in 2016 with celebrity engineer and longtime Mouser customer Grant Imahara.

Mouser Electronics and Grant Imahara Announce Another Exciting Year of Empowering Innovation
Tweet this
The 2016 Empowering Innovation Together program will create exclusive webisodes that feature unique content and highlight innovative engineers and visionaries from around the world. Similar to the videos launched in 2015, these new video episodes will feature the newest products and technical expertise to help engineers speed their time to market — another way that Mouser connects to engineers through the innovation and creativity that defines engineering design.
Mouser will invite the engineering community on a journey to embrace technology and spur innovation through captivating educational programs, social media programs, and cutting-edge technology topics. Grant Imahara, a longtime Mouser customer and celebrity engineer known for his role on Mythbusters, will continue to play a key role in the program as spokesperson and innovator.
Mouser is committed to staying true to the Empowering Innovation Together programs original purpose and vision of challenging engineers to design the "next great thing." The program further emphasizes Mousers dedication to consistently provide the engineering community with the newest products first, along with information to inspire new designs. The goal of the 2016 program is to provide both inspiration and guidance in a truly immersive experience as Mouser contributes to the culture of inventive thinking. This years program will place emphasis on features about engineers at the top of their fields, more "how-to" information, and more news highlighting the newest innovations and Mousers manufacturing partners who create them.
"Seeing the results and success of the Empowering Innovation Together program truly demonstrates the importance of bringing engineers together to collaborate and advance technology to the next level," said Glenn Smith, Mouser Electronics President and CEO. "Were excited to have been a catalyst for this successful meeting of the minds."
Mouser plans to introduce new topics while continuing the momentum and forward-thinking ideas already shared with the engineering community through its highly successful Robotics, Space Travel & Exploration, Home & Factory Automation and Driverless Cars series launched in 2015.
Mouser is devoted to helping engineers speed their designs by delivering the newest electronic components and advanced technologies, along with a spectrum of resources, through its website at Mouser.com.
To learn more about Mousers Empowering Innovation Together program, visit http://www.mouser.com/empowering-innovation.
With its broad product line and unsurpassed customer service, Mouser caters to design engineers and buyers by delivering Whats Next in advanced technologies. Mouser offers customers 21 global support locations and stocks the worlds widest selection of the latest semiconductors and electronic components for the newest design projects. Mouser Electronics website is updated many times daily and searches more than 10 million products to locate over 4 million orderable part numbers available for easy online purchase. Mouser.com also houses an industry-first interactive catalog, data sheets, supplier-specific reference designs, application notes, technical design information, and engineering tools.
About Mouser Electronics
Mouser Electronics, a subsidiary of TTI, Inc., is part of Warren Buffett's Berkshire Hathaway family of companies. Mouser is an award-winning, authorized semiconductor and electronic component distributor, focused on the rapid introduction of new products and technologies to electronic design engineers and buyers. Mouser.com features more than 4 million products online from more than 500 manufacturers. Mouser publishes multiple catalogs per year providing designers with up-to-date data on the components now available for the next generation of electronic devices. Mouser ships globally to over 500,000 customers in 170 countries from its 492,000 sq. ft. state-of-the-art facility south of Dallas, Texas. For more information, visit http://www.mouser.com.
Featured Product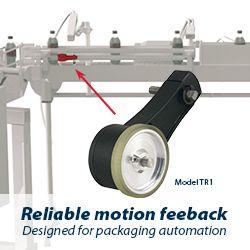 EPC is excited to announce our NEW online 3D Configurator. This new tool makes it even easier to configure EPC's products exactly how you need them for your application. The 3D Configurator interface is intuitive and works in any web browser for both desktop and mobile. It'll only take you a moment to learn your way around the program. Careful, though: it's so fun to play with, you may spend a whole afternoon on it!