Vacuum and UHV applications in research and industry are increasing in importance as testing and manufacturing specifically require vacuum or cryogenic environments.
For decades, PI has provided stages and systems for vacuum levels from 10-3 mbar to 10-9 mbar that deliver reliable motion control for positioning and alignment. The newest catalog from PI - Precision Motion and Positioning Solutions for High Vacuum and UHV - demonstrates PIs expert design capabilities as most standard products are created with vacuum compatibility in mind, from linear and rotary stages to 6-axis hexapods.

"Throughout the worldwide research and development field, vacuum environments are used, from small epitaxy processes up to the large beamline facilities.", states Dr. Jürgen Gallus, technical engineer responsible for PI vacuum technology research and development. Dr. Gallus whitepaper, "Motion and Positioning in Vacuum Environments", delves into the specific consideration that must be given, when designing a vacuum system, to operating speed, stage lifetime expectancy, use of lubricants and coatings, material selection, outbakeing temperatures for high and ultra-high vacuums, and more.
Standard and Custom
In addition to a large variety of standard piezoelectric and mechanical stages, PI can quickly modify existing product designs or provide a fully customized OEM part to fit the exact requirements of the application.
USA / Canada
East
(508) 832-3456
Midwest
(508) 832-3456
West
(949) 679-9191 (LA Area & Mexico)
(408) 533-0973 (Silicon Valley/Bay Area)
About PI
PI is a leading manufacturer of precision motion control equipment, piezo motors, air bearing stages and hexapod parallel-kinematics for semiconductor applications, photonics, bio-nano-technology and medical engineering. PI has been developing and manufacturing standard & custom precision products with piezoceramic and electromagnetic drives for 4 decades. The company has been ISO 9001 certified since 1994 and provides innovative, high-quality solutions for OEM and research. PI is present worldwide with twelve subsidiaries, R&D / engineering on 3 continents and total staff of 850+.
Featured Product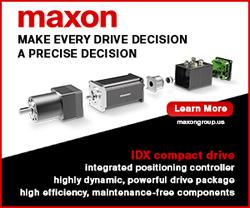 A brushless DC motor solution for use in hip and knee exoskeletons. This complete joint actuation unit consists of motor, gearhead, encoder and position controller. Fitting absolute encoder directly at the joint rotation provides designers increased positioning accuracy. The unit will deliver 54Nm of continuous torque and 120Nm on a 20% duty cycle. The system can be operated on supplies between 10 and 50V DC and the actuation speed is up to 22rpm.