For the 27th edition of the FIRST® Robotics Competition, France brilliantly won the Engineering Inspiration Award.
Saint-Romain; April 4, 2018 - The legendary FIRST® Robotics Competition created by Dean Kamen, inventor of the Segway, is one of the most media-exposed and hotly contested competitions among high schools. The event is aimed at students between the ages of 14 and 18 coached by a team of voluntary mentors (teachers, alumni, industry professionals and students).

The FIRST® Robotics Competition is not only a technical challenge, but a process for entrepreneurial high school students who only have a few months to put together a team that is capable of working like a real company, with human resources, project management, marketing, communication, sponsoring, etc.
For the 27th edition of the FRC, over 90,000 high school students around the world accepted the challenge of building a robot in six weeks between January 6 and February 20, 2018.
RoboLyon qualified during the Montreal regional competition, which took place between March 1- 3, 2018, using their robot called Archimedes.
The Lyon-based team brilliantly won the Engineering Inspiration Award. For the second year running, the team will proudly fly the French flag during the world final - the FIRST® Championship - featuring the best 400 international teams. The event will be held from April 25 to 28, 2018 in Detroit.
With its 3D library used by millions of CAD-loving designers and engineers, TraceParts is proud to provide its support to the 25 high school students representing France in Detroit and wishes them a tremendous victory!
About TraceParts
TraceParts is one of the worlds leading providers of 3D digital content for engineering. As part of the Trace Group founded in 1989, the company provides powerful web-based solutions, such as CAD part libraries, electronic catalogs and product configurators. TraceParts also provides digital marketing services to help part manufacturers, software publishers and computer hardware vendors promote their products and services and generate high-quality B2B sales leads.
The traceparts.com portal is available free-of-charge to millions of CAD users worldwide. It provides access to hundreds of supplier catalogs and more than 100 million CAD models and product data-sheets that are suited to design, purchasing, manufacturing and maintenance processes.
Featured Product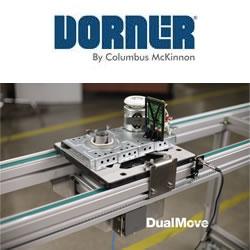 Dorner's 2200 Series Precision Move Pallet Systems are ideal for assembly automation. With features such as an innovative timing belt conveyor design and industry best pallet transfers, they get your product to the exact location, at the exact time and in the exact position it needs to be. They are now available with new options such as heavy load corner modules with 150 lb. capacity and 180 degree tight transfer corners for compact loops.