Global Robotics Trade Organization Experiences Fastest Two-Year Growth in Membership
ANN ARBOR, MICHIGAN - August 2, 2018 - The Robotic Industries Association (RIA) has reached 500 members, growing by 25% over the last two years. North Americas only trade association focused on robotics ended July, 2018 with a total of 507 members.

Companies throughout the robotics industry ecosystem turn to RIA for education, networking, and information. RIAs membership growth mirrors the growth in the robotics market as a whole. As robotics expand within the industrial environment and increasingly outside of it, new start-ups and established companies are launching innovative robotic technologies at a rate previously not seen.
"Our increasing membership is proof of the healthy robotics and automation industry, and were proud that weve built a world-class association that can cater to our growing membership," said Jeff Burnstein, president of RIA. "We look forward to continued growth and innovation in the robotics industry, and welcoming new members into our association."
Stocked Robotics, a start-up service robotics company based in Austin, Texas became RIA's 500th member. Stocked Robotics transforms traditional fleets of manual industrial trucks into swarms of self-driving vehicles. "We were impressed with RIAs focus on driving innovation and growth in the robotics industry," said Saurav Agarwal, Co-Founder & CEO at Stocked Robotics. "As a start-up, were looking to partner with companies in the robotics eco-system that can further advance our mission and the industry as a whole. RIA meets all of those requirements."
To learn more about joining RIA as member, click here.
RIAs Fall Events Set
RIAs premier robot safety event is taking place in Detroit, MI at the Detroit Marriott at the Renaissance Center on October 9-11, 2018. This year marks the events 30th anniversary and as a result of a growing international attendance and perspective, RIAs safety conference has been rebranded as the International Robot Safety Conference. To learn more, please click here.
RIA and its sister group, AIA - Advancing Vision + Imaging, are again teaming up to bring more content on leading-edge robot, machine vision, and AI trends in 2018. The Collaborative Robots, Advanced Vision & Artificial Intelligence Conference will take place October 24-25, 2018 in Santa Clara, CA. This conference features presentations from industry and includes two days of tabletop exhibits.
About Robotic Industries Association (RIA)
Founded in 1974, RIA is a not-for-profit trade association driving innovation, growth, and safety in manufacturing and service industries through education, promotion, and advancement of robotics, related automation technologies, and companies delivering integrated solutions. RIA represents over 500 robot manufacturers, system integrators, component suppliers, end users, consulting firms, research groups, and educational institutions. The association hosts a number of educational events including the International Robot Safety Conference (October 9-11, 2018 in Detroit), the Collaborative Robots, Advanced Vision & AI Conference (October 24-25, 2018 in Santa Clara, CA), the A3 Business Forum (January 14-16, 2019 in Orlando) and the biennial Automate Show & Conference (April 8-11, 2019 in Chicago). RIA also provides quarterly robotics statistics and has a content-rich website, Robotics Online. For more details on RIA, click here or call (734)994-6088.
About Association for Advancing Automation (A3)
The Association for Advancing Automation is the global advocate for the benefits of automating. A3 promotes automation technologies and ideas that transform the way business is done. A3 is the umbrella group for Robotic Industries Association (RIA), AIA - Advancing Vision + Imaging, Motion Control & Motor Association (MCMA) and A3 Mexico. RIA, AIA, MCMA and A3 Mexico combined represent over 1,100 automation manufacturers, component suppliers, system integrators, end users, research groups and consulting firms from throughout the world that drive automation forward. For more information, visit: A3, RIA, AIA, MCMA, A3 Mexico.
Featured Product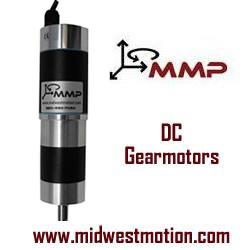 MMP is well known for our Lightning-Fast Delivery Capability, Huge On-Hand Inventory, High Volume Capacity and Time Tested and Proven Reliability Methods. Our 100+ years of combined work experience and being able to deliver continual committed service to design and engineer ideas into reality gives us a competitive advantage in the motion control industry. If you need a sample right away, we can be a project-saving convenience for you, so contact us today!!