Corrugated Tubing Made of Regenerated Polyamide for Cable Protection Brings Additional Sustainability to the World of Industrial Robots
With its new cable protection tubing of 100% regenerated polyamide 12, REIKU, one of the most innovative and diversified developers and manufacturers of high-quality cable protection systems for robotics and automation, is once again making its mark in matters of sustainability.

The extended product range, which also includes corrugated tubing of biobased polyamide 11, has a nominal width ranging from 7 mm to 95 mm for the entire field of application from cobots right up to large industrial robots. Agiplast, a pioneer in the regeneration of engineering plastic compounds and a development partner of REIKU, produces and supplies the halogen-free, self-extinguishing, non-flame-propagating re-compound (RGN by Agiplast) in consistently high and traceable quality. REIKU markets the respective corrugated tubing using the PARAB identification code.
Managing Director David Guitton: "In our industry, an uncompromising commitment to consistent high quality is one of the fundamental conditions for lasting customer confidence. For this reason, we did not make it easy for ourselves to switch to processing regenerated Polyamide for some of our products. In extensive tests, our supplier Agiplast was able to prove that this material offers exactly the same short and long-term mechanical properties as our conventional materials. And we naturally also make sure that the products we make from this re-compound comply with the most demanding specifications with regard to fire prevention - which is extremely important in our segment - and also has the required very high flexural fatigue strength. We can, with a good conscience, therefore provide the same guarantee as we do with the corresponding corrugated tubing made of virgin material."
Together with the cable protection tubing of biobased PA 11, which has been available for some time now and even exceeds the performance of conventional alternatives under dynamic flexural fatigue stress, REIKU now offers its customers two product families that both help to save fossil raw materials. Says Peter Sailer, who shares the company management with David Guitton: "The environmental aspect does not stop at industrial applications. We recognized this trend at an early stage and invested accordingly to underline our commitment to sustainability and to support our customers - both OEMs and end users - in implementing their own environmental strategies. Customer applications, in some cases under extremely rough 24/7 industrial conditions, confirm that both our regenerate-based and our biobased polyamide product comply with all the expectations. They enable uninterrupted operating times for cost-efficient production over just as long a period as the types based on conventional PA."
REIKU will present its extensive portfolio of cable protection systems, which, in addition to corrugated tubing, also includes fittings such as bracket systems and tube clamps as well as sophisticated system components such as connecting joints, cable stars, jointed tubing, gripping clamps, conduit protectors and spring holders, at SPS 2019, taking place in Nuremberg from 26 - 28 November, in Hall 3C on Stand 366.
REIKU GmbH is an internationally operating medium-sized company based in Wiehl, Germany, which develops, produces and markets complete cable protection systems for static and dynamic applications in robotics and automation technology, in addition to bundling systems with a zipper style closure, plastic sheathing, corrugated tubing and fittings, heat protection fabrics and braided tubing. The company's products are designed to protect cables, conductors and other parts from contamination with foreign matter as well as from chemical, thermal or mechanical loads. Its portfolio of cable protection systems made of advanced engineering plastics extends from fittings through bracket systems and tube clamps to sophisticated system components which comprise connecting joints and cable stars in addition to jointed tubing, gripping clamps, conduit protectors and spring holders.
www.reiku.de
Featured Product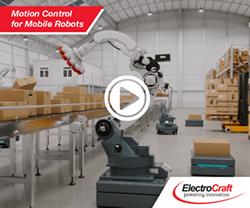 ElectroCraft is showcasing its award-winning mobile robot technology including their powerful and compact wheel drives, high-torque-density brushless DC motors, precision linear actuators as well as servo motor drive technology at a variety of conferences and tradeshows including the Boston Robotics Summit. Robotics Summit is the premier symposium for the sharing of ideas, technology, and market developments for robotic technologies across industries. Beyond a showcase and pitch of product, ElectroCraft is eager to participate in the collaborative discussion of challenges and opportunities that will shape the near and long-term robotic marketplace.