"The MS 'measuring station opens a new era in ultra-precision measurements"
LIVERMORE, Calif.--(BUSINESS WIRE)--Topcon Positioning Systems (TPS) announces the release of the MS Series of high-precision robotic total stations in North and South America. "The MS 'measuring station opens a new era in ultra-precision measurements," said Denny Welch, senior vice president of the TPS Survey Business Unit.

"The MS 'measuring station opens a new era in ultra-precision measurements"
.
The series includes the MS05AX with the industrys highest 0.5" angle accuracy and the MS1AX for 1" angle accuracy.
"The MS05AX provides ultra-precision while the MS1AX provides long-range and versatility," Welch said.
The series can be used for large-scale 3D measurement applications and also has a 2D monitoring function for real-time two-dimensional projects.
"The MS series ensures enhanced precision and productivity in a wide-range of applications," Welch said. "Department of Transportations (DOTS), high-end civil engineering firms, high-accuracy land surveying firms, universities, anyone with monitoring, tunneling and 3D industrial measurement needs will realize benefits from the MS Series."
The series can be used with a prism, reflective sheets or reflectorless, creating options and efficiencies for even the largest monitoring fields. With a pre-scan search function used to 'teach the instrument where the targets are in the monitoring field, the accuracies and range of the series is "impressive by any standards," Welch said.
"High speed is one of the key advantages for long distance measurement and tracking," Welch said. With the MS series robotics, an operator has up to 1000m (3280ft) auto pointing range and up to a 400m (1312ft) non-prism range.
"This tracking can be achieved with fast turning speed and the incredible accuracy of the series which adds up to make the system ideal for the most precise topographic survey work such as high-precision control establishment or super accurate stakeout or as-built construction tasks," Welch said.
Topcon Positioning Systems, Inc. (TPS) designs and manufactures precise positioning products and solutions for the global surveying, construction, agriculture, civil engineering, mapping and GIS, asset management and mobile control markets. TPS parent company, Topcon Corporation (Tokyo Stock Exchange - 7732), was founded in 1932.
Featured Product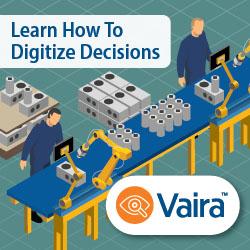 Pleora's Visual Inspection System helps operators detect errors and defects for unique component types, assembly steps, and custom low-run products where automated optical inspection (AOI) is too complex and expensive. The system helps DICA Electronics: Avoid costly, errors as a result of detecting errors at different phases in production, Speed time in detecting the root cause of the in-field errors with Tracking & Reporting apps for traceability, Maintain consistency in training new employees on requirements or with staff any time a new product is added, Easily train the system using 'good product' images for multiple product lines with no programming skills required, Reduce subjective decision-making, especially over a long shift, reducing error-escapes.