Climate-neutral, highly economical production through AI and digitization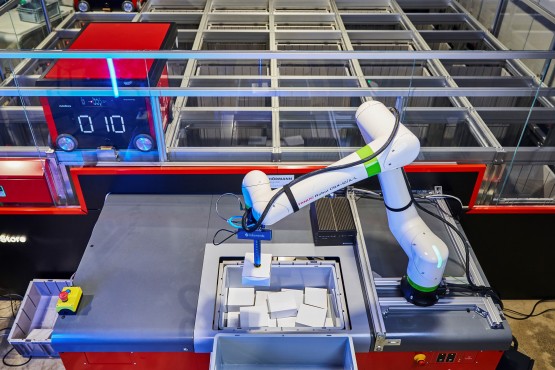 Digitization and AI have become a matter of intense public discourse. However, this leads to more questions than answers. This is where automatica, held from June 27 to 30, 2023, comes in with its digital solutions and components from the fields of robotics, machine vision, and assembly technology: It's a place where visitors gain first-hand knowledge of how these technologies can increase the efficiency, safety, and sustainability of industrial production.
"When you consider the development leap these future technologies have seen within just one year, you realize the dimension of what we are dealing with here. It is a new era of automation with a huge impact on productivity and competitive positioning of companies", as Patrick Schwarzkopf, Managing Director of the VDMA Robotics + Automation Association, emphasizes.
A transformation not to be delayed
The decisive factor will be how fast the industry can exploit the full potential of this technology. While a vast majority of companies consider artificial intelligence an opportunity, a mere nine percent are currently using it. This was brought to light by a study conducted by the Bitkom digital association surveying 606 companies with a minimum of 20 employees from across all sectors in Germany.
42 percent even feel they missed their window of opportunity. Bitkom President Achim Berg puts this into perspective: "AI is still a technology in its infancy. So there is no reason to just give up. Companies taking a serious effort to use AI can still secure a competitive edge at this point."

Come, see, digitize
KUKA addresses trend topics such as digitization and AI with multiple exhibits. For the first time, the Augsburg-based automation specialist exhibits in Munich the plant engineering know-how it has built up over decades: in the 'KUKA Dome'. This is a large dome-shaped projection area giving spectators a 90-second visual tour of actual production facilities.
The entire digitization process chain
Machine vision systems—exhibited at the stands of ifm, Cognex, and many other suppliers—provide real-time environmental images, and the latest model generations learn to better interpret their environment with the help of AI. Not only does this speed up the automation process, it also enables the individual adaption of each and every motion sequence to prevailing conditions—e.g. in pick-and-place processes.
To give an example: ifm will present 3D laser measurement sensors based on the time-of-flight principle that support easy integration into the user's software solution at the data level.
Experiencing the digital twin in real life
There is a lot of curiosity surrounding digital twins these days, and of course they can be experienced live at automatica—at the Stäubli stand, for example. Here, it is located right next to a physical demo cell containing a Scara robot that handles battery cells. This exhibit allows visiting professionals to see for themselves how easy it is to implement optimizations or adjustments in the digital twin as part of virtual commissioning prior to adopting them in the physical application without giving rise to any risks or faults.
Festo will present another digital twin use case to demonstrate how mechanical engineering can accelerate development cycles. Gerhard Borho, Chief Digital Officer at Festo: "We work hard to provide our automation components with digital twins." Components are developed virtually as much as possible before the initial hardware is produced—extending all the way to testing and system integration.
Easy ways to make robots smart
A number of other manufacturers, including various innovative companies such as Micropsi Industries and Robominds, are looking to qualify standard robots for AI applications. Robominds proves how easy this can be done with their robobrain®: the brain that imparts human intelligence to industrial robots.
"The robobrain starter kit and customized bundles enable us to provide ready-to-use solutions for processes such as (de)palletizing, picking, machine loading, or sample handling in laboratories," says Christian Fenk, CSO of Robominds.
Siemens will be among the companies to demonstrate the innovative strength that large corporations employ to drive these topics of the future. The company will showcase its entire range of solutions in the field of AI and digitization under the slogan 'Accelerate Transformation'. Here, concrete application examples are to demonstrate to the visitors how easily the real world can be interlinked with the digital world.
A couple of weeks before the trade fair, we can thus confirm: Digitization and artificial intelligence are dominating the automation sector like never before. They enable the implementation of intralogistics and production concepts that, in addition to their outstanding efficiency, contribute to decarbonization and sustainability efforts.
Comments (0)
This post does not have any comments. Be the first to leave a comment below.
---
Post A Comment
You must be logged in before you can post a comment. Login now.
Featured Product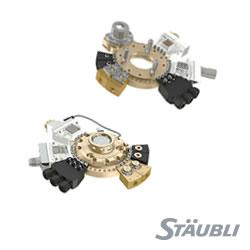 Stäubli is a pioneer in the construction and development of robotic tool changing systems. Our customers benefit from our many years of expertise in all industry sectors, as well as our modular product concept, which offers three efficient solution paths: MPS COMPLETE offers preconfigured robotic tool changers for immediate use. MPS MODULAR allows the user to determine the configuration, while MPS CUSTOMIZED allows the construction of special, application-specific systems.