This is the second of a 4-part series by KC Robotics about the automated arc welding industry.

Erica DeMott
This is the second of a 4-part series by KC Robotics about the automated arc welding industry. As a leader in robotic arc welding, we are pleased to have been able to interview welding veteran and KUKA Robotics Senior Key Technology Manager of Metals Tim Nacey about the industry and the possible growth manufacturers can see just by integrating a welding cell on their assembly line.
Part One - Alleviate Skilled Welder Shortages With Robotic Welding Cells
Have you doomed yourself to antiquated inspection processes and less reliable automated welding cells producing poor confidence in your part quality, possible recalls, and based on the judgment of the inspector, part quality variances? Meanwhile your market continues to place higher premiums on the quality of your parts. By automating your welding process with adaptive technology you can provide documentation on 100% of your parts and gain full confidence that you are producing high quality goods for your customers.
Adaptive welding can compensate for a range of inequalities in parts when welding. Variations include differences in thickness, changes in coatings and thickness, part fit, weld force, shunting, and weld gun/electrode deterioration. The process of adaptive welding is just what it sounds like. Vision software, mounted on the robot scans the part to be welded for abnormalities. As long as the differences are within predetermined ranges the robot will adjust certain parameters like travel speed and wire feed to adapt to the conditions.
Before vision technology, manufacturers relied on touch sensing, through the arc feedback, and manual sampling for automated welding which did not give nearly as much information that vision does. Now, measurements are constantly reported back from every single piece and allow the process control to adjust. The difference is going to a customer with the confidence that 100% of your parts are inspected for quality versus 10% or even 5%.
When parts are inspected through vision software, the results are in real time and compared against a fixed set of variables. Unlike manual testing where one part is tested among many issues can be determined before hundreds of pieces have been processed, saving time and money. By inspecting every part, errors, faults, and poor quality products are prevented, saving you from recalls and other liabilities and reducing costs. This also gives your customers better confidence that they are receiving a dependable product from you at a competitive price.
Part quality is very important in all manufacturing industries and degradation of the welder is another variable that can cause poor quality. It's also not something that can't be caught quickly by other inspection methods.
With manual inspection, you may just replace weld materials on a scheduled basis for ease. For example, every 100,000 parts you replace welding fixtures even if the welder is still functioning properly. However, this leads to wasted materials and unexpected problems if the welder wears too soon. With vision adaptive technology each part is inspected post weld and the wear on the torch is constantly measured. If wear is detected prior to the weld, the robot adapts to provide the same quality weld on the first part and the thousandth.
It is true that vision systems come with a cost. It is also true that they come with a high ROI. As reported in the previous article vision systems can tack on a significant cost to the price of a robotic welding cell.
But by integrating a welding cell some manufacturers see savings of 30-50% off previous costs. Savings also don't just come from ramped up production and reduced waste though. For example, by integrating a robotic welder with vision technology manufacturers can benefit from energy savings and lower insurance costs due to better working conditions.
For small batch run job shops, automated welding is now a feasible option. Welding software platforms are not partial to just one process schedule anymore and an engineer or programmer is not needed to go from one schedule to the next. Workers on your assembly line can be trained during robot cell installation how to maneuver the control panel and adjust accordingly.
Adaptive welding with vision technology just makes sense. From a cost stand point and a quality standpoint it is hard to find any other changes you can make to your assembly line that can have such profound effects, even if you produce a couple parts a day.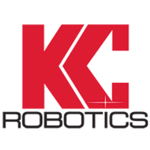 About KC Robotics
KC Robotics is an industrial robotic sales, service, and industrial company located just north of Cincinnati in West Chester, Ohio. Incorporated in 1990, KC Robotics works with manufacturers across the United States to develop cost efficient and productive automated solutions to give them a competitive advantage in today's market.
From arc welding to material handling, KC Robotics designs, supplies, installs, and services industrial robotic systems from the world's leading OEMs. If you are interested in knowing more about how KC Robotics can help your production line, call (513) 860-4442.
By finding the right integrator, like KC Robotics, the benefits continue for the life of the robotic cell and beyond. As your provider of integration, installation, sales and maintenance services, you can have confidence in your production line every day. Call us at 1-800-7ROBOTS (1-800-776-2687) for more information on our custom and pre-fabricated welding cells available for integration.
The content & opinions in this article are the author's and do not necessarily represent the views of RoboticsTomorrow
---
Comments (0)
This post does not have any comments. Be the first to leave a comment below.
---
Post A Comment
You must be logged in before you can post a comment. Login now.
Featured Product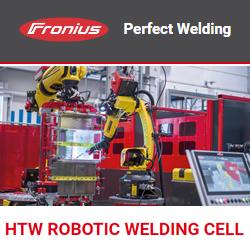 Modular, collaborative, and flexible: the "Handling-to-Welding" robotic welding cell joins parts of different geometries and materials. The task is carried out by two robots - the handling robot positions the workpieces, the second robot performs the welding. Depending on the cell configuration, lock gates are available for the inward and outward transport of parts. Furthermore, various positioners, a TCP measurement system, a torch cleaning system, a gripper station, and a contact tip change system are also possible.