In the near future the more advanced the equipment becomes we must produce more skilled labor. This is great benefit to the US in that companies themselves will be helping educate their employees and improving the workforce.

Jim Gruszczynski
Tell us a bit about Nabtesco Motion Control.
In 1999 Nabtesco opened our office Farmington Hills as a subsidiary of the Nabtesco Corporation of Japan.
Our facilities in the U.S started out as a small office with 3 employees. 15 years later and now known as Nabtesco Motion Control we have grown to 14 employees and over 15,000 square feet of facility space. Along with our growth we have incorporated almost 10,000 square feet that is utilized as a shipping warehouse as well as assembly and testing of our gearbox products. We attribute our growth to the strong partnership we form with our customers.
Tell us about your Cycloidal gearbox and why one may choose that over a planetary gearbox.
A Cycloidal gearbox uses more points of contact, always having 40 gear teeth contact points engaged during each revolution. Due to the design and function of our Cycloid plates it adds much more robustness to the over all process, whereas Planetary gearboxes rely on one inner ring with far few points of engagement relying more on the gear teeth themselves.
What are some benefits of a Nabtesco Gearbox over other options?
Our cycloidal gearboxes are hand assembled and tested. They are accurate up to less than one arc minute of backlash.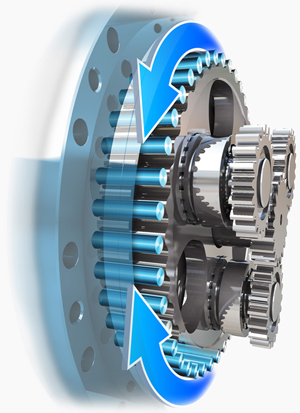 The gearboxes have a very high thrust load, 5x Emergency stop rating, and extremely high torque load capabilities. An additional advantage is the required maintenance is very low, with a very long life cycle. The fact that we have such a wide range of input driving ratio'sis also an appealing advantage to our customers.
How are lower maintenance and longerproduct life helping change and cleanup the manufacturing process?
Lower Maintenance allows production to run longer with no fear of breakdown, less waste of continuously changing the lubricants, and creating scrap parts. In many machines that require hydraulic assist our gearboxes can be retro fitted to replace hydraulic based equipment which additionally creates an extreme amount of waste by-products. Longer life also means less waste. 1 gearbox that remains in operation for over ten years is a big ecological benefit as opposed to having to change 5 Gearboxes in the same allotted time.
Tell us some applications of where Nabtesco products are being used that may surprise us.
Medical Scanning equipment, Cancer treatment therapy, physical rehabilitation therapy, Amusement rides, rotating musical stages both theatrical and Hard rock, replacements for all sorts of Hydraulic equipment, man or Human lifts, mining equipment, portable machine centers. Rotating automotive show platforms, Pharmaceutical manufacturing. Vision system calibration tables as used for Xbox kintecs…ect
Really anything you can think of that rotates!
How are machines replacing human workers in workplaces with Hazardous surroundings?
Everything from Heavy lifting, Harness and hoist safety, as well as evaluating and clearing hazardous debris from unsafe areas (Nuclear plants to mining or even building collapse).
Do you see this as a net loss or gain for the US factory worker and jobs?
For the short term I see a balance. In the near future the more advanced the equipment becomes we must produce more skilled labor. This is great benefit to the US in that companies themselves will be helping educate their employees and improving the workforce. The good thing is that more equipment does not necessarily mean less jobs but, more production and skilled jobs.
Look into your crystal ball, where do you see Nabtesco 2 years and 10 years down the road.
Within the next two years I see the same steady and stable growth as we have been observing, within 10 years we will be adding more offices across the U.S. to be sure we can give our customers as much local support to their area as possible. We pride ourselves on not gaining customers, but forging new partnerships with manufactures we can provide our products to!

About Nabtesco Motion Control
Nabtesco is the largest precision Cycloidal gearbox manufacturer in the world and leads the precision gear industry by providing High Performance Reduction Gears, Hollow Shaft Gear Heads and Single Axis Servo-Actuators and Controllers. Our precision equipment provides large torque, high-ratio and significant shock-load capabilities with extreme precision and very low backlash.
The content & opinions in this article are the author's and do not necessarily represent the views of RoboticsTomorrow
---
Comments (0)
This post does not have any comments. Be the first to leave a comment below.
---
Post A Comment
You must be logged in before you can post a comment. Login now.
Featured Product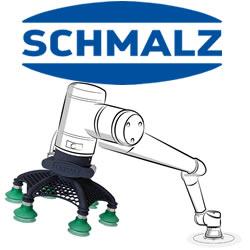 In order to interact with their environment and perform the tasks, lightweight robots, like all industrial robots, depend on tools - and in many cases these are vacuum grippers. These form the interface to the workpiece and are therefore a decisive part of the overall system. With their help, the robots can pick up, move, position, process, sort, stack and deposit a wide variety of goods and components. Vacuum gripping systems allow particularly gentle handling of workpieces, a compact and space-saving system design and gripping from above. Precisely because the object does not have to be gripped, the vacuum suction cupenables gapless positioning next to each other.