This is the third of a 4-part series by KC Robotics about the automated arc welding industry.

Erica DeMott
Part One - Alleviate Skilled Welder Shortages With Robotic Welding Cells
Part Two - Perfectly weld imperfect parts with adaptive welding
Today, the issue stopping many manufacturers from integrating industrial robots into their production line is purely economic. Small to medium sized businesses, automotive or not, have larger capital limitations which can put a significant crimp into improving the production line. In response, industrial robot companies like KC Robotics have worked with major OEMs to develop pre-engineered cells as a cost effective solution to the shortage of skilled welders and the push to improve productivity without raising costs.
An example: A manufacturer of baker's racks inquired about a welding solution after an unsuccessful attempt at replacing some retired skilled welders. The main hurdle facing them was capital funds and they could not afford the price or the lead time of a custom built welding system. After an initial consultation it was concluded that this manufacturer was the perfect candidate for a pre-engineered welding cell by KC Robotics.
Pre-engineered cells fabricated by KC Robotics offer small to mid-size manufacturers cost effective options to automating the welding process.
With a shorter lead time and starting at a base cost of $145,000, a pre-engineered cell by KC Robotics includes the table, robot, welder, and enclosure all in one price. Shipped as a pre-built unit, installation takes less time and also reduces costs. Additional options are available to meet the needs of many applications.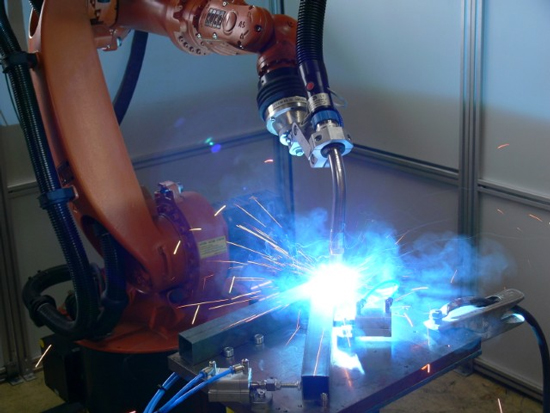 Pre-engineered cells fabricated by KC Robotics offer small to mid-size manufacturers cost effective options to automating the welding process.
By integrating a pre-engineered welding cell into their assembly line, the manufacturer was able to finance and save about $300 a day on production costs or $75,000 annually. After three years, the savings were projected to increase as well as the system was paid off. The cell chosen for the manufacturer was a KUKA KR-6 robot, ESAB 5000i welding package, and rotating head stock/tail stock. Vision was not necessary but could be integrated in the future if it was needed.
Another example is of a medium sized automotive manufacturing facility that assembled brake pedals for a major automotive company. Thousands of pieces were produced and the company decided to automate their welding processes to improve productivity. Again, capital limitations made it hard to find suitable custom welding systems for their plant.
An additional benefit to pre-engineered cells is their modular, compact design. They can fit in smaller spaces and, because they are modular, they can be more easily upgraded than their custom counterparts. In this plant, the modular designs fit into their layout and their cost, starting at $125,000, allowed them to invest in more than one.
In labor savings alone, this saved the company over $240,000 per year and with increased productivity they were able to recoup the costs of the systems in eight months.
According to a survey done by Clark Schaefer Hackett, 86% of Ohio region manufacturers interviewed said they are most likely to make changes to increase productivity in the next year and 68% were most likely to invest in production equipment. Pre-engineered welding cells are a great option for small and mid-size manufacturers to achieve both goals in the coming year.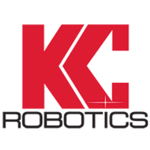 About KC Robotics
KC Robotics is an industrial robotic sales, service, and industrial company located just north of Cincinnati in West Chester, Ohio. Incorporated in 1990, KC Robotics works with manufacturers across the United States to develop cost efficient and productive automated solutions to give them a competitive advantage in today's market.
From arc welding to material handling, KC Robotics designs, supplies, installs, and services industrial robotic systems from the world's leading OEMs. If you are interested in knowing more about how KC Robotics can help your production line, call (513) 860-4442.
By finding the right integrator, like KC Robotics, the benefits continue for the life of the robotic cell and beyond. As your provider of integration, installation, sales and maintenance services, you can have confidence in your production line every day. Call us at 1-800-7ROBOTS (1-800-776-2687) for more information on our custom and pre-fabricated welding cells available for integration.
The content & opinions in this article are the author's and do not necessarily represent the views of RoboticsTomorrow
---
Comments (0)
This post does not have any comments. Be the first to leave a comment below.
---
Post A Comment
You must be logged in before you can post a comment. Login now.
Featured Product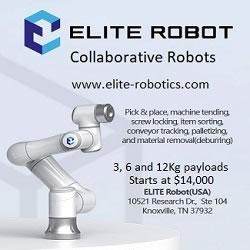 ELITE ROBOT lightweight 6-axis collaborative robots have payloads of (3kg, 6kg, and 12kg cobots). ELITE ROBOT cobots have gained a positive reputation among users in the Automotive, Electronics, Packaging Logistics, Metal Processing, Rubber & Plastics, chemicals, and other industries. The EC series robots start at $14,000 USD making it one of the fastest ROI in the industry. The EC robots come complete with 6 DOF arm, control box, teach pendant and software.