The most unique feature is the ability to print in 5 different colors or materials in a single print, without doing any manual color swapping.

Chris Gibson | ORD Solutions
Tell us a bit about ORD Solutions.
We are the first and only manufacturer of a 5 material, liquid cooled, 3D printer in the world. Located in Cambridge, Ontario, we manufacture and sell 3D Printers, filament, supplies and accessories, and we provide 3D Printing Consulting Services. Founded in 2010, our objective is to provide truly useful, high quality products and services focused on automating small scale manufacturing. ORD stands for Object Replication and Design.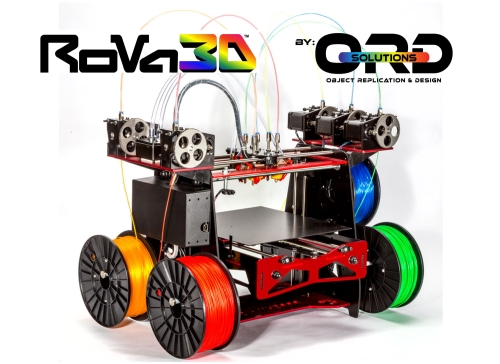 How did ORD Solutions get started?
Chris Gibson is the creative mind behind ORD Solutions. Chris built his first 3D Printer from a kit in 2009, and immediately started to see things that could be improved. With a naturally keen insight into how things work and combining that with his 12+ years as a software engineer, Chris has transformed these into a business that has sold hundreds of printers to a large cross section of industrial, commercial, and maker customers.

Can you give us a bit of a description of how your 3D printing process works from start to finish?
You start with an idea. Anything you can imagine, no matter how crazy. Then you create a 3D model in one of any number of modeling applications, many of which are free, like Sketchup. You can also browse public repositories of models created by others, such as Thingiverse. Once you have a model, you export it into a format that 3D printers can understand, typically STL. Most 3D modeling programs can export in this format, and all the repositories are in this format or a similar one. From the STL file, you "slice" the model into GCODE. This is a format that tells the 3D printer exactly what movements to make, and how much filament to extrude, to create your model. You use a printer control program to send the GCODE to the printer, and the printer prints the model into a physical object. It's actually simpler than it sounds, and there are several programs that combine all or several of the steps into a single step.
Our process is essentially the same, except for when you are working with multi-color or multi-material models. In this case, there is an extra step to split your model into its components, and then recombine them into a single file for printing. We have published some instructions on how to do this as Updates to our Kickstarter campaign.

You currently have a campaign on Kickstarter, tell us about your history with Kickstarter.
We launched our second Kickstarter campaign on June 23, 2014. In this project, we are offering our latest 3D Printer design which can print in 5 colours or materials simultaneously. In our first Kickstarter, launched in the fall of 2013, ORD Solutions funded in the first 24 hours, and finished our campaign with over $100,000 raised, putting us in the top 10% of Kickstarter projects. Where many other crowdfunded 3D printer campaigns have failed to deliver we delivered every single one of our promised K1 printers prior to the start of our current campaign. I suppose we can do this where other cannot because we were a company before kickstarter and sold and supported many of our printers prior to our first kickstarter campaign. Our second campaign offers a 3D Printer with improvements on the previous model, as well as several incentives and a price discount to encourage 3D Printer enthusiasts to support the project. This time around we are confident that we will exceed our delivery time lines and our customers will have a smooth transition into the foray of 3D printing with a much larger user community and refined documentation and quick start guides. This is just the first of many industry advancing technologies that will come from ORD. Check out the ORD Kickstarter page here.
Why are you using​ Kickstarter to fund the development of your latest printer?
We have lots of contacts in the 3D Printing community in Southern Ontario. We believe it's time for us to go for a bigger market, and launching our new printer on Kickstarter is one part of that strategy. We've set our funding goal at a low $25,000, which is only 10 printers. The crowd funding model is a great fit for us as it will allow us to rapidly advance the 3D Printing industry. It's a way for us to give back to the community that has given us so much. By offering them a chance to be a part of something new and lasting and at a discounted group buy price.
Why are you launching a second Kickstarter. Wasn't the first successful project enough?
The first project introduced our printer to a worldwide audience. Besides North America, we have shipped printers to Europe, Australia, and Mexico. But the total printers pledged for in our last campaign was only 50. We think the market is a lot bigger than that. Kickstarter is a great platform for helping us get the word out to the greater 3D printing community. With payment processing and reward fulfilment built right in, we can focus on what we do best, building high quality 3D printers.
What is the significance of the name of your new printer, the RoVa3D?
Our first 5 head printer model was called the MH3000R1. The MH stood for multi-head. The R1 for Revision 1. We don't seem to remember where the 3000 came from. The name was a mouthful, so as we approached our second Kickstarter, we decided we needed a better name for our printer than the MH3000R2. We ran a contest where we asked for name submissions, and the submitter of the winning name would receive a free printer. We received almost 1500 name submissions from 279 individuals. Several submissions mentioned that they thought our printer reminded them of the Mars Rover. Joe Williams from Bay of Plenty, New Zealand suggested Rova in homage to the Mars Rover, and this is the name we eventually selected. We are capitalizing the "V" in Rova to symbolize that we can have up to 5 print heads, or V in Roman numerals. Adding 3D to the end just looks better in the logo. You pronounce it "Ro-va-three-dee", or "the Ro-va-three-dee Printer".
What makes your 3D printer different from others on the market?
There are many, many features that make our printer special, including its robust construction, it's Anodized Aerospace grade alloy frame (not plastic or thin gauge steel), stainless steel (not plastic) gears, aluminum (not plastic) pulleys, and all metal 450C hot ends (not plastic ones), a heated ultra-flat build plate, and it's large build volume (1002 Cubic Inches!), and it's liquid cooled which allows the printer to outperform plain old air-cooled printers and be quieter while doing it! But the most unique is our ability to print in 5 different colors or materials in a single print, without doing any manual color swapping. We are the only printer on the market that can do this, even if you are prepared to spend more than half a million dollars. Since each extruder has its own heater and temperature sensor you can print 5 completely different materials in the same print and make things that have previously been impossible - properties like combining hard and soft materials or different colors.
Why are you confident that you will be able to deliver to your Kickstarter backers on time?
We were significantly delayed in the delivery of our backer's rewards from our first Kickstarter but we did deliver every single printer! The lessons learned and contacts made during this process are invaluable, and we are applying all those lessons to our second Kickstarter project. We have tried to be conservative in our delivery dates, including limiting the number of printers we are committing to deliver this year. The fact that we have already designed, built, and sold hundreds of printer's points to our ability to meet our commitments. This time we have included self-imposed penalties our backers will automatically receive if we are late again. But we plan to deliver on time or even early, if possible. We are approaching these delivery dates with the 'under promise, over deliver' mind set. We want to be the 1st crowdfunded 3d printer company to deliver early!
How do you plan to market the printer once the kickstarter project is funded and manufacturing is underway?
Our best sales people are our customers. We have an enthusiastic user community that is just as passionate about 3D printing as we are. As they start to create and post 5 color models and prints to the repositories and message boards, we expect to get a lot of attention from people who otherwise would have thought a 5 color model was impossible.
We will also be attending local Maker Faires and other events that feature 3D printing. Once people get a look at our printer creating a five color print, we don't typically have to say much more.
Do you have other projects underway or on the drawing board that you would like to talk about here?
We are already working on our next printer model, which we expect to be launching on Kickstarter in the fall. The details are a bit of a secret right now, but we'll give you a hint - it is not filament based, it prints with materials that are readily available from many local stores – like Walmart, the hardware store or the convenience store. More details to follow shortly!
The content & opinions in this article are the author's and do not necessarily represent the views of RoboticsTomorrow
---
Comments (0)
This post does not have any comments. Be the first to leave a comment below.
---
Post A Comment
You must be logged in before you can post a comment. Login now.
Featured Product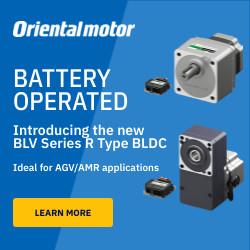 The BLV Series R Type brushless DC motor (BLDC motor) speed control system offers the design of motor and driver significantly reduced in size and weight, yet high-power, and contributes to the battery driven automation. The BLV Series R Type is compatible with the two interfaces of Modbus (RTU) and CANopen communication.