Presently, 3-D printing is having a small effect on distribution, but in the future it could put a serious dent in the supply chain.

Len Calderone for | RoboticsTomorrow
Many do not totally understand the supply chain that is necessary to get products or parts to where they are needed. The process starts at the supplier and then to the manufacturer, to the wholesaler, and subsequently to the retailer. Each movement of goods involves coordinating and integrating these flows both within and among companies. The ultimate goal of any effective supply chain system is to reduce inventory.
Well, 3-D printing definitely reduces inventory, but at the same time, it will play havoc with the existing distribution method. Presently, 3-D printing is having a small effect on distribution, but in the future it could put a serious dent in the supply chain.
3-D printing has been used primarily for prototyping in manufacturing and low volume production. In the beginning, 3-D printing was seen as a fix for supply chain disruptions, and now 3-D printing is ideal for short runs and custom fabrications.
Because of quality issues, 3-D printing might not be part of the mass manufacturing process just now, but 3-D printing has the potential to do for manufacturing what computers and the Internet have already done for the creation, processing and storage of information. The main holdback to progress is the lack of trained talent.
A quick primer for those who still do not know what 3-D printing is: 3-D printing is an additive technology in which objects are built up in many very thin layers. An UV laser beam traces the first slice of an object on the surface of a liquid, causing a very thin layer of photopolymer to harden. The perforated platform is then lowered very slightly and another slice is traced out and hardened by the laser. Another slice is then created, and so on, until a complete object has been printed. The object is then removed from the vat of photopolymer, drained of excess liquid, and cured.
A CNC mill is still far more accurate than a 3-D printer. Most manufacturers consider 3-D printing for mass manufacturing to be far off, but others believe that within the next decade, additive manufacturing could make our complicated global supply chain obsolete, replacing it with a new economy based on a high-tech system of local, connected suppliers.
The Wohler report estimates that the 3-D printing industry will be a $5.2 billion market in the next 5 - 10 years. The real potential is to transform the way we manufacture by disrupting the age-old supply chain and replacing it with something entirely new: a globally connected, local supply chain.
The influence on inventory and logistics is that you can "print on demand," meaning that you don't have to have the finished product packed on shelves or stacked in warehouses any longer. This reduces the cost of distribution from component to final assembly, while reducing scrap and improving assembly cycle times.
The traditional supply chain model is founded on established constraints of the industry, which are the efficiencies of mass production, the need for low-cost, high-volume assembly workers, real estate to house each stage of the process and so on. 3-D manufacturing eliminates those constraints.
3-D printing abolishes the need for high volume production facilities and low level assembly workers, thereby cutting out at least half of the supply chain in a single blow. It is no longer efficient to ship products across the globe to get to the customer when manufacturing can take place almost anywhere at the same cost.
This not only affects the manufacturing facility, but the distribution warehouse and trucking. With the spotlight on driving down costs and increasing consumer acceptance, 3-D printing's role is showing up in innovative supply chains and these advances are opening up new opportunities.
Manufacturers are using 3-D printing at their facility, reducing stock levels and warehousing space. Some vendors are installing 3-D printers at their customers' facilities, providing the software designs for products and parts to be manufactured as needed.
Local firms will offer 3-D printing locally, similar to the growth of instant print companies that now exist across the country. The customer just brings in their CAD program and the "3-D instaprint company" will do the fabrication. Staples will be offering 3-D printers for the home, allowing the home owner to send away for the drawings, and making toys or household items themselves, rather than buying the product and having it shipped to the house.
Two Staples stores, in New York City and Los Angeles, feature 3-D printing for their customers. Each store features an immersive 3-D printing experience center, targeted at consumers and small businesses to create personal products and use 3-D printing hardware. The customer can also bring in their own 3-D print-ready files to have them printed
The products themselves will ultimately become cheaper to make with a savings of up to 25%. For start-ups and small firms, these savings will be huge, as the set-up costs for manufacturing will be reduced. By a manufacturer setting up 3-D printing in foreign countries, import duties will also be reduced and landed costs and customs delays will be removed.
Earlier this year, the U.S. Navy installed a 3-D printer on the amphibious assault ship, USS Essex, for testing. The Navy is training sailors to handle this technology, so if there is a part needed, and it doesn't exist in the ship's inventory, sailors can design and print the part on demand within hours or days, allowing for a more rapid response to the ship's needs.
What happens when a critical engine part on a cargo vessel breaks down? There is a race to locate the part, get it to the next port-of-call and then charter a boat to make the delivery.
Shipping giant, Maersk, is looking to experiment with 3-D printing, hoping to save costs on current high transportation expenses. The idea is to install a 3-D printer on a cargo vessel to allow the crew to print spare parts on demand. Maersk will send a blueprint to the crew, and they will simply push "print," and in a matter of hours they will have the required part.
3-D printing is set to disrupt multiple industries thanks to its unique position, as 3-D printing is beginning to move outside the manufacturing sector of the supply chain. Companies must adapt to the opportunities and threats that it brings. The new supply chain models present opportunities for suppliers and customers to shorten delivery times.
For further information:
Len Calderone - Contributing Editor

Len has contributed articles to several publications. He also writes opinion editorials for a local newspaper. He is now retired.
The content & opinions in this article are the author's and do not necessarily represent the views of RoboticsTomorrow
---
Comments (0)
This post does not have any comments. Be the first to leave a comment below.
---
Post A Comment
You must be logged in before you can post a comment. Login now.
Featured Product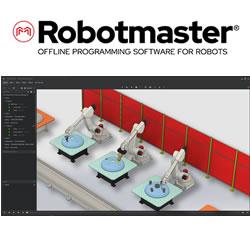 Robotmaster® offline programming software for robots helps manufacturers maximize their productivity and profitability with an intuitive and powerful programing solution ideal for production runs of all sizes and varying part complexity as a result of integrated CAD/CAM functionality.