Automate 2015 gets going in March and the once every 2 year Tradeshow is perhaps the biggest and most important Manufacturing show in North America.

Brandon Hetherington for | RoboticsTomorrow
2014 was a banner year for the Robotics and Factory Automation industries as they recorded growth across the board. Tradeshow attendance grew and many new events are beginning to pop up world wide with a focus on some of the emerging technologies such as 3D printing.
Automate 2015 gets going in March and the once every 2 year Tradeshow is perhaps the biggest and most important Manufacturing show in North America. They are expecting a record number of visitors and exhibitors to the show this year and RoboticsTomorrow.com will be here to gather all the news and information from the event for our special Automate 2015 Newspage.
---
Here is a summary of what Tradeshows, Conferences & Exhibitions to look forward to in the coming months.
For our Full Event Calendar click here
---
March:
MAR 02 - 05 2015, PORTLAND, OR
HRI 2015 is the 10th Annual Conference for basic and applied human-robot interaction research. Researchers from across the world attend and submit their best work to HRI to exchange ideas about the latest theories, technology, data, and videos furthering the state-of-the-art in human-robot interaction.

MAR 03 - 03 2015, BERLIN, GERMANY
Inside 3D Printing, the leading B3B Conference for 3D Printing and Additive Manufacturing returns to Berlin – this year with double the size exhibition, as well as 3 tracks! More knowledge, more networking, and more business. Get 10% OFF when you register with discount code ROBO!
MAR 11 - 13 2015, VIENNA, AUSTRIA
The Forum offers many different workshops and seminars providing the European robotics stakeholders with the opportunity to discuss the future of robotics related business and research, expand their networks, and gather the latest relevant news.
MAR 12 - 14 2015, SHANGHAI,P.R.CHINA
TCT Show + Personalize is the leading event dedicated to 3D printing, additive manufacturing and product development for every level of interest from hackerspace to aerospace. Held annually TCT showcases almost 200 exhibitors. In 2014 almost 12,000 attendees from over 50 countries travelled to Birmingham to visit TCT for insights, education and most importantly to do business. Now in partnership with VNU Exhibitions TCT + Personalise Asia will follow its previous sold out edition and make its China debut. Attend TCT Asia in Shanghai and take your place in the most attractive emerging market for 3D printing, additive manufacturing and applications. We look forward to you joining us in Shanghai!

MAR 23 - 26 2015, CHICAGO, IL
Automate is the largest solutions-based showcase of automation technologies in North America. Right at the front of the show, companies that provide integration of automation, robotics and machine vision will show actual demonstrations of systems. This allows attendees to see live demos solving challenges they face in their industry, and also to learn from solutions used in other industries that may be beneficial to them. The rest of the show features the latest automation, robotic, vision and motion control technologies and systems on display from leading global suppliers. A comprehensive educational conference accompanies the show.
April:
APR 04 - 12 2015, NORTH AMERICA
Are you ready for National Robotics Week 2015? The sixth annual National Robotics Week event will be held April 4-12, 2015. RoboWeek 2014 was amazing and 2015 promises to be even better! Activities can be small, large, and everything in between. Check out our activity ideas below, think about what your group might like to do and help make 2015 our best year ever.
APR 15 - 17 2015, NEW YORK, NY
Inside 3D Printing is returning to New York City on April 15-17! Since its inception in 2013, the Inside 3D Printing Conference and Expo has quickly grown to become the largest professional 3D printing event worldwide. Inside 3D Printing New York will feature a full day of workshops plus two days of conference sessions led by industry experts and demonstrations of the latest 3D printers and services. Session topics will explore new opportunities and challenges for industrial and consumer 3D printing efforts, as well as the best strategies for a range of industries including product development, medicine, automotive, technology, software, and more.The agenda has been programmed by Hod Lipson, Associate Professor, Cornell University.
APR 20 - 23 2015, DALLAS, TX
AeroDef® Manufacturing is the leading technical summit and exposition for the aerospace and defense manufacturing industry. Produced by SME, in partnership with industry OEMs, our mission is to foster innovation across the extended enterprise to reduce costs, expedite production times and maintain manufacturing competitiveness in the global economy.
APR 27 - 30 2015, MILAN, ITALY
Now in its third annual edition, RoboBusiness Europe confirms his status as a unique and most important European event for the robotics industry which can offer a complete vision on technological trends and paradigm of business. The 3rd edition of RoboBusiness Europe might be the first opportunity for you to attend an event on robotics which is co-located with M2M+IoT FORUM, the European leading tradeshow on M2M and Internet of Things industry (www.m2mforum.com). Robobusiness Europe and M2M+IoT Forum will be the the main conferences of the first Disruptive Week Milan, an unprecedented week of coordinated events on emerging and disruptive technologies (www.disruptiveweek.com). Attending Robobusiness Europe will give you the chance to explore the integration of these two industries and experience how these worlds interact with each other. Don't miss it!
---
May:
MAY 04 - 07 2015, ATLANTA, GA
Join the world of unmanned systems and robotics at AUVSI's Unmanned Systems 2015 in Atlanta, MAY 2015! Whether you are integrating unmanned systems and robotics for commercial, agricultural, automotive or environmental applications; are using it to further scientific research; or are involved in civil programs, you know this technology is transforming our world. Unmanned systems accomplish many tasks more efficiently while saving time, financial resources and often even saving lives. However, public awareness, budget concerns, government regulation, and technical innovation are changing the landscape of unmanned systems and robotics at a rapid pace. Your organization needs to be on the leading edge. At AUVSI's Unmanned Systems 2015, you'll see firsthand and up close how the latest technological innovations can help you increase productivity and efficiency.
MAY 18 - 21 2015, LONG BEACH, CA
RAPID returns to California for its 25th year as the authority on 3D. While 3D printing is becoming more mainstream, this is not new technology to us. For 25 years, RAPID has led the way for innovations in additive manufacturing, bringing together industry experts from across the globe. RAPID is your destination for learning, networking, and growing your business in 3D manufacturing. No other event provides you with the opportunity to visit hundreds of 3D technology manufacturers in one room and network with thousands of attendees.
MAY 19 - 20 2015, CHICAGO, IL
Our 2015 event will explore the technologies and strategies that continue to transform manufacturing in the U.S. Two days of keynote presentations, track sessions and technology workshops will cover topics such as HMI, Manufacturing Intelligence, Robotics, Big Data, Control, Internet of Things, Cloud Computing, Manufacturing IT, Remote Access, Safety, Security and more. Plan now to join us for the season's best education and networking event for automation professionals across all industries.

---
The content & opinions in this article are the author's and do not necessarily represent the views of RoboticsTomorrow
---
Comments (0)
This post does not have any comments. Be the first to leave a comment below.
---
Post A Comment
You must be logged in before you can post a comment. Login now.
Featured Product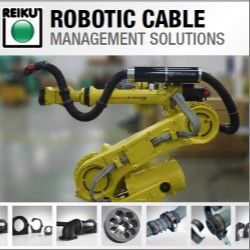 REIKU's Cable Saver™ Solution eliminates downtime, loss of revenue, expensive cable and hose replacement costs, maintenance labor costs. It's available in three sizes 36, 52 and 70 mm. All of the robots cables and hoses are protected when routed through the Cable Saver™ corrugated tubing.The Cable Saver™ uses a spring retraction system housed inside the Energy Tube™ to keep this service loop out of harms way in safe location at the rear of the Robot when not required. The Cable Saver™ is a COMPLETE solution for any make or model of robot. It installs quickly-on either side of the robot and has been tested to resist over 15 million repetitive cycles. REIKU is committed to providing the most modular, effective options for ensuring your robotic components operate without downtime due to cable management. www.CableSaver.com