Here you will find a summary of some of the great new products and innovations from Automate 2015:

RoboticsTomorrow Team
Automate showcases the full spectrum of automation technologies and solutions. From traditional industrial applications to cutting edge new technologies, you'll find ways to automate every process in your company. It's held just once every two years and this year RoboticsTomorrow.com is once again a media partner for Automate 2015 and we have expanded to bring more news, articles, products and perspectives from the show.
Here you will find a summary of some of the great new products and innovations from Automate 2015:
---
The Triflex RSP system is designed for cable guidance on robots performing complex movements. The adjustable pneumatic retraction system safely guides the cable package, and can be attached to various robotic models quickly and easily. Lightweight and space-saving, Triflex RSP is also available with optional monitoring system for robots whose program sequences frequently change, alternate, or are not 100-percent predictable.
---

The MS Series Quick Order Guide is intended to help you select products which are stocked or assembled in the North American production facility, providing you with the best possible lead times.¬ All of the configuration options in this document are assembled in the North American production facility. All of the material numbers of the most common individual components in this document are stocked in the North American production facility.
---
The robot is in normal operation. The operator announces his or her entrance in the robot safety zone by pressing a button at the door. The door unlocks, and the operator enters the safety zone while the robot and the gripper slow down to the safely limited speed (SLS) at the same time. The operator enters the second safety zone to take the workpiece. The robot and the gripper switch into the safe operating stop while remaining continuously powered (SOS). If a workpiece is held by the gripper, it remains safely held.¬
If the workpiece has not been laid down by the robot with the gripper, the operator steps back into the first safety zone: In order to lay down the workpiece correspondingly, the robot and the gripper automatically continue moving at the safely limited speed (SLS). After the storage process, the operator enters the second safety zone again to take over the workpiece. The robot and the gripper switch into the safe operating stop (SOS). When the operator leaves the safety zones and closes the door, the robot and the gripper operate normally again.
---

IPR Robotics offers a wide range of servo-driven 7th axis linear rails for industrial robots. These rails come in ten different sizes and are constructed from modular high strength extruded aluminum sections to handle payloads of 100 kg to 1600 kg or from steel to handle 2000 kg payloads. This variety of rail sizes allows each application to be sized correctly, controlling the space required and the price point. The drive train design of these rails utilizes helical gear-racks and is proven over 10 years to be repeatable and reliable, even in tough foundry applications.
---
maxon motor launches the MAXPOS 50/5. This compact EtherCAT Slave unveils unprecedented possibilities as far as precision, dynamics, and synchronization are concerned. It also ensures reliability and durability even under harsh conditions. More than 20 years of experience in motion control have been incorporated into this latest technology in positioning controller.
By their design, the ironless maxon DC brushed motors and brushless (maxon EC) motors are ideal for applications demanding high dynamics and longevity. Typical areas are robotics and applications in the medical industry or in specialized machine manufacturing. In the past when particularly high requirements were called for, the controller used or its limited integration capabilities to the master occasionally imposed limitations due to its inability to keep pace with the high dynamics of the motors. With the new MAXPOS 50/5 motion controller, these core motor properties can now be ideally utilized. With the latest FPGA (Field Programmable Gate Array) technology, highest control cycle rates can be achieved with minimally short cycle times at the same time. For trajectory planning, sophisticated motion control tasks with a current controller clock speed of 100 kHz and an effective communication cycle time of 100 őľs can be achieved with a suitable EtherCAT master. Distributed Clocks Support as well as the endorsement of CoE (CAN Application Layer over EtherCAT) with ¬ęCyclic Synchronous Modes¬Ľ perfectly suit these purposes. As an alternative, profile-based operating modes for position and velocity are also available. In addition, the outstanding processing power provides field-oriented sinus commutation of brushless motors (maxon EC) up to a speed of 200,000 rpm.
---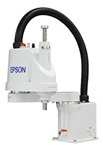 EPSON ROBOTS, THE # 1 SELLER OF SCARA Robots start as low as under $12,000¬
Our LS-Series robots start at the unbelievable price of under $12,000 yet they provide the same EPSON quality, reliability, ease of use and now also expandability as our high performance G-Series robots. ¬ With this low price and the high reliability and capability of EPSON Robots, even more applications than ever before are now perfect candidates for EPSON Robot Automation solutions.¬
---
The SAFE STOP function allows the arm to be safely stopped without disabling its power. Keeping your people safe while minimizing any interruption of your production.
The SAFE SPEED function allows to safely and dynamically adjust the velocity of the arm based on an external sensor status. Keeping your people safe and maximizing your production.
The SAFE ZONE ¬ function allows you to define articular and Cartesian limits that create a prohibited area for the robot arm. Not only protecting your people but also protecting your investment by reducing the space consumption and preserving your equipment from accidental collision.
The SAFE TOOL ¬ function creates a virtual protection around the tool and prevents it from entering a prohibited area. Your people remain safe, and so does your investment.
---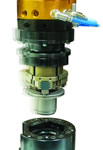 ATI Industrial Automation has developed two new series of compensators (patents pending) that allow compliance in multiple directions. These unique devices allow pieces to be gripped or routed reliably even if the workpiece is severely misaligned. Both of these series are designed for high endurance and high repeatability, and have robust guidance allowing for high moment loads in a compact work envelope.
The L1 Compensator is for use in automated assembly, loading and unloading machines, and more. The L1 Compensator allows for X-Y lateral compliance of ¬Ī2.6 mm (min), with Z rotational compliance of ¬Ī18 degrees. It also features a compact body that allows for direct mounting to many standard robot wrists using an ISO 63 mm robot flange Pattern. A position hold option allows the unit to be held in the offset state using air pressure to a supplemental set of pistons.¬
The P1 Compensator is for use in automated assembly, bin picking, loading and unloading machines, robotic finishing, and more. Suitable for most 50 kg robots, the P1 Compensator offers rotational compliance of ¬Ī13 degrees (min) in all three directions with no lateral movement. It also allows for direct mounting on many standard robot wrists using an ISO 125 mm robot flange pattern. The P1 Compensator is spring-biased toward the center position and can be adjusted to the desired stiffness by applying variable air pressure to the lock and unlock ports.
---

In the fight for high performance with minimum weight, FAULHABERs 3274 BP4 is the new champion in the ring. The brushless DC servo motor, measuring 32 mm in diameter and 74 mm in length, has massive continuous torque of 165 mNm. Surprisingly, it weighs in at just under 320 g, which is half the weight of conventional motors with comparable power.
The four'Äźpole brushless DC servo motor is ideal for applications in which high power and dynamic start/stop operation with the lowest possible total weight is an important factor. ¬ Perfect application fits include humanoid robots, electric grippers used in process automation and high'Äźperformance traction drives used in inspection robotics.
---
DE-STA-CO will kick off its 100th anniversary celebration at Automate next week by looking back on the company's history, while also introducing innovative new products for OEMs and end-users.
"DE-STA-CO has a long history of innovation, which includes the invention and patent of the first manual toggle clamp," says Darren Greene, director, global marketing and business intelligence for DE-STA-CO. "Our Automate booth will feature historic DE-STA-CO products and literature, as well as a video retrospective showing how the company has grown to become an industry leader. And while it is nice to look back on our past, we have not stopped finding solutions for our customers. There will be several new products for attendees to see in action."¬
---
MICROMO is pleased to announce the latest addition to the FAULHABER CR DC Motor series. ¬ Its graphite commutation, powerful neodymium magnet and particularly high copper content in the FAULHABER rotor winding provide the compact 3890 CR with an enormous amount of power.
---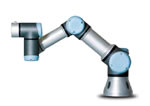 Universal Robots launches UR3 'Äď the worlds most flexible, light-weight table-top robot to work alongside humans.
The Danish pioneer of collaborative robots has created a new, smaller robot for light assembly tasks and automated workbench scenarios.
---
Jabez Technologies provides robot programming technologies that enable versatile and profitable robotic solutions for industrial manufacturing applications.¬
Robotmaster is the flagship product of Jabez Technologies, specializing in robot programming technologies for industrial automation, manufacturing and robotics since 1996. Some of the major industries we serve include: Aerospace, Automotive, Transport, High Technology, Medical, Military, Industrial Manufacturing, and Woodworking.
---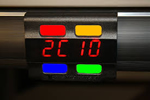 The next-generation enhancement to Intelligrated's GoKart product line, modifies the company's GoKart mobile picking cart to integrate with a fully autonomous mobile robot. This flexible solution replaces the time-intensive process of manually pushing carts while also decreasing costly mistakes in order fulfillment operations with 24X7 dependability and speed.¬
"Mobile carts consolidate fulfillment of orders in distant break-pack picking areas, saving time and making the most of valuable labor resources,'ÄĚ said Earl Wohlrab, palletizing and robotics systems product manager, Intelligrated. 'ÄúEnhancing cart picking with mobility reduces order time in transit through the distribution center and frees labor to focus on more complex tasks without overhauling existing workflow
---
'ÄúAdept Lynx AIVs are an effective, autonomous method for moving goods throughout large warehouses and factories, improving efficiency and flexibility, and lowering costs,'ÄĚ said Michael Oitzman, senior product line manager of Mobile Robots at Adept. 'ÄúLynx Enterprise Manager 1100 is a powerful, easy-to-deploy platform that can manage every aspect of a substantial Lynx mobile robot workforce.'ÄĚ
Lynx AIVs provide rapid, traceable material movement in highly dynamic environments such as warehouses, distribution centers and factories. Unlike traditional AGV systems, Lynx vehicles intelligently self-navigate, avoiding obstacles and selecting the best path to complete a task. The Lynx Enterprise Manager 1100 is a powerful tool for controlling a Lynx fleet, coordinating vehicle configuration, task allocation and traffic control, and interfacing with a users existing enterprise management system.
---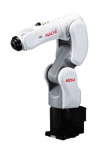 The new MZ Series robot arms feature ultra high-speed motion capability with advanced through-arm dress capabilities to simplify routing of hoses and cables for material handling, assembly, vision and many other applications. Boasting an IP67 rating, MZ Series robots are the fastest in class in standardized speed testing, leading all competitors' robots. Flexible mounting solutions allow MZ Series to be floor, wall, or invert mounted to better suit customers' needs for any given application. As the newest addition to Nachi's comprehensive robot lineup, MZ Series robots build on the great heritage of large payload robots by providing an extremely versatile small robot with top of the line capabilities. The MZ03EL incorporates the same great features as other MZ Series robot with added reach up to 1.1 meter horizontal reach for larger work areas.¬
---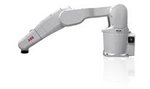 The IRB 1200 small robot family provides flexibility, ease of use, short cycle times, and a unique combination of a compact footprint and a large work envelope. It is designed for a wide range of material handling, machine tending and small parts assembly applications, and is innovatively designed with no offset in axis two, delivering a longer stroke that allows the robot to be placed very close to the work piece and still be functional. Combined with other signature features, the longer stroke enables up to 15% smaller work cells and 10% shorter cycle times than comparable robots.¬
The demo also features the new ABB FlexFeeder, an ultra-compact flexible parts feeding system designed for small parts assembly applications such as consumer electronics, computers and communication devices. The FlexFeeder, in combination with ABB's Integrated Vision, allows the sorting of an array of components, ranging from 3 -30 mm, without having to change the feeder each time a different component is fed into the system. It utilizes a pneumatically actuated mechanical system to present randomly positioned parts in a way that makes it possible for a vision equipped robot to pick the parts accurately.¬
---
OCTOPUZ ¬ is an intelligent CAD-to-Path and offline robot programming and simulation software solution ideal for any path-sensitive application. Created in 2013 by In-House Solutions, the company took a revolutionary approach by combining the offline programming of robots with a manufacturing process simulation. Today, OCTOPUZ provides a mainstream, versatile, powerful and effective solution for any robotic challenge.¬
"OCTOPUZ allows us to show the industry how we can provide the best in automation solutions using simulation-based software," said Greg Culp, Robotics Sales Manager at In-House Solutions. "It gives us the ability to visually describe and 3D animate proposed solutions tailored to the customer's specific automation needs."¬ ¬
---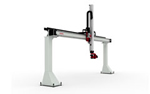 For the first time, G√ľdel previews a vertical TrackMotion at a major industry exhibition. Furthermore, attendees are treated to demonstrations of G√ľdel's third generation technology for gantries and tracks.¬
"We are proud to showcase our new gantry and robot track technology in a booth so close to major integrators and robot companies," said Joe Campbell, Vice President, Sales and Marketing. "G√ľdel works with all robots and is the technology of choice for top integrators. Visitors are invited for a preview of a new vertical TrackMotion and to talk with our automation specialists about product life cycle considerations and how to reduce mean-time-to-repair on robot tracks."¬
---
Harmonic Drive LLC will be showcasing its breadth of zero-backlash and low-backlash products at booth 1035. New on display will be our HPN value-line of Harmonic Planetary¬ģ gears. HPN Planetary Gears offer affordable pricing with short lead times. HPN Planetary gearheads feature a robust design utilizing helical gears for quiet performance and long life. These gearheads are available with short lead times and are designed to couple to any servo motor with our Quick-Connect coupling. This new value series of planetary gears carry the reputation for quality and reliability for which Harmonic Drive¬ģ products are known throughout the world. HPN gearheads are suitable for use in a wide range of applications for precision motion control and positioning. HPN Harmonic Planetary¬ģ gears are available in 5 frame sizes: 11, 14, 20, 32, and 40, with reduction ratios ranging from 3:1 to 31:1.
---

The RSA-HT electric rod screw-drive actuator is now available with higher force capabilities--up to 12,900 lbf'ÄĒmaking it an ideal alternative to hydraulics. Designed for durability and longevity, the RSA includes optional IP65-67 ratings for outdoor environments, ¬ an easy to access lube port for quick lubrication without disassembly and a purge port for keeping contaminants from internal actuator components.
RSA-HT actuators are available in three sizes and are compatible with a wide selection of motors (up to a 170mm bolt hole circle). Multiple screw selections are available for a wide range of performance capabilities.
---
For the first time, global automated systems provider Harry Major Machine (HMM) is displaying a new cable-less robot gantry technology for the manufacturing industry during Automate 2015. As a leader in the design, manufacture, installation and support of custom automated systems and machines for manufacturing companies around the globe, HMM is the exclusive provider in North America for the state-of-the-art cable-less gantry, which is made by MaxRoTec Co Ltd., a world leader in gantry robots and a HMM partner since 2014.
With the cable-less gantry, power is supplied to the system via an insulated trolley and collector arm and its communication is powered by an optical Ethernet transmitter using infrared light. The system can work at faster speeds than traditional cabled gantries and has the ability to handle up to five carriages on a single track. The line configuration and programming are easy to change, since no cable-laying is required, even if the beam length is changed due to line modification. Since no cable track and guarding is needed and multi-carriages can be handled on a single track, less space is required for the system, which allows for a more compact line configuration.
The system is compatible with a variety of robot technologies such as ABB, Fanuc, Kawasaki, Kuka, Nachi and Yaskawa Motoman and can be utilized by manufacturers in various industry sectors in their operations. ¬
---
Here is a look at some of our other coverage:
Our¬ Special Automate Newspage¬ is full of News and Press releases from the show.
Our¬ Automate Product Page¬ showcases some great products and Automate booth numbers for our supporting advertisers.
The content & opinions in this article are the author's and do not necessarily represent the views of RoboticsTomorrow
---
Comments (0)
This post does not have any comments. Be the first to leave a comment below.
---
Post A Comment
You must be logged in before you can post a comment. Login now.
Featured Product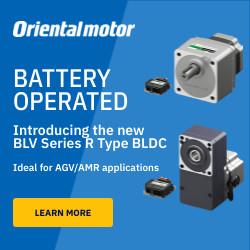 The BLV Series R Type brushless DC motor (BLDC motor) speed control system offers the design of motor and driver significantly reduced in size and weight, yet high-power, and contributes to the battery driven automation. The BLV Series R Type is compatible with the two interfaces of Modbus (RTU) and CANopen communication.