Here is a summary of what Tradeshows, Conferences & Exhibitions to look forward to in the coming months.

Brandon Hetherington for | RoboticsTomorrow
Automate 2015 gets going end of March and RoboticsTomorrow has expanded our coverage of this years show. Check out our Automate 2015 Newspage and stay tuned for our Tradeshow report and a series of articles from some NorthWestern University Masters students who attended the show on our behalf. They are sure to provide an interesting perspective on the show.
---
Here is a summary of what Tradeshows, Conferences & Exhibitions to look forward to in the coming months.
For our Full Event Calendar click here
---
April:
APR 04 - 12 2015, NORTH AMERICA
Are you ready for National Robotics Week 2015? The sixth annual National Robotics Week event will be held April 4-12, 2015. RoboWeek 2014 was amazing and 2015 promises to be even better! Activities can be small, large, and everything in between. Check out our activity ideas below, think about what your group might like to do and help make 2015 our best year ever.
APR 07 - 08 2015, ARLINGTON, VA
The purpose of the Ground Robotics Capabilities Conference & Exhibition is to provide a forum for Industry and Government stakeholders to engage in an honest dialogue exploring the potential effectiveness and efficiency gained through the use of human-machine teaming across all Services of the U.S. military.
APR 15 - 17 2015, NEW YORK, NY
Inside 3D Printing is returning to New York City on April 15-17! Since its inception in 2013, the Inside 3D Printing Conference and Expo has quickly grown to become the largest professional 3D printing event worldwide. Inside 3D Printing New York will feature a full day of workshops plus two days of conference sessions led by industry experts and demonstrations of the latest 3D printers and services. Session topics will explore new opportunities and challenges for industrial and consumer 3D printing efforts, as well as the best strategies for a range of industries including product development, medicine, automotive, technology, software, and more.The agenda has been programmed by Hod Lipson, Associate Professor, Cornell University.
APR 20 - 23 2015, DALLAS, TX
AeroDef® Manufacturing is the leading technical summit and exposition for the aerospace and defense manufacturing industry. Produced by SME, in partnership with industry OEMs, our mission is to foster innovation across the extended enterprise to reduce costs, expedite production times and maintain manufacturing competitiveness in the global economy.
APR 27 - 30 2015, MILAN, ITALY
Now in its third annual edition, RoboBusiness Europe confirms his status as a unique and most important European event for the robotics industry which can offer a complete vision on technological trends and paradigm of business. The 3rd edition of RoboBusiness Europe might be the first opportunity for you to attend an event on robotics which is co-located with M2M+IoT FORUM, the European leading tradeshow on M2M and Internet of Things industry (www.m2mforum.com). Robobusiness Europe and M2M+IoT Forum will be the the main conferences of the first Disruptive Week Milan, an unprecedented week of coordinated events on emerging and disruptive technologies (www.disruptiveweek.com). Attending Robobusiness Europe will give you the chance to explore the integration of these two industries and experience how these worlds interact with each other. Don't miss it!
---
May:
MAY 04 - 07 2015, ATLANTA, GA
Join the world of unmanned systems and robotics at AUVSI's Unmanned Systems 2015 in Atlanta, MAY 2015! Whether you are integrating unmanned systems and robotics for commercial, agricultural, automotive or environmental applications; are using it to further scientific research; or are involved in civil programs, you know this technology is transforming our world. Unmanned systems accomplish many tasks more efficiently while saving time, financial resources and often even saving lives. However, public awareness, budget concerns, government regulation, and technical innovation are changing the landscape of unmanned systems and robotics at a rapid pace. Your organization needs to be on the leading edge. At AUVSI's Unmanned Systems 2015, you'll see firsthand and up close how the latest technological innovations can help you increase productivity and efficiency.
MAY 11 - 13 2015, NEW YORK, NY
RoboUniverse is the leading professional robotics conference and exposition that promotes practical applications of robots and intelligent systems while considering the impact of robotic technologies on human behavior and implications to society. RoboUniverse brings robot manufacturers and technology providers together with business and technical professionals interested in robotics for business, healthcare, education, manufacturing and the home. The conference program focuses on robotics for improving the way people work, learn and live with keen insights into human-robot behavior. The sessions provide insights into robotics markets and applications, business use cases, implementation strategies, key technology trends and the implications of robots in our daily lives. RoboUniverse is an inclusive professional robotics trade show delivering engaging workshops, inspiring keynotes, and content sessions that deliver meaningful and actionable information. The exposition floor will include up close and personal content sessions and demonstrations from the robot manufactures and associated disruptive technologies.(Richard Erb, Executive Director) Register with discount code TOMORROW for 10% OFF Gold and Silver Passports!
MAY 18 - 21 2015, LONG BEACH, CA
RAPID returns to California for its 25th year as the authority on 3D. While 3D printing is becoming more mainstream, this is not new technology to us. For 25 years, RAPID has led the way for innovations in additive manufacturing, bringing together industry experts from across the globe. RAPID is your destination for learning, networking, and growing your business in 3D manufacturing. No other event provides you with the opportunity to visit hundreds of 3D technology manufacturers in one room and network with thousands of attendees.
MAY 19 - 20 2015, CHICAGO, IL
Our 2015 event will explore the technologies and strategies that continue to transform manufacturing in the U.S. Two days of keynote presentations, track sessions and technology workshops will cover topics such as HMI, Manufacturing Intelligence, Robotics, Big Data, Control, Internet of Things, Cloud Computing, Manufacturing IT, Remote Access, Safety, Security and more. Plan now to join us for the season's best education and networking event for automation professionals across all industries.

---
June:
JUN 02 - 04 2015, DETROIT, MI
THE BIG M is an unprecedented event to celebrate manufacturing. Together, leveraging the collective power of an industry, we can find solutions to manufacturing's most complex issues and technical challenges. And we challenge you – as creative thinkers, problem solvers and technical experts – to join us as we take a fresh look at what's possible.
JUN 15 - 17 2015, EDMONTON, AL
Ever-evolving technology, unique economic challenges, and the heavy influence of the oil and gas industry present a diverse mix of circumstances — and WMTS is up to the task of meeting them. A showcase of top solution providers, we've got the answers you're looking for. Walk the show floor and meet face-to-face with the experts who can show you how applying new methods and advanced technology can improve your operation and your margins. Leading-edge machine tools, tooling and accessories, fabrication, design, automation, process control, and plant maintenance equipment — it's everything you need all under one-roof!
JUN 15 - 18 2015, OULU, FINLAND
The ISARC 2015 will be a prestigious gathering of researchers, academics and industry practitioners in all specialty areas related to the construction, mining and built infrastructure industry. Apart from addressing latest advances in automation and robotic technologies for construction, building and mining, field instrumentation and sensors, excavation and haulage, safety and protection, fleet management, and computer-aided process design and optimization, ISARC 2015 will focus on issues of efficiency, productivity, quality, and reliability in construction/mining automation and its interactions with the environment.
JUN 23 - 24 2015, BETHESDA, MD
The Next Gen Drones 2015 conference presents the latest technical advancements in unmanned systems and their applications for commercialization. Key presentations will address the most advanced research and development for commercialization with industry discussions focusing on the latest regulatory updates and advancements in safety. In addition, technical presentations on advanced UAV Communications, Navigation and Flight Control will be presented. This conference will provide attendees with high-level technical talks combined with a comprehensive industry overview of the entire UAV ecosystem and will bring together the key organizations involved in furthering UAV commercialization and its integration into commercial airspace.
JUN 23 - 26 2015, WASHINGTON, D.C.
The 2nd UAS Commercialization Industry Conference is the leading cross industry forum, bringing together all the necessary stakeholders such as UAS adopters, government officials, industry partners and expert academia. These experts will discuss their current trials, future requirements, extensive capabilities, and forthcoming plans to leverage Unmanned Aerial Systems in commercial markets.
---
The content & opinions in this article are the author's and do not necessarily represent the views of RoboticsTomorrow
---
Comments (0)
This post does not have any comments. Be the first to leave a comment below.
---
Post A Comment
You must be logged in before you can post a comment. Login now.
Featured Product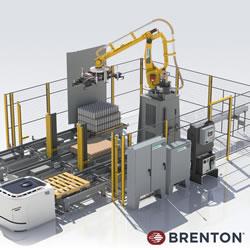 Brenton is a leader in robotic solutions with standard product offerings including palletizing and depalletizing for efficient an option for carrying hard-to-handle products, as well as larger scale systems with an optimized footprint; and case and carton loading solutions for numerous industries. In addition, Brenton works with customers on integrated solutions, offering robotics in a broad spectrum of robotics to fully integrate end of line systems. Brenton helps packaging customers protect their reputation and grow the trust of their consumers.