Overall, the reports that I surveyed were upbeat, predicting exponential growth for all unmanned vehicles.
Unmanned Systems Markets: Present & Future
William Finn | Amrel
Reprinted with permission from the Amrel blog:
Since I work for a company that sells to unmanned system developers, I am always on the lookout for information about market trends. Toward this end, I scanned a number of promotions for marketing reports, selected out bits of information, and summarized them in the table below.
Unmanned Systems Markets: Size and Growth
Sources include Markets and Markets (UGV & UGV, UUV, UAV), Report Buyer (UGV), Big Market Research (UAV), Reports n Reports (UUV), and Report Linker (UUV)
The two different CAGRs for UAV reflect opinions of two separate reports
UUV
Many marketing reports are often extremely optimistic, so projections of enormous growth are not unusual. Still, Holey Moley, look at the predictions for Unmanned Underwater Vehicles (UUVs)! Ten-fold growth in six years!
Like other unmanned systems, Defense applications will play a big role in UUVs expansion and development. However, utilization of UUVs for Oil & Gas inspection and construction are also significant.
I wonder if these incredible projections were made before the drop in oil prices. Hard-to-reach oil beneath the sea may be too expensive to develop if petroleum prices remain depressed. That could affect the demand for UUVs.
UUVs can be divided into Remotely Operated Vehicles (ROV) and Autonomous Underwater Vehicles (AUV). In fact, some reports consider them separate markets. See table below.
While the ROV market is currently the largest, AUV is expected to eventually dominate as autonomous capabilities improve. Other technological drivers include increased number of payloads, endurance, miniaturization, and AIP (Air Independent Propulsion).
UGV
While the UUV market growth is the most impressive, the Unmanned Ground Vehicles (UGV) CAGR is nothing to sneeze at either. Certainly, we can expect demand for UGVs to be fueled by Improvised Explosive Device (IED) detection and Intelligence, Surveillance & Reconnaissance (ISR), i.e. their traditional duties. However, according to some reports, we can expect UGVs to be also used for civilian applications, such as material handling, transportation, social welfare (especially elder care), agriculture, and telepresence (especially medicine).
UAV
The biggest surprise for the Unmanned Aerial Vehicle (UAV) market was the demand for combat applications. One report predicted that Unmanned Combat Aerial Vehicles (UCAV) would constitute the single largest segment with a share of 34%.
A grain of salt as big as Gibraltar
Overall, the reports that I surveyed were upbeat, predicting exponential growth for all unmanned vehicles. North America (and Europe to a lesser degree) is expected to remain the dominant market. However, I saw multiple predictions that most growth will happen in "emerging" markets, such as BRIC countries, and other parts of the developing world.
Obviously, unplanned events could seriously affect predictions. If a UAV collided with a manned airplane and killed someone famous, the FCC's pace in approving UAVs for domestic airspace could remain glacial. On the other hand, if a small, developed country successfully integrated UAVs into their air control system, the pressure on the FCC to speed up the approval process could increase.
As always, view these marketing reports with a scrupulous, but wary eye.
The content & opinions in this article are the author's and do not necessarily represent the views of RoboticsTomorrow
---
Comments (0)
This post does not have any comments. Be the first to leave a comment below.
---
Post A Comment
You must be logged in before you can post a comment. Login now.
Featured Product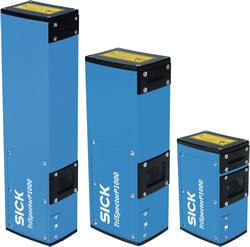 Take your quality inspections to the next level with tailor-made 3D solutions from SICK, Inc. The TriSpector1000 is a stand-alone, configurable 3D vision sensor that reliably inspects objects regardless of variations in color, height, shape, or position. It is suited for solving quality control issues and can be used for volume & thickness measurement and inspection of box integrity. Check out SICK's quality inspection solutions at Pack Expo 2019 in Booth #LS-6419.