The 3D Printshow is the first dedicated 3D printing event anywhere in the world.

Len Calderone for | RoboticsTomorrow
The 3D Printshow is the first dedicated 3D printing event anywhere in the world. They've grown from a small technology show to a global series of events for the 3D printing industry. This year there are two upcoming shows, Paris and Dubai with the California show held this past week.
Next year, the show will be held in six locations around the world, including two in California. You can get further information at www.3dprintshow.com.
The 3D Printshow is the place to discover the future technology that everyone is talking about. The 3D manufacturing industry is increasing and developing at an amazing pace. Whether you're in charge of a manufacturing plant or just like to play around at home, you might want to consider taking a vacation later this year in Paris or Dubai, or attending one of the California shows next year
At the California show, there was a seminar geared to help the attendee to understand the current marketplace, the technology and material options that are available, and the applications where 3D printing is letting people do incredible things.
Another seminar explored how established businesses keep on growing through their work with additive (3D) manufacturing, within the confines of manufacturing, investment and design. A third seminar addressed the potential that 3D printing has already provided and discussed the way designers approach aesthetic and functional challenges.
Getting involved with 3D printing/additive manufacturing means understanding the technology, and how it addresses your needs. The show had a beginner's seminar that will help newcomers understand the technology with advice on purchasing your first piece of equipment right through to its applications in your business. It covered how important 3D printing is to manufacturing and the supply chain.
Even with all of the talk about 3D printing in manufacturing, the public appears more interested in the human aspects of 3D printing, such as prosthetics for people and animals, making toys, and even a 3D tattoo machine.
Tattoo machine made from 3D printer
Some manufacturers just can't embrace new technology and they persist in using old techniques to develop and produce their products. There are a lot of potential sales in 3D equipment manufacturing, and that's a good reason why the stock price of industrial 3D printing companies remains high.
If you have a design but do not have the ability to print the object, 3D Hubs makes it easy to get a design printed. Just upload your 3D design in the .STL format and select a printer location anywhere in the world from an interactive map. There are 21,000 printer locations in 150 countries. The printer location will print your design so you don't have to ship your product. .
With printer locations over the world, consumer products can be made on-demand and much closer to their point of purchase, eliminating waste from overproduction and transport. 3D Hubs is accelerating this future by giving everyone direct access to 3D printers worldwide.
The 3D printing revolution is on its way, so let's look at some innovations:
Adobe Photoshop CC software allows you to take your 3D designs from the screen and make a real object. Adobe uses familiar Photoshop tools to design, color, and texture new or existing 3D objects, preview them accurately, and print them with the highest-quality results.
3Dfactories is a company that listens to its clients' suggestions and wishes in order to guarantee continuing improvement of their printers. The printers produced by 3Dfactories are distinguished by efficiency and stable processing. The printers contain crucial parts of high-quality aluminum alloy and anti-corrosion treated steel. Highly stressed parts like the extruder wheel or the guiding rods are designed for extended usage. The philosophy of 3Dfactories is based on the German traditional approach to produce robust machines with a high manufacturing quality.
3D Shook has a large collection of designs, all of which are printable on consumer grade FDM printers. They have over 1,000 designs in 40 categories. This is the world's first subscription print-on-demand service. You can easily find something to print for your home, garden, pets, children, or friends. Halloween is coming up. Check out their collection of accessories. All of their designs are tested and guaranteed to print.
Have you ever dreamed of drawing in 3D? The 3Doodler is the world's first 3D printing pen. Do you like to scribble or trace? By employing their printing pen, you can draw in 3D, using extruded heated plastic filament, which cools almost instantly into a solid stable structure. The company offers a palette of over 65 colors. They even offer free stencils should you be short on ideas. Check out their video.
3D Slash is a creative tool, which is very instinctive and simple to use. You can visualize and 3D model simultaneously. Since the program is intuitive, there is no barrier to start, no special vocabulary, and no complex training required.
3D Slash developed its concept on preassembled cuboid forms of different sizes (from 1 unit up to 1024). Just like a sculptor, 3D Slash provides an original toolset, which has a hammer (to remove a cuboid); a trowel (to add a cuboid); a chisel (to remove a slice of cuboids); a jigsaw (to remove lines of cuboids); wood filler (to add a slice of cuboids); a milling machine (to remove adjacent cuboids volume); and a picture projection on a cuboid (to help cutting your object out according to the picture shape).
What would you 3D print with Purement (pure filament), a PLA that kills germs? BnK (Books and Kimchi) Chemical Corporation announced a new filament, which is a PLA-based antibiotic/anti-microbial filament that has the ability to kill germs on contact.
Purement uses inorganic antibacterial ingredients, as these ingredients are more durable than organic compounds. The active ingredients used have been approved by the FDA and SIAA for antibacterial purposes, and the filament's antimicrobial effect was certified by KOLAS and eliminated 99% of the germs tested.
Create It Real works like an R&D center, developing technology and releasing platform solutions to easily create desktop 3D printer products. Using state-of-the-art technology, the company creates custom features and provides platform tools to hide the complexity of this highly developed technology. This allows quick integration of the technology into new products and reduces the time to market. Their clients focus on what they already know best, which is the production and introduction of product to market.
RoboSavvy is a UK company that assists schools and teachers in enhancing courses in the area of robotics, design, technology, science, engineering and math. They supply schools with the necessary tools and training for 3D printing, giving students an early start with this technology.
Robosavvy's 3-D printing training courses will guide students through every step, from designing to printing. The hands-on training courses can be customized to meet individual educational or professional needs. Their courses are provided by highly qualified and experienced technicians.
The 3DSVP Printing Mat, Zinomat, has been created to effortlessly remove a 3D printed object without any damage. Often, 3D printed objects remain stuck and are hard to detach from the build platform. To get the 3D printed object off the platform, it has to be forced loose with a small knife, eventually damaging the platform and the 3D object. Zinomat was developed to easily remove a 3D printed object without any damage. The Zinomat is a flexible mat, which contains metal flakes. Below the mat, there is a magnetic bottom mat that can be pasted on the build platform of a 3D printer. The innovative flexible top mat is kept in place by the magnetic bottom mat. This makes sure that the 3D printed object is easily removable. Zinomat makes the process of 3D printing more effective.
How does it work? What can it do? What can it make? If you are asking any of these questions, plan on a 3D Printshow in the future. One thing that's really clear is that people from all walks of life are figuring out that 3D Printing can and will help them in one form or another. Many school age kids are asking how to get involved. 3D printing is starting to look more like an enabling tool, rather than a specific industry.
The content & opinions in this article are the author's and do not necessarily represent the views of RoboticsTomorrow
---
Comments (0)
This post does not have any comments. Be the first to leave a comment below.
---
Post A Comment
You must be logged in before you can post a comment. Login now.
Featured Product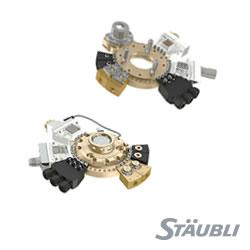 Stäubli is a pioneer in the construction and development of robotic tool changing systems. Our customers benefit from our many years of expertise in all industry sectors, as well as our modular product concept, which offers three efficient solution paths: MPS COMPLETE offers preconfigured robotic tool changers for immediate use. MPS MODULAR allows the user to determine the configuration, while MPS CUSTOMIZED allows the construction of special, application-specific systems.