Several states and businesses are competing to become a test zone in hopes of gaining traction in what promises to be a mushrooming industry. Businesses and State agencies are promoting the technology to improve their operations. Soon the friendly skies will be filled with drones.

Len Calderone for | RoboticsTomorrow
There was a time when you looked to the skies, you would just see birds taking flight or maybe a passenger jet high in the clouds, but now, the object that you see might just be a drone, as 500+ businesses in the United States are now cleared by the FAA to operate drones commercially.
The FAA hasn't finalized drone rules, but this should be done sometime this year. But, because of pressure from some industry groups, the FAA has issued some exemptions, known as Section 333, which allow some companies to fly drones commercially under a pre-defined set of conditions. These companies are obliged to identify what specific drones they will use, how those drones will be used, and why the marketplace needs that service.
Section 333 holders can operate their drones anywhere as long as the drone remains below 200 feet. Companies can now conduct commercial operations anywhere not strictly prohibited by FAA rules, such as airports and military bases. Certified drone pilots are providing data to customers, such as aerial video and imagery for residential real estate and commercial properties. Some companies are working with solar companies to photograph roof dimensions and shading data for solar panel placement and others furnish infrastructure inspections.
A few companies are acting as brokers for drone services by supplying certified drone operators with companies needing the service. These broker companies solve how best to integrate the technology into a client company's operations. They help farmers decide if a drone service will help with the farm's operation. They are working with the American Red Cross to figure out how drones will aid in disaster relief. The potential for drone use is tremendous.
Some of these broker companies are Gofor, Workmode, Fly4Me, and Measure. There will also be a high demand for not only drone operators, but mechanics, fabricators, engineers, sub control specialist and other UAV (Unmanned Aerial Vehicle) technology. More than 70,000 jobs could develop in the first three years after Congress loosens restrictions on U.S. air space. An average salary for a drone pilot will be $50,000 - $120,000 per year, working for government contractors. Or, you can start your own business.
For a long time, if you needed aerial photography, you would hire a commercially piloted helicopter or airplane. Aerial photographs or video are used in cartography, topography, feature recognition, archaeology and GIS applications by providing information on ground sites that are often difficult, or even impossible, to see or measure from the ground.
UAV operators are finding a future in aerial surveying by providing digital photogrammetric mapping and ortho photography services due to the enormous cost savings achieved using small unmanned systems capable of carrying a variety of visual imagery payloads that can fly at lower altitudes and slower than traditional aircraft.
Inspecting radio and telecommunications towers is very dangerous work. Ninety-five workers died climbing these towers from 2004 through 2012, according to the FAA; and 17 manned aircraft performing aerial photography crashed from 2005 through 2009, killing 19 people.
UAVs will be used for aerial photo reconnaissance to gather information on competitors' facilities, expansion and employees, and in private investigations, such as cheating spouses or claimants faking insurance claims. Police forces will be able to track a fugitive on the run in areas where a police helicopter couldn't operate at low altitudes, or in situations where the police don't want a suspect to know that the police are watching them.
It is also easier to employ one security officer with a drone that could cover a large area of difficult terrain than it is to hire multiple security officers that would be required to man posts distributed throughout a property.
Search and rescue in rough terrain or a disaster area is difficult at best, but a drone would make finding victims faster and easier than conventional means, which could mean the difference between life and death. Drones can provide real-time hi-definition video footage in areas hard hit by natural disasters like flooding, hurricanes, tornadoes, avalanches and earthquakes that cause large areas to be almost impossible and too dangerous to reach by land.
In an emergency situation, a drone can deliver life saving first aid while waiting for the ambulance, such as defibrillator for a heart attack. Larger UAVs can also be used to safely deliver medicine, food and water to otherwise unreachable victims.
Drone delivery services have been a popular topic of discussion ever since Amazon brought up the concept. The company is designing a drone to allow same-day delivery of packages. Google Inc. and Alibaba Group Holding Ltd. have also experimented with this type of delivery.
In some cases, flight is faster, safer and more economical than shipping via overland routes. Drones are delivering emergency medicine, vital mechanical parts and time sensitive documents among other things.
It's expensive to move and operate jibs, cranes, dollies and cameras mounted on helicopters or small planes that are needed to get action shots for a movie. Drones perform these jobs easier and for a lot less money. Several films, such as Skyfall, Captain America, Transformers: Age of Extinction, and Mission Impossible, employed drones.
Use of drone in filming of "Game of Thrones" commercial
Even news cameramen are using drones to provide video footage from areas of conflict, war, civil upheaval, accidents and disaster. UAVs offer journalists a safe working distance from otherwise dangerous situations and can often be carried to the scene and deployed by a camera operator far more quickly and at less expense than a commercially piloted news helicopter.
Above, a customs agent arrests an immigrant who tried to run from authorities on the Texas/Mexican border. Human smuggling is one of several cartel crimes documented by drone surveillance.
Farmers are using UAVs with specialized cameras that are capable of capturing specific wavelengths of infrared video. Contrasting colors indicate the overall health of crops in the field. Areas of concern can be more closely inspected using the same UAV for verification, problem identification and delivering a localized remedy.
Courtesy of Sindhuja Sankaran
A near-infrared image of a citrus orchard is taken by sensors on an UAV. Near-infrared reflects off chlorophyll and can show farmers their plants' health. Why is this important?
By 2050, our world population will have grown by more than 2.5 billion people; and farmers will need to produce more food in the next 35 years than they have in the past 10,000 years combined.
Photography has become very important to real estate sales and now the drone is employed to produce photographs of properties that could not previously be taken without a high cost. Low altitude aerial video footage, captured by drones, help to sell large properties and homes with unique features.
Realtors are beginning to realize greater benefits and profits by spending the extra money for a drone video of a listing. Studies show that listings that have videos get 400% more traffic. Listing videos get shown around the internet and garner a wider pool of people.
In the past, the word "drone" would bring about thoughts of the military destroying enemy targets. But as the technology expands to civilian use, another chapter in history is being written, as there will be a growing demand for commercial drones
Congress has mandated the FAA to develop a plan to safely integrate drones into U.S. airspace. Several states and businesses are competing to become a test zone in hopes of gaining traction in what promises to be a mushrooming industry. Businesses and State agencies are promoting the technology to improve their operations. Soon the friendly skies will be filled with drones.
The content & opinions in this article are the author's and do not necessarily represent the views of RoboticsTomorrow
---
Comments (0)
This post does not have any comments. Be the first to leave a comment below.
---
Post A Comment
You must be logged in before you can post a comment. Login now.
Featured Product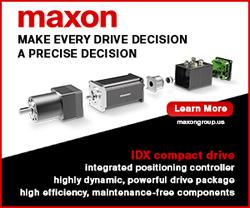 Discover the world of drive technology from a leading worldwide supplier of innovative customized drives. - Manufacturer of brushed and brushless DC motors, gearheads and motion controllers - Custom drive systems, quantities as low as a single unit - Certified for aerospace and medical applications