Gimball model drone eliminates the peril of flying close to people and potentially damaging structures.

Patrick Thévoz | Flyability
Reprinted with permission.
The bond between man and drone is growing – perhaps it's not at the level of our relationship to canines, but they are useful to us in different ways. Thousands of hobbyists have brought their love of UAVs to work with them, to the surprise and benefit of their employers. It is now quite normal for a casual drone operator to fit their favourite toy for industry application. However, there's a gulf hanging between the two: a drone doesn't exactly seem so joyous when it's hovering by your face, rotor blades being generally incompatible with real, pain-feeling skin.
Swiss company Flyability recognises the bridge that needs to be crossed if drones are to become ever-more integrated in our daily lives. Its new Gimball model eliminates the peril of flying close to people and potentially damaging structures. Drones-I-View sat down with Patrick Thévoz to find out how nature is schooling us in technological design, and how hot the industry spotlight feels after a big success . . .
Can you tell us about Gimball?
Our product is the first collision-tolerant drone, thus capable of flying close and even in contact with structures or people. Solving the two most critical challenges of flying robotics – the risk of collision and the danger to people – this technology completely changes the potential use cases of drones, as we are able to fly in tight confined spaces, beyond the line of sight, without any risk of crashing. Mainly aiming at industrial inspection of hard-to-reach areas such as tanks, vessels, boiler rooms, galleries, tunnels and the under deck of bridges, it also has uses in security and search and rescue to quickly assess the situation inside a building before sending humans in to do the job.
Yes, I suppose crashes are a pertinent problem of drone operations that needs to be addressed. Where did the inspiration for Gimball come from?
Originally the subject of a PhD project, we were looking for ways to navigate drones in complex environments for search and rescue. Inspiration was found in how insects fly: they have both complex sensors to sense their environments and a capacity to tolerate collisions, to continue flying following an impact with an undetected obstacle, such as a window. Flyability basically mimicked this ability to remain stable after a contact.
How does Gimball work exactly?
The robot is built inside a completely decoupled spherical protective cage. Thus, when a collision occurs, only the cage feels it, leaving the avionics undisturbed. The carbon-composite cage works together with a proprietary flight control algorithm that allows the robot to remain stable at all times.
So it's security and communicability working together. How does Gimball differ from other drones currently on the market? I haven't seen anything with this simple but effective design feature.
Gimball is basically a category of its own, redefining the boundaries of drones. Currently, the market is segmented into fixed wings, allowing to fly high in the sky and take aerial pictures, typically around 50-100m altitude, and multi-copters which have hovering capabilities and can get within ~5m of their target safely. Thanks to its protective frame, not only does Gimball allow to fly in all safety among people, but it also allows flying in complex, confined environments where numerous obstacles are present and roll on the floors, surfaces or ceilings, basically using obstacles to find its way.
Collision-detection for commercial UAVs is getting smarter all the time, and will be a defining factor in the next stage of their application. What has happened since you won the Drones for Good competition in February?
We started selling our prototypes to inspection professionals, and grew the team to 20 people. This fast growth was helped by the incredible media attention we got following the competition which resulted in hundreds of incoming requests for our technology.
Taking into account the clutter of human activity across big operations, what benefits will Gimball bring to disaster response and other related industries?
While drones are being increasingly used in for inspection and disaster response, it remains a tool to be used for aerial surveillance. By flying close to objects and indoors, and by removing the collision and injury risks from the operations, we are performing tasks which are now only possible with costly, dangerous and time-consuming methods such as rope access or scaffolding.
When will Gimball become commercial available, and what's next for Flyability?
It already is! While the drone itself it still at a late prototype stage, we are delivering units to the first customers and are already offering service with the drone. The product is still undergoing an industrialization process and should be available in larger volumes in the second half of 2016.
As for ourselves, we're scaling up production and sales in order to reach a volume of several hundred of units in the coming years. We are also working on a scaled-down version of our device for the general public.
To learn more about Flyability's ambitions for the drone market, hear Patrick speak on day one of SkyTech 2016's Industry Conference on the 27th January: http://www.skytechevent.com/
The content & opinions in this article are the author's and do not necessarily represent the views of RoboticsTomorrow
---
Comments (0)
This post does not have any comments. Be the first to leave a comment below.
---
Post A Comment
You must be logged in before you can post a comment. Login now.
Featured Product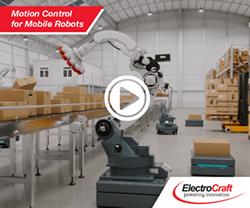 The new MPW86 offers a best in class 500lb per wheel load with speeds of up to 4.3 meters/second. The MPW86 offers powerful starting torque of 35 Nm and 20 Nm continuous. The MPW86 integrated design provides increased performance and reliability at an affordable price compared to traditional motor/gearbox/wheel combinations. The MPW86 is an ideal drivetrain solution for medium to large payload mobile robots and AGVs.