Here is a summary of what Tradeshows, Conferences & Exhibitions to look forward to in the coming months.

Brandon Hetherington for | RoboticsTomorrow
Here is a summary of what Tradeshows, Conferences & Exhibitions to look forward to in the coming months.
---
May:
MAY 02 - 05 2016, NEW ORLEANS, LA
AUVSI has been the industry's go-to organization for over 40 years. We are at an exciting inflection point today, where advancements in technology are allowing us to build upon our noble heritage of protecting citizens around the world. XPONENTIAL captures the potential of this industry, and defines AUVSI's commitment to you – now and into the future. Serving as the intersection for commercial and defense applications, and advancing all domains, XPONENTIAL is committed to serving as your ultimate industry brand experience. Join us in celebrating our exponential future. A future where XPONENTIAL will mark milestones. A collective moment in time where we collaborate, innovate and forge new paths together.
MFG4 - MANUFACTURING FOR THE FUTURE
MAY 03 - 05 2016, HARTFORD, CT
Mfg4 surpasses the traditional manufacturing technology event by delivering content and suppliers mandated by industry. Mfg4 is an event for industry developed by industry, with an emphasis on industry-specific solutions with attention to cross-collaboration.
MAY 05 - 07 2016, LAS VEGAS, NV
Robo Expos is the all inclusive trade-show for Robots, Robotics, Drones, Automation and associated products. Held May 5 - 7 , 2016 in Las Vegas! Huge crowds expected. This mega-trade show brings the future all together and allows for the opportunity of expanding one's business base exponentially. The Robo Expos trade show will be a milestone, marking an important next stage in development and progress; an advance that will bring your company business advantages.
MAY 16 - 19 2016, ORLANDO, FL
RAPID is your destination for learning, networking, and growing your business in 3D manufacturing. No other event provides you with the opportunity to visit hundreds of 3D technology manufacturers in one room and network with thousands of attendees.
MAY 24 - 26 2016, PARIS, FRANCE
Innorobo presents the state of the art of world robotics to a diverse range of markets through an exhibition illustrating the vast array of robotics technologies, conferences with renowned specialists and a host ofworkshops in order to encourage cross-innovation and open up new opportunities for growth and diversification in nearly all sectors. Innorobo : Join us May 24-26 at the Docks de Paris !
---
June:
JUN 01 - 03 2016, ODENSE, DENMARK
RoboBusiness Europe is a first-of-its-kind robotics event for the Continent. The purpose of RoboBusiness Europe is to provide robotics developers and end-users with a place to gather together and work on the essential connection between the development of the industry and the end-users' needs. It is the must-attend industry event for bringing robotics to market: how-to tactics, financing, building partnerships, marketplace strategies and commercialization. It's all about how to create successful competitive advantages.
THE BIG M - SHAPING THE FUTURE OF MANUFACTURING
JUN 07 - 09 2016, DETROIT, MI
THE BIG M is an unprecedented event to celebrate manufacturing. Together, leveraging the collective power of an industry, we can find solutions to manufacturing's most complex issues and technical challenges. And we challenge you – as creative thinkers, problem solvers and technical experts – to join us as we take a fresh look at what's possible.
TU-AUTOMOTIVE DETROIT CONFERENCE & EXHIBITION 2016
JUN 08 - 09 2016, NOVI, MI
The 16th annual TU-Automotive Detroit Conference & Exhibition (June 8-9, Novi) will discuss how the converging trends of connectivity, mobility & autonomy are putting automotive at the forefront of the IoT. The speaker line-up includes Fiat Chrysler Automobiles, Mercedes-Benz, MIT, Continental and more. New features this year include investors on stage, huge expo growth, and more.
2ND WORLD CONGRESS ON AUTOMATION AND ROBOTICS
JUN 13 - 15 2016, PHILADELPHIA, PA
The 2nd World Congress on Automation and Robotics will exhibit the products and services from commercial and non-commercial organizations like Drug manufactures, Clinical Trial Sites, Management Consultants, Chemists, Pharmacists, Business delegates and Equipment Manufacturers.
JUN 21 - 24 2016, MUNICH, GERMANY
AUTOMATICA is an international trade fair, which covers the entire value chain for automation and mechatronics as well as professional service robotics under a single roof.
JUN 21 - 23 2016, SAN JOSE, CA
Sensors Expo & Conference is the only industry event in North America exclusively focused on sensors and sensor-integrated systems. For over 30 years, Sensors has brought technical innovation and thought leadership to engineers involved in the development and deployment of sensors and sensing systems. The 3-day program explores cutting-edge trends and applications including Embedded Systems Design, Energy Harvesting, Flexibles & Wearables, IoT, Measurement & Detection, MEMS and Sensors, Novel Sensor Applications, Optics, and Wireless in an information-packed Conference Program and reflects those trends throughout the Exhibit Floor with new products, technology pavilions, demos, and a showcase of 250+ of the latest sensors on display.
---
July:
2016 CHINA INTERNATIONAL ROBOT SHOW (CIROS2016)
JUL 06 - 09 2016, SHANGHAI, CHINA
As the biggest and most professional robot exhibition presenting the whole industry chain of robots, CIROS is the very only exhibition supported by IFR in China, highly recognized by International Federation of Robotics(IFR) in the continuous three years; With an exhibition area of 38,000 ㎡ and over 500 robot enterprises' participation, CIROS 2016 will move to National Exhibition and Convention Center(Shanghai), the newly-built biggest venue in China
JUL 18 - 21 2016, AUBURN, ALABAMA
Auburn University is proud to host the 33rd International Symposium on Automation and Robotics in Construction (ISARC 2016), which will be held from July 18th to 21st in Auburn, Alabama. ISARC has been organised by members of the International Association for Automation and Robotics in Construction (IAARC) to address the needs and concerns of a global community in all fields of construction, including civil and building engineering, machine automation, robotics applications to construction, mining automation, infrastructure networks, construction and environmental sustainability, Information Technology innovations, planning, logistics, etc. IAARC welcomes participation from other industrial sectors and governments.​
---
The content & opinions in this article are the author's and do not necessarily represent the views of RoboticsTomorrow
---
Comments (0)
This post does not have any comments. Be the first to leave a comment below.
---
Post A Comment
You must be logged in before you can post a comment. Login now.
Featured Product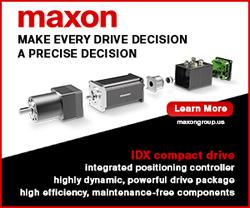 Discover the world of drive technology from a leading worldwide supplier of innovative customized drives. - Manufacturer of brushed and brushless DC motors, gearheads and motion controllers - Custom drive systems, quantities as low as a single unit - Certified for aerospace and medical applications