The marrying of Aerial MOBs robust operational experience and IP portfolio with 5Ds robust autonomy and behavioral technology really bridges many of the gaps for delivering valuable products to many industrial type clients, such as those in oil and gas, utilities, and construction among others.
5D Robotics + Aerial MOB = Autonomy and Reliability
David Bruemmer And Jonathan Montague | 5D Robotics
Tell us about 5D Robotics and the acquisition of Aerial MOB, LLC?
David Bruemmer: 5D Robotics acquired Aerial MOB's industrial assets and intellectual property, which led to the formation of the new 5D Aerial division. The division provides precise 3D mapping, photogrammetry, thermal and multi-spectral imagery data. 5D Robotics' precise position and navigation technology coupled with Aerial MOB's unmanned aircraft solutions (UAS) will further drive adoption of 5D sensors. With these solutions, the aerial division is expected to bring in new revenues for the company.
Why did 5D decide to acquire Aerial MOB specifically?
Jonathan Montague: 5D and Aerial MOB have had a great working relationship for a few years now. Aerial MOB has helped 5D on multiple projects involving UAS and performed highly in those outings. 5D has aggressively grown its business in the same time and recognized the unique capabilities and opportunities an acquisition of Aerial MOB's technical division provides. Aerial MOB will retain its separate business of UAS services for the motion picture and entertainment industries.
What does the combination of 5D and Aerial MOB products look like in terms of hardware/software?
Jonathan Montague: 5D will be providing full solutions for the industrial customer, with a focus on actionable information. The 5D autonomy layers will provide unparalleled safety, reliability, and accuracy of data which will augment the capabilities acquire in the Aerial MOB technical division acquisition.
What does 5D hope to achieve with this acquisition?
Jonathan Montague: The marrying of Aerial MOB's robust operational experience and IP portfolio with 5D's robust autonomy and behavioral technology really bridges many of the gaps for delivering valuable products to many industrial type clients, such as those in oil and gas, utilities, and construction among others.
In what direction do you see the marketplace for drone technology growing in the next few years --- what are some of the applications?
Jonathan Montague: The big shift will be away from single ended consumer derived solutions to a scaled, enterprise deployment for large customers. Technology focuses will be autonomy and reliability enhancements that are needed for large scale deployments.
Are there other projects that 5D is working on that you would like to talk about here?
David Bruemmer: We are also working to place our technology into automobiles for use as a unique vehicle to vehicle and vehicle to infrastructure solution. This allows us to provide centimeter level, reliable enhanced GPS and it also allows us to provide accuracy in terms of reactive responses to other cars. With the right antennas the 5D module also acts as a depth imaging radar so even if other cars don't have the 5D module it is possible to see them and respond. This technology has the ability to provide a connected vehicle framework that can help both human and AI driving, making roads safer and more efficient.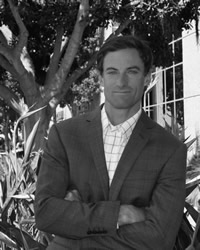 About David Bruemmer
David Bruemmer is CEO and Co-Founder of 5D Robotics, where he works to develop innovations that can impact the future of robotics and enable more intelligent transportation. He has authored journal articles on intelligent robotics and is often invited to speak at industry conferences. Before co-founding 5D, he led large-scale robotics research programs for the military and the Department of Energy.
About Jonathan Montague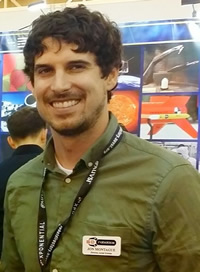 Jonathan Montague is Director of 5D Aerial Systems, a sub-division of 5D Robotics. Jonathan's duties include overseeing the Aerial Systems group which creates end to end solutions for channel partners as well as strategically working to innovate new, real-world solutions for specific vertical markets. Jonathan has a degree in Aerospace Engineering from the University of California San Diego and has worked on military drone systems for leading aerospace engineering companies.
About 5D Robotics, Inc.
5D Robotics, Inc., located in Carlsbad, California, is a world leader in the development of technologies that provide extremely accurate position and navigation, obstacle avoidance, and guarded motion. These solutions work in any almost any environment including rain, snow, indoors, outdoors, and without GPS. 5D's solution can be found in over 30 air and ground vehicles ranging in applications from industrial, mapping and inspection, automotive, and smart mobility. Our mission is accurate positioning and reliable behaviors for assured motion in any environment. For more information, please visit: www.5drobotics.com.
About Aerial MOB, LLC
Aerial MOB provides aerial cinematography to major motion picture studios and film and television production houses. It was the first company in the US to achieve FAA approval for use of drones in film production. Aerial MOB is backed by the best in the film production industry and comprised of a world class team of engineers, technologists, entrepreneurs, and cinematographers. Selected by the MPAA to lead the campaign to lobby FAA for use of UAS in Film Production and established the "gold standards" of closed set safety/operational procedures for the FAA. Aerial MOB performed the first ever FAA approved film production project with a UAS for a major studio. For more information, please visit: www.aerialmob.com.
The content & opinions in this article are the author's and do not necessarily represent the views of RoboticsTomorrow
---
Comments (0)
This post does not have any comments. Be the first to leave a comment below.
---
Post A Comment
You must be logged in before you can post a comment. Login now.
Featured Product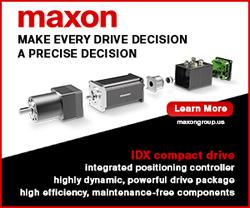 The compact brushless EC-i motor combined with an EPOS4 positioning controller delivers a highly dynamic, powerful drive package with field-oriented control (FOC), high efficiency, and maintenance-free components in a high-quality industrial housing. The maxon IDX drives are suitable for use across the entire speed range (from standstill to maximum speed) and have an extremely high overload capability. Together with a positioning controller, the integrated sensor (single turn) enables absolute positioning.