The number of unique parts required is high – some 200 parts in the past year or so – but the volume in which each part is needed is low, often only one or two.
Solving the Custom Robot Parts Challenge: The Deshazo-MFG.com Story
Daniel Drennen | MFG.com
Please tell me about Deshazo, LLC.
Deshazo is a manufacturer of overhead cranes and automation equipment, including robotics and other custom machines. Based in Alabaster, Alabama, Deshazo serves industries such as steel manufacturing, foundry operations, appliance manufacturing, aerospace, automotive, construction machinery, consumer products and material handling.
Deshazo's robotics division offers robotic vision systems that allow robots to perform quality control inspections, parts picking and other applications. Deshazo also offers robotic packaging systems that give robots the capacity to determine what product goes into a particular package and then box the product.
How did a custom crane manufacturer get involved with robotics?
The custom manufacture of a crane and the execution of an automation project is roughly the same from a workflow perspective. They both involve the same steps: study and analyze the processes involved; engineer a solution that addresses all the requirements; acquire the components; and assemble, install and test. Recognizing these similarities allowed Deshazo to identify and fill an important market niche without major capital expenditures.
Does Deshazo build robots?
No, we program robots. However, the solutions we engineer involving robots often require specialized end-of-arm tools to perform a programmed function.
For example, our vision system allows a robot to identify the geometry of a part in space, whether presented in two or three dimensions. Thus, we can program a robot to make decisions based on a part's location.
The solution we engineered for one Deshazo customer required a robot to recognize pallets of flywheels and unload them. So, upon seeing a pallet, the robot would look down to recognize that the pallet being viewed contains flywheels. Once recognized, the robot goes and picks them up based on their location in XY plane and moves them to a defined location. When the robot looks at the pallet again, it would recognize that there are no flywheels present. It will grab the pallet, put it with the other empty pallets and put down a new pallet filled with flywheels.
How did Deshazo solve the challenge of manufacturing highly variable robot parts?
We have both in-house manufacturing capabilities and suppliers that we have worked with for years for cranes and automation services. However, the highly variable parts required by the robotics division created a true challenge. The number of unique parts required is high – some 200 parts in the past year or so – but the volume in which each part is needed is low, often only one or two.
In the flywheel example above, the robot's arm needed a custom end-of-arm tool to work with pallets of flywheels. Other robots might require a finger, some kind of plate, or another feature unique to the specific task performed. In most cases, we only need a quantity of one or two of the specific end-of-arm tool. The cost to manufacture in-house or use one of our regular suppliers would be prohibitive. Deshazo needed to find an alternate, high-quality solution that was both cost-effective and timely. Outsourcing made sense, but how?
We had heard good things about MFG.com, the world's largest online manufacturing marketplace. So we decided to try it. We found that MFG.com's platform compressed the entire sourcing process down to a few quick, manageable steps done online. We simply posted our RFQ and engineering drawings, and MFG.com's system matched our requirements with suppliers around the world. Manufacturers interested in doing the work provided us online quotes using a format that made bid comparison simple. The platform's rating system facilitated supplier selection and allowed us to make high-quality sourcing decisions. Notably, MFG.com is a free resource available to engineers and buyers, and it offers intellectual property protection. We find that MFG.com consistently delivers significant cost savings on one-of-a-kind parts and offers us infinite scalability.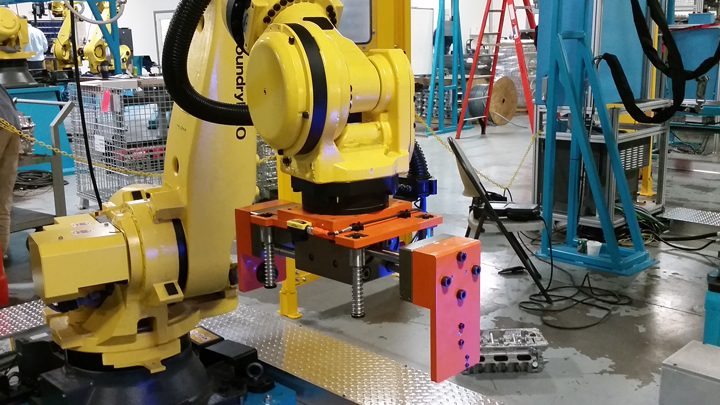 Using MFG.com's online marketplace, Deshazo identified a supplier to cost-effectively manufacture a unique end-of-arm tool
The automotive industry clearly is driving the robotics boon. Where else are robots finding greater applications?
Any manufacturing or assembly process that requires an operator to perform a repetitive task is a good candidate for automation using robots. Robots on our recent completed project list are working with vehicles, small engines, guns, generators, metals, beverages, power tools, chemicals, pipes, CNC machine tending and appliances.
Please share some of the more interesting automation solutions Deshazo has engineered with robots.
In my opinion, all of the automated solutions employing robots are very interesting. The versatility of movements and actions now in the robot's repertoire include picking, placing, bending, breaking, cutting, burning, welding, pushing, pulling, measuring, inspecting, locating and much more. The possible applications seemingly have no bounds.
One recently completed solution employs a vision-guided robot to load castings into a high-speed machining center, while another solution uses a robot to do spot welding for catalytic converter housings. In other Deshazo solutions, a robotic system performs filling, capping, and labeling functions for hazardous materials; residential coil assembly for an HVAC manufacturer; and assembly for a consumer goods manufacturer.
Is Deshazo working on any other interesting software applications involving robots?
Our robotic vision systems already enable robots to perform quality control inspections, parts picking and other tasks that lower hard tooling costs. Our robotic packaging systems can determine what product goes into a particular package and then box the product. Our solutions can store system information and have robots tell us when they require maintenance. We also are working on custom software that will give the customer more visibility into the production process, allowing them to know "how it's going" at any given point in time.
Are there any other projects on the go at Deshazo that you would like to discuss?
The line between our "crane" and "robot" products is becoming increasingly blurry. We recently installed an automated crane where the crane communicates with the inventory management system. The system instructs the crane on what to grab and where to put it. Next, automated cranes will be delivering widgets to robots for processing. Deshazo's expertise in designing and implementing automated material handling solutions for customers is almost limitless. It is a very exciting time at our company.
About MFG.com
MFG.com is the World's Largest Online Contract Manufacturing Marketplace. Helping Buyers and Suppliers of Custom Manufactured Parts Connect in One Secure Location, MFG.com is the Industry Leader in Global, Online Sourcing.
About Deshazo
DESHAZO is a leading original equipment manufacturer of overhead cranes in the United States with over 20,000 overhead cranes in service world-wide. We design, manufacture and install overhead cranes from light industrial to CMAA class "F" mill duty service, and every crane that comes out of our shop is custom-built from the gears up. That's how we guarantee the highest quality control and maximum reliability when our cranes are working hard for you.
The content & opinions in this article are the author's and do not necessarily represent the views of RoboticsTomorrow
---
Comments (0)
This post does not have any comments. Be the first to leave a comment below.
---
Post A Comment
You must be logged in before you can post a comment. Login now.
Featured Product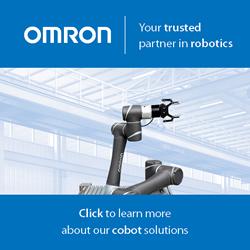 Humans and robots can now share tasks - and this new partnership is on the verge of revolutionizing the production line. Today's drivers like data-driven services, decreasing product lifetimes and the need for product differentiation are putting flexibility paramount, and no technology is better suited to meet these needs than the Omron TM Series Collaborative Robot. With force feedback, collision detection technology and an intuitive, hand-guided teaching mechanism, the TM Series cobot is designed to work in immediate proximity to a human worker and is easier than ever to train on new tasks.