Its important that your IT staff understand the impact of automation – more importantly, that it is not a replacement for your IT team.

Rita Brunk | Genfour
Many organizations fear that implementing automated technology will cause conflict with their existing IT systems. In fact, robotic process automation works well with legacy systems, mainframe applications and various other input and output methods, including SFTP. Robotic process automation is IT system and process agnostic, and therefore will not disrupt the IT department; it's more a question of reviewing processes holistically, than creating technology incompatibility.
Educating the IT staff
It's important that your IT staff understand the impact of automation – more importantly, that it is not a replacement for your IT team. Instead, robotic process automation allows humans to focus on higher skilled work or customer-facing activities. There is also the option for organizations to partially automate; this means that instead of completing an end-to-end process, robots can take care of the simple, repetitive tasks, allowing humans to continue to complete more complex tasks.
So, what does the IT department need to know about automation? Here are a few things:
A high software development capability is not needed to 'teach' the robots, and developers don't require a technical background to work alongside automation.

Robotic process automation fits into a typical IT release management process, including planning, scheduling and controlling an automation build through different stages and environments.

Robotic process automation control room features are accessible and understandable. Operations managers can control and manage their own 'virtual team', just as they would their human staff.

Robotic process automation is non-invasive – it works through any front end GUI, just as a human agent would.


Need to follow standard rules of protocol
The number one IT concern should robots be the subject of a Family Feud TV show episode, is that the robots cause security breaches, and can bring viruses into a company's network. The probability of that happening is even lower than that of an employee. The robot, which in most cases is hosted by the specific company, only enters through the VM. An employee on the other hand, can enter in through their personal PC's AND their password could readily be used by someone with access to their machine for example at home. The robot is given access ONLY to the systems necessary to perform their specific task; whereas an employee will have to access to a whole host of other systems too such as HR, payroll, etc. The rule of thumb is to treat the robot as if it was a faceless human. It wears no company ID card because it has no face to distinguish it.
A robot needs to be viewed as a virtual employee
Even though their performance would slot them in the "exceptional worker" category, they should not be given special privileges. That being said, their passwords should follow the same refresh rules as those of a human. Their metrics and reporting of usage should also be comprehended in the standard employee reporting. If specific system accesses needed to be reviewed on a periodic basis for continued access, so must that of the robot.
When system changes occur and test cases need to be completed for activity, so must the activity of the robots. As ERP's are replaced or companies are acquired by others, the robotic profiles must also be part of the conversion.
Is there a concern about security breach?
While many are concerned about the impact of automation on their organization's security, robotic process automation actually mitigates processes that are prone to high error or breach rates, and is therefore a security enhancement, not a liability. With robotic process automation tools, IT has the highest level of command over their system infrastructure. The IT department can regulate the access and permission rights of their frontline and back office staff, limiting certain employees to certain actions and processes and enabling more experienced staff to take on the more sensitive or complex tasks.
Robotic process automation tools automatically generate a record trail of the actions completed throughout a process, which makes it easy for the IT leadership team to monitor employees' actions and provide auditors their required information.
Further, robotic process automation sits on a virtual infrastructure in a secure data center and can interface with systems that have no existing APIs.
Look out for part seven in our ABC of RPA series, where we will be discussing how robotics and automation will affect employees.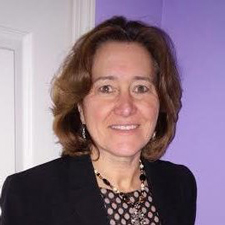 About Rita Brunk
Rita Brunk is the Robotics and Automation Transformation Lead for the US at Genfour, the robotic process automation (RPA) and AI delivery specialist. Rita has seven years of automation experience within a shared services environment, which developed to incorporate robotics tools.
Prior to joining Genfour, Rita led a global shared services effort at Hewlett Packard for robotics. She opened and closed various captive shared services sites outside of the US, and several sites under her responsibility won SSON Excellence Awards for value creation in a mature shared series centre.
For the past 15 years, Rita has held a number of executive positions in a captive shared services environment focused on process optimisation and the development of analytics within the finance, HR, logistics, procurement and marketing functions. During this time, Rita oversaw large teams located in Michigan, India, Costa Rica, Argentina and Mexico. For the last two years, she led global efforts to reduce headcounts across all locations, implementing RPA to drive this progress.
The content & opinions in this article are the author's and do not necessarily represent the views of RoboticsTomorrow
---
Comments (1)
Hi Buddy, Thanks for the tip, appreciate it. Your article definitely helped me to understand the core concepts. I want to know difference between UiPath & RPA Leading vendors (Automation Anywhere & Blue Prism) … It will be good if it's in table format. I would also like to know Difference Between UiPath & Selenium. Appreciate if someone help me to get these details. Thanks in Advance. I'm most excited about the details your article touch based! I assume it doesn't come out of the box, it sounds like you are saying we'd need to write in the handlers ourselves. Are there any other articles you would recommend to understand this better? By the way do you have any YouTube videos, would love to watch it. I would like to connect you on LinkedIn, great to have experts like you in my connection (In case, if you don't have any issues). Please keep providing such
valuable information
. Thanks, Kumar
Post A Comment
You must be logged in before you can post a comment. Login now.
Featured Product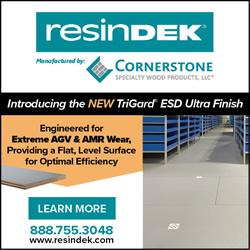 To maximize the productivity of an autonomous mobile robot (AMR) or automatic guided vehicle (AGV) deployment, it's critical to create the optimal environment that allows the vehicles to perform at their peak. For that reason, Cornerstone Specialty Wood Products, LLC® (www.resindek.com) created the TriGard® ESD Ultra finish for its ResinDek® engineered flooring panels. The TriGard ESD Ultra finish is ideal for high-traffic robotic applications characterized by highly repetitive movement patterns and defined travel paths.