PMMI and Workhorse partner to provide show attendees an exclusive glimpse at advancements in aerial automated delivery systems
Sky No Longer the Limit with Package Distribution Drone at PACK EXPO Las Vegas
Tom Egan, VP of Industry Services at PMMI, and Elliot Bokeno, Head of Workhorse's HorseFly Project | PMMI and Workhorse
Delivery methods have morphed over the years to reflect the growth of resources and technology in the supply chain. Packages that were once distributed on foot are now distributed by trucks—and now, the development of automated packaging distribution may eventually make this standard method of delivery obsolete. As direct-to-door delivery continues to change shape, PMMI, The Association for Packaging and Processing Technologies, is focused on innovation for the future. In collaboration with electric truck and drone maker Workhorse, PMMI will present an interactive visualization at PACK EXPO Las Vegas 2017 of how drones bring packages directly to consumer homes.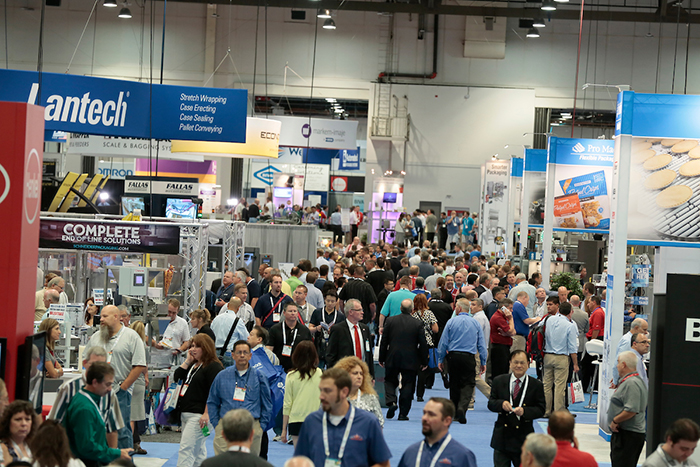 "PACK EXPO Drone Demo—Packaging for the Last Mile" will bring unmanned delivery to life across a virtual landscape of 15,000 square feet, sending Workhorse HorseFly drones from stationary electric vans to the mailboxes and doorsteps of mock houses. Hourly demonstrations of the technology will feature live video from the drone perspective. Tom Egan, vice president of Industry Services at PMMI, and Elliot Bokeno, head of Workhorse's HorseFly project, offer their insight on the potential challenges of drone delivery, as well as its advantages in system efficiency, sustainability and product safety.
1. What is the trajectory for the adoption of drones and unmanned delivery technologies?
E.B.: Unmanned Aerial Vehicle (UAV) technology is advancing rapidly, to the point where it could be deployed in a widely and in a fully autonomous fashion within two years. The current hurdle is figuring out how to integrate this technology within the appropriate regulatory bodies safely and effectively.
2. In the age of automated package distribution, what are the most important considerations that consumer product manufacturers must make in designing packaging for the new supply chain?
T.E.: New distribution channels are challenging traditional supply chains. Minimized expense, speed of delivery and product protection are priorities for drone delivery. Packages are now exposed to conditions they weren't necessarily designed for, like temperature variations and unpredictable weather patterns. Electronics may be encased in a weatherproof bag, but the outer packaging must also have added protection if a drone is delivering the product. Weight is an even bigger concern. Packaging must not add weight that would push the product beyond a drone's limitations. Size presents another challenge. For example, smart phones and other modern electronics are often packaged with dunnage around them that requires a bigger box format. Since drones are not UPS trucks, many brand owners may have to consider resizing their packaging.
E.B.: As we move toward automated processes, I think we'll see more standardized package sizes as well as potentially more "handling features" such as tabs, handles or hooks on packages for robotic assistants to grab. Also, lightweighting will play a large role as we hope to see more UAV-style deliveries where lighter weights mean more packages can be delivered at greater distances.
3. What are the biggest challenges any package faces in the last mile of delivery and how will your demonstration mimic those?
E.B.: From our perspective as an electric truck and UAV manufacturer, we see two challenges. First, getting the package to the destination using as little energy as possible. An electric truck already uses far fewer resources on a route than a traditional gasoline or diesel truck. The cost of operation per mile for one of our Electric Step Vans is about 30 cents, compared to one dollar or so for a gasoline or diesel truck. Our HorseFly UAS is an order of magnitude less, about two or three cents. So the challenge for us is to calculate the most efficient way to use that lower cost advantage as much as possible.
The second challenge is safety. We're building our UAVs to be aware not only of their immediate surroundings but also of weather conditions and air traffic in the area. When the UAV is in flight, a set of ultrasonic sensors allow the HorseFly to sense objects within 50 feet and keep their distance. The UAV also carries an onboard camera that turns on when an object is detected, and this allows a remote human observer to make a judgement call and adjust the flight path or plan accordingly. The HorseFly system on the truck also locks out the driver from sending the UAV on a delivery if the battery is too low, or if the weather in the area would not allow safe operation. The HorseFly also carries an onboard ADSB transponder, which allows the UAV to track other commercial and private aircraft as far as 30 miles away, and adjust flight plans to stay clear of them.
4. Which industries have the most challenges in leveraging drone delivery and what are suppliers doing to help them?
T.E.: Pharmaceutical companies have some difficulties getting products from Point A to Point B in areas with poor road infrastructure, such as natural disaster zones, remote locations, etc. Additional challenges come in the form of temperature control. One solution might be adding sensors to monitor temperature, but you're still exposing the product to external environmental conditions, and that would need addressing. This consideration weighs particularly heavy amid the destruction we've seen this season from hurricanes. Even a city with good road infrastructure faces significant logistical challenges during a flood.
The challenge with food products is keeping costs down to make e-commerce delivery profitable. Consumers are getting used to the idea that delivery is free, but greater convenience can lead to higher costs. Some companies may start to source contract packagers as third-party fulfillment centers, while others are considering their own direct delivery methods. Still, others might pass packaging off to a giant like Amazon, but this takes a bite out of profits for manufacturers.
E.B.: Any heavy foods, such as liquids, obviously present a larger barrier for use with a UAV, as do goods that need to stay refrigerated and require insulated packaging. We've tried to keep our concept platform as versatile as possible so that these kinds of services can be easily implemented as the technology continues to improve.
5. What packaging technologies have been most instrumental in bringing about unmanned delivery systems?
T.E.: One area that's interesting is with on-demand box making. A system can evaluate and produce a particular box size based on content, ensuring the product is protected as it travels to the consumer. In one-off cases, they look good and provide flexibility. On the other hand, there are trade-offs, such as the boxes not stacking efficiently or the drone requiring a specific profile that confines the box to certain dimensions.
E.B.: Standardized packaging sizes have helped us coordinate the overall size of the craft very well. Designing a UAV around one or two key package size dimensions from the large carriers can help engineers optimize the mechanical structures and package release mechanisms.
Catch More Cutting-Edge Technology at PACK EXPO Las Vegas
Brands seeking a firsthand look at industry advancements like drone implementation will find these new advancements at PACK EXPO Las Vegas 2017, which offers a premier opportunity for professionals in the packaging world to view innovative designs and trend-setting technologies. PACK EXPO Las Vegas will also provide educational sessions at its Innovation Stage, where industry representatives will share insights on hot topics and design developments. Also featured is The Showcase of Packaging Innovations, sponsored by The Dow Chemical Company, highlighting top packaging designs from global companies. Co-located with the PMMI-produced Healthcare Packaging EXPO, PACK EXPO Las Vegas will feature more than 2,000 exhibiting companies and 30,000 attendees, including 5,000 international visitors from more than 125 countries.
Register for PACK EXPO Las Vegas here.
About PMMI
PMMI, The Association for Packaging and Processing Technologies, represents more than 800 North American manufacturers and suppliers of equipment, components and materials as well as providers of related equipment and services to the packaging and processing industry. We work to advance a variety of industries by connecting consumer goods companies with manufacturing solutions through the world-class PACK EXPO portfolio of trade shows, leading trade media and a wide range of resources to empower our members. The PACK EXPO trade shows unite the world of packaging and processing to advance the industries they serve: PACK EXPO International, PACK EXPO Las Vegas, Healthcare Packaging EXPO, PACK EXPO East, EXPO PACK México, EXPO PACK Guadalajara and ProFood Tech. PMMI Media Group connects manufacturers to the latest solutions, trends and innovations in packaging and processing year-round through brands including Packaging World, Automation World, Healthcare Packaging, Contract Packaging, ProFood World and Packaging + Processing OEM. PMMI Business Drivers assist members in pursuing operational excellence through workforce development initiatives, deliver actionable business intelligence on economic, market and industry trends to support members' growth strategies, and actively connect the supply chain throughout the year.
Learn more at PMMI.org and Packexpo.com and PMMIMediaGroup.com.
The content & opinions in this article are the author's and do not necessarily represent the views of RoboticsTomorrow
---
Comments (0)
This post does not have any comments. Be the first to leave a comment below.
---
Post A Comment
You must be logged in before you can post a comment. Login now.
Featured Product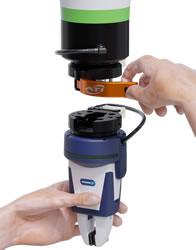 Simpler, stronger, and more precise. ATI Industrial Automation has developed a series of Manual Tool Changers that provides a cost-effective solution for quickly changing tools by hand. They feature a unique design that combines high strength, excellent repeatability, and a patent-pending screw-cam locking mechanism with multiple fail-safe features, which resists vibration and prevents loosening. These robust and compact Manual Tool Changers can handle payloads up to 80 pounds (36 kg) and pass pneumatics and electrical signals.