In the past evaluating automation was typically about the Return On Investment (ROI), but more and more companies are considering automation because they are not able to staff their current manual operations.
How Can Robotic Automation Help Alleviate Labor Shortages?
Andrea Epstein | Tompkins International
Tell us about Tompkins Robotics.
Tompkins Robotics, a business unit of Tompkins International, is focused on the robotic automation of distribution operations. Our primary system t-Sort consist of autonomous mobile robots. t-Sort is the world's first portable, automated material handling sortation system that is creating a huge paradigm shift in the supply chain and how the basic distribution function of order fulfillment is accomplished. We continue to expand this core system with complementary robotic systems to automate processes in fulfillment operations. Our systems maximize performance with mobile, scalable, flexible, and portable robotics solutions. We create profit and value for our clients; making them more agile and adaptable to the highly dynamic changes in the marketplace.
How does Robotic automation overcome the perception that it only eliminates jobs?
In the past evaluating automation was typically about the Return On Investment (ROI), but more and more companies are considering automation because they are not able to staff their current manual operations. Projects that most often focused on cost reduction are increasingly focused on the ability to get orders to customers, particularly in peak seasons. Attendees at recent tradeshows have noticed a considerable increase in the offerings of automated solutions. The potential solutions include a wide range of equipment types from the more traditional conveyors and sortation to more complex robots that have the ability to pick products from a shelf. The key to successfully reducing the need for manual labor is thoroughly vetting the various types of automation. Just because a certain type of equipment "typically reduces labor" does not mean it is the right fit and will have the same success in your operation. Careful consideration of product types and order profile must be taken in selection of the right solution.
Projections from the Bureau of Labor Statistics show the labor force growing at a slightly lower rate than the warehouse employment over the next 10 years. The largest percentage of labor force growth is expected for ages over 55. Higher paying healthcare jobs are expected to grow up to five times the national average. For the foreseeable future it appears warehousing and distribution operations will need to figure out how to continue increasing production with minimal growth in headcount.
How can Robotic automation help alleviate labor shortages, labor turnover and labor costs for retail, wholesale and ecommerce order fulfillment?
In many cases, the implementation of automation to reduce or improve the leverage of labor is a key driver now. There is a new world of automation options on the market, from robots roaming a DC/FC, to highly automated conveyors and equipment that assist staff with faster fulfillment processes. Traditionally, products are moved around a DC/FC using humans, human operated machines, or conveyor system that have been around for decades. Although robots have been around for many years, until recently, they have been very limited in capability, functionality, and performance in the world of DC/FC. Today, there are many types of robots available to help with DC/FC operation tasks. These robots can assist with loading, unloading, sorting, picking, transportation, storage, delivery, and audits. Robots helping with these tasks come in all shapes and sizes. They also use different forms of navigation tools such as rail, wire guided, labels, magnet tape, laser, vision, geo-guidance, and others.
How do firms leverage robotic automation to best meet the dynamic, ever changing requirements of today and the future?
Leaders of business operations that include at least one DC/FC and/or warehouse should involve their technical counterparts and focus in the areas that provide the best prospects for more effective management of their facilities and ultimately, their supply chain and customers. Adoption of the "top-trending" technologies including robotics automation, may fit your business strategy, but you must base your decision to adopt through due diligence, to ensure that the structure follows the strategy.
What is the future of robotics and automation in Distribution facilities? What will this look like?
Gone are the days where the only highly automated options were AS/RS, AGV, carousel, and unit sorter systems. Today product offerings are growing in the areas of automated goods-to-man stations, autonomous pick carts, picking robots, automated put systems, unit sortation robotics, and the list is growing every day. When looking at improving your facility's productivity and utilization, serious consideration should be given to these up and coming technologies as the paybacks may be quicker than you think.
Will the lights out facility become a reality?
The goal of lights out is to minimize labor. No, we do not believe there will literally be no lights, but labor will be drastically reduced. Based on technologies now available such as unit sortation – reducing order picking labor and auto baggers and boxers – reducing packaging labor.
The content & opinions in this article are the author's and do not necessarily represent the views of RoboticsTomorrow
---
Comments (0)
This post does not have any comments. Be the first to leave a comment below.
---
Post A Comment
You must be logged in before you can post a comment. Login now.
Featured Product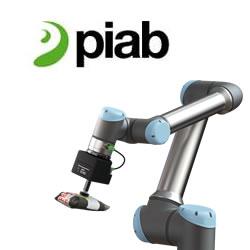 Piab's Kenos KCS gripper enables a collaborative robot to handle just about anything at any time. Combining Piab's proprietary air-driven COAX vacuum technology with an easily replaceable technical foam that molds itself around any surface or shape, the gripper can be used to safely grip, lift and handle any object. Standard interface (ISO) adapters enable the whole unit to be attached to any cobot type on the market with a body made in a lightweight 3D printed material. Approved by Universal Robots as a UR+ end effector.