Well-designed smart technology tools can help government agencies, the environment and residents. Smart cities can upgrade the efficiency of city services by eliminating redundancies and finding ways to save money, as well as provide higher-quality services at a lower cost.
Top Article for 2018 - Smart Cities are the Future
Len Calderone for | RoboticsTomorrow
The future is exciting. Especially if we live in the technological future of a smart city. Exactly, what is a smart city? What will such a city look like in 2020 and beyond? Smart cities aren't prevalent yet, but here's a preview of how intelligent a smart city could become.
A smart city's goal is to enrich the lives of its residents and the environment. The city needs to manage the resources in an urban scape that's both sustainable and inexpensive.
The smart city of the future will be a complex, interconnected network of autonomous vehicles, smart buildings and data-driven infrastructure. It will bring the Internet of Things to life on an impressive scale.
Smart cities start with smart buildings, which use automated processes to automatically control the building's operations, which include heating, ventilation, air conditioning, lighting, and security. A smart building uses sensors, actuators and microchips to collect data and manage it by concurring to a business' functions and amenities. This arrangement supports owners, operators and facility managers to develop asset reliability and performance by reducing energy use, optimizing space usage and minimizing the environmental effect.
Smart office buildings, health care facilities, hospitals, educational facilities, stadiums along with other kinds of smart buildings exist around the world. Navigant Research estimates that smart building technology will produce global revenue of $8.5 billion in 2020.
Making a building smart starts by connecting basic systems such as lighting, power, water, pumps, heating, fire alarms and chiller plants with sensors and control systems. Even elevators, access systems and window shading can be included in the system.
Creating a building as a smart building is advantageous to both the owner and the tenants working in the building. These advantages range from energy savings to productivity increases. They can also improve building operations, reinforce sustainability efforts, and improve decision-making.
The optimal building automation system learns when it should bring the air conditioning system online for a particular zone in the building, along with electrical loads that are grouped into categories from critical to high priority to non-essential. Building managers also profit from the data they collect as well as control proficiency so that they can fine-tune processes to lower energy and maintenance costs.
The Smart Building approach cuts out the experts and middlemen. A building manager can measure whether his/her actions is good for the occupants and use real data response to demonstrate that it does or doesn't.
Younger employees would consider quitting a job because of the lack of technology in their office. The concept of a smart office is vague, but many smart building technologies certainly fit into the occupant demands. This includes improved connectivity among systems, occupant control of some operational systems, and data analytics solutions to forecast failures and equipment problems.
The very definition of urban infrastructure is changing from mere physical assets to embrace data and technology. Data aids city officials to plan and operate more efficiently. Data is now available through the digitization of government and private sector records and the abundance of cheap sensors along with the growing capabilities to store, integrate, and analyze all of that data. Cities and their corporate partners need people who are trained to translate the data into tangible benefits for urban dwellers.
The best way for a city to make certain that an analytics pilot project leads to additional innovation is to concentrate the initial efforts on areas of importance that address high-priority issues and produce significant, visible results. Front-line employees will not use new tools if they do not meet their needs and do not fit into their methods.
As IoT technology becomes more utilized in everyday objects that we use, and these products communicate with one another, a more complete set of big data can be reviewed. Several possible uses for big data include city water systems that can be monitored and measured by sensors to determine if there are leaks or blockages that will influence water pressure and flow. Professionals can detect water contamination so that they can correct the situation. Data scientists can also figure out how to improve the economy, crime and healthcare by understanding patterns from the data gathered by IoT.
Automated and connected vehicle technologies are among the most seriously researched smart city technologies. Vehicle connected technologies currently available are only a portion of what is being developed for the future. The expertise for autonomous cars, connected cars, and advanced driver assistance systems overlap.
Connected vehicles are vehicles that communicate with other cars on the road, known as vehicle-to-vehicle (V2V), roadside infrastructure, known as vehicle-to-infrastructure (V2I), and the Cloud (V2C}. This technology can be used to improve vehicle safety, and improve vehicle efficiency and commute times.
The jump in quality from 4G to 5G will be gigantic and more momentous than the jump from 3G to 4G. The next-gen network will transport larger amounts of data at high speed with low latency. While 5G will offer vast improvements to the smartphone, it is unquestionably essential to the future of autonomous vehicles.
For autonomous vehicles to succeed, a seamless mobile experience is a must so that vehicles can remain continuously connected while driving. The undertaking will be to design IT architecture between the edge and cloud, while allowing for localized technology to accommodate different locals.
The introduction of 5G will lead to new and unanticipated technology trends. Artificial Intelligence will be used to analyze the large amount of data generated by autonomous vehicles and the urban infrastructure that supports them, including smart road signs and traffic lights.
Seamless connectivity would allow new trends such as live streaming of content to vehicles. We might likewise envision the establishment of in-vehicle Augmented Reality (AR) experiences where computer graphics are projected over the passengers' real-world view.
Well-designed smart technology tools can help government agencies, the environment and residents. Smart cities can upgrade the efficiency of city services by eliminating redundancies and finding ways to save money, as well as provide higher-quality services at a lower cost.
The people will get access to many advanced amenities such as excellent transportation, electricity through a smart grid, advanced applications, up-to-the-minute expertise to transform how city government works and many other solutions.
For additional information:
The content & opinions in this article are the author's and do not necessarily represent the views of RoboticsTomorrow
---
Comments (0)
This post does not have any comments. Be the first to leave a comment below.
---
Post A Comment
You must be logged in before you can post a comment. Login now.
Featured Product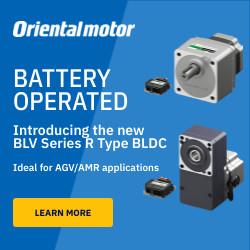 The BLV Series R Type brushless DC motor (BLDC motor) speed control system offers the design of motor and driver significantly reduced in size and weight, yet high-power, and contributes to the battery driven automation. The BLV Series R Type is compatible with the two interfaces of Modbus (RTU) and CANopen communication.