By updating their pneumatic system and the materials used to handle the blanks, Smart Pumps connected to IOLink Masters or similar communication devices, can bring smart feedback to existing press operators.
Smart Pumps & Industry 4.0
Chris Ward | Schmalz
For those people who aren't familiar with Industry 4.0, IIOT (Industrial Internet of Things), or the "Smart Factory". The underlying premise, is using different technologies that communicate with each other to increase production, identify bottlenecks, and potentially identify issues before they cause a line to shut down prematurely or crash. A common issue in my area of tooling is the "Blue Ring of Downtime", an easy to solve issue, but not easy to plan for, if you can't identify when its going to fall off.
As the press industry has grown, so have the needs of the tooling. The large press operators have moved away from Decentralized Ejectors and moved into using a Centralized Vacuum System. A traditional Decentralized system is one cup per basic vacuum ejector; fast to create vacuum, slow to release to atmosphere. With a centralized system (Compact Ejector, Smart Pump or Vacuum Pump), slower to create vacuum, but faster release through a directed blow-off (Some units even through the same tubing). Through a properly designed Vacuum system using a Compact Ejector or Smart Pump, the vacuum generation would be milliseconds slower but also potentially 2-3 seconds faster (psi dependent) for the part to release. The directed Blow-off would also release the series of cups at almost the same time, vs a fully independent release of each contact. If you use a Smart Pump (IOLink, ProfiNet, EtherCat, EtherNet IP capable units), you are also adding the ability for existing tooling to add things like Part Presence, Integrated Air-Savings (Not controlled via PLC), Condition Monitoring and Leakage Rates (for preventative Maintenance) to be tracked, and controlled by the Line Controller. So early system warnings for overall system pressure, ability to track and identify broken or damaged cups and track over-all cycles. All things that generally help keep your lines up and running.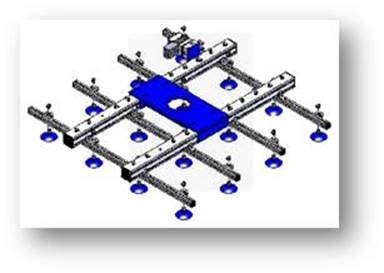 Smart Pumps are giving users the ability to modernize their current Press Operations, with little to no tooling changeover. By updating their pneumatic system and the materials used to handle the blanks, Smart Pumps connected to IOLink Masters or similar communication devices, can bring smart feedback to existing press operators. That means, they can shorten their travel times (by adding part presence), gain system feedback (Condition monitoring, and Monitoring Vacuum Levels) to develop preventative Maintenance schedules based on their current (and historical) practices. Not same money, by not completely overhauling over an existing multi-million-dollar line.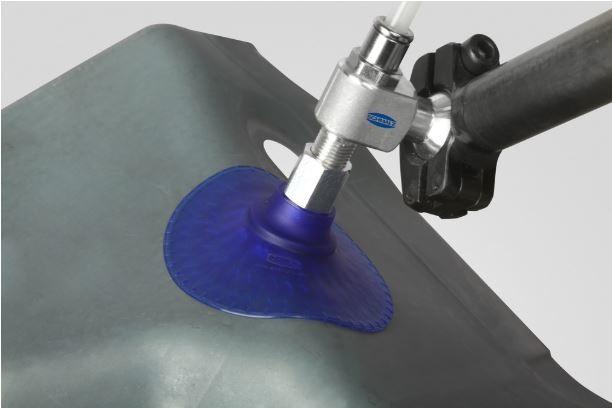 Our customer here, switched to High Speed Smart Pumps (One for each robot), added Vacuum Sensors , and switched to a Stamping Specific Cup (vs a traditional Automotive Cup). These three changes allowed them to:
Save roughly 343,728 m3/h (3 x 7 hour shifts, 220 working days 7 seconds on)

Gained individual cup feedback with Live Data, and added history monitoring

Extended the life of their cups from 2 weeks to 4+ months

Speed up their process to 8 parts per minute
Industry 4.0 doesn't need to be a buzzword, or something factories look to as they add new lines, or not be interested in because its science fiction. It's knowing what technology is available, and how to use the data within their existing systems. If you use vacuum, try a Smart Pump; if you're having problems with cups failing, add smart sensors or different material cups; identify the areas that are having issues, and look at how your process can be improved.
If you are interested in Industry 4.0 and what vacuum solutions look like in today's market, let us know! You can submit any requests for handling videos to schmalz@schmalz.ca for our "Can we lift it?" series.
The content & opinions in this article are the author's and do not necessarily represent the views of RoboticsTomorrow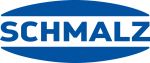 Schmalz
Schmalz is the global market leader in vacuum automation and ergonomic handling solutions. Schmalz products are used all over the world in applications in the logistics, glass, metal, automotive, packaging, and wood industry sects. The wide range of products in the Vacuum Automation unit includes individual components such as suction cups and vacuum generators, as well as complete gripping systems and clamping solutions for holding workpieces.
Other Articles
Automation and robotics create such a dynamic industrial ecosystem that it will continue to adapt to increased demand for consumer products. We'll see more artificial intelligence being deployed and utilized.
LHMT GmbH develops highly specialized tools that fully automate not only the actual scoring and milling process of printed-circuit boards, but also the loading and unloading of the sensitive circuit boards.
What should you do if you want an ergonomic lifting aid, but your ceiling height is too low for conventional crane systems? Schmalz's solution is a modular flat jib made of aluminum that guarantees smooth movement sequences, even in rooms with low ceilings.
---
Comments (0)
This post does not have any comments. Be the first to leave a comment below.
---
Post A Comment
You must be logged in before you can post a comment. Login now.
Featured Product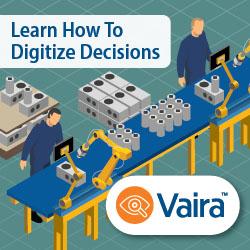 Vaira™ helps manufacturers digitize, automate, and upgrade error-prone manual processes and decisions to boost productivity and increase profits by helping humans make decisions consistent, reliable, and traceable. The camera-based solution is powered by a scalable suite of shop floor-ready apps built on proven machine vision and AI expertise for frontline manufacturing operations, with two-way integration to resource planning tools to help drive continuous analysis, insight, and improvements. Start digitizing immediately, streamlining processes customized to your unique requirements and reduce errors that lead to costs, delays, and quality concerns.