With robots available to fulfill most of the mundane jobs in construction, human workers will now be able to concentrate on more skill-oriented tasks.
Robotics Is Paving New Ground In Construction
Contributed by | Gavop
Construction robots are being used to address specific tasks, such as brick-laying, mapping and surveying, loading, and demolition. As reported by Construction & Demolition Robotics, robotics in construction will drive revenue from $22.7 million in 2018 to the $226 million by 2025. Gavop assessed the benefits of automation to equipment and some of the top robots used in construction and manufacturing.
With robots available to fulfill most of the mundane jobs in construction, human workers will now be able to concentrate on more skill-oriented tasks. Not only does that lead to high efficiency but also improves time management and overall productivity at construction job sites.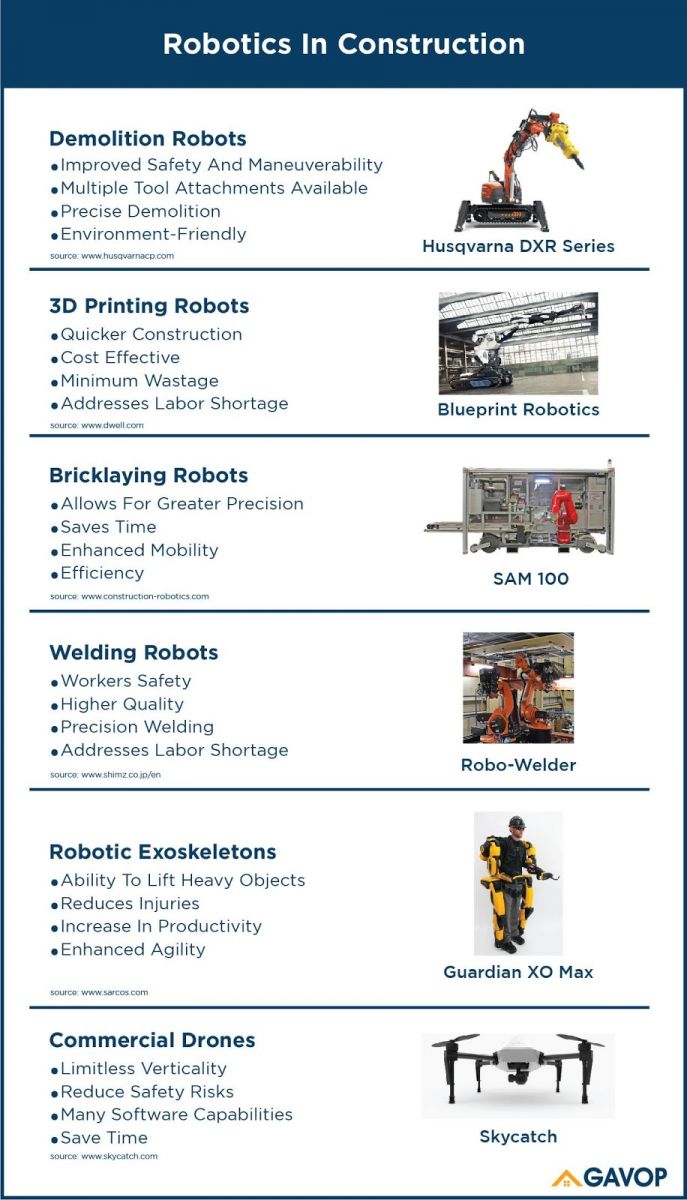 Demolition Robots
Demolition is a vital part of construction, primarily during renovation. Demolition robots are used for tearing down buildings and other various structures. There are three distinct types of demolition robots that are available or being developed: multi-tooled, hydro-powered, and eco-friendly. Demolition robots make up the majority of construction robots sold.
Improved Safety And Maneuverability

Multiple Tool Attachments Available

Precise Demolition

Environment-Friendly
Husqvarna DXR Series- These are remote-controlled, 3-phase electric demolition robots, featuring high power, low weight, and functional design.
3D Printing Robots
From building homes in a day to building a block of apartments in a week, 3D printing technology can fundamentally change the way we construct buildings. Developers and builders can now build their projects with a level of precision and speed that previously was impossible to achieve.
Quicker Construction

Cost Effective

Minimum Wastage

Addresses Labor Shortage
Blueprint Robotics- Based out of New Jersey, Blueprint Robotics can construct prefabricated walls, floors, and roof elements of your project in a panelized form significantly faster than by traditional building methods.
Bricklaying Robots
Bricklaying robots are a game-changer capable of completing the brickwork on a house in just a few days at a lower cost and a higher quality level than manual bricklaying methods. Robots can lay six times as many bricks a day as human builders can. SAM100 is a robot that can lay 3,000 bricks a day and apply mortar to any size brick and place one every 8.5 seconds.
Allows For Greater Precision

Saves Time

Enhanced Mobility

Efficiency
SAM 100 - Developed by Construction Robotics, SAM 100 is touted to be the world's first commercially available robot for on-site masonry construction. Semi-Autonomous Mason (SAM), the robot has been used to lay bricks on several projects.
Welding Robots
Across construction sites welding time has dropped dramatically since the use of robotics welding systems. Especially in countries like Japan, where there is a huge shortage of labor, robots are being used to confront a shrinking and aging workforce.
Workers Safety

Higher Quality

Precision Welding

Addresses Labor Shortage
Robo-Welder- Developed by Shimizu Corporation in Japan for welding steel columns, the Robo Welder uses its robotic arm equipped with laser shape measurement to determine the contours of a groove, or channel, on a steel column to be welded. The robot can handle all welding automatically, without any human support.
Robotic Exoskeletons
Another emerging technology is the use of robotic exoskeleton suits to enhance a task or ability the human body lacks. This wearable suit is meant to increase the strength of the average user, endurance, and speed. Employers in the US are paying over $100 billion each year over occupational back injuries, exoskeleton suits, and other such wearable technologies that can help lessen physical burdens.
Ability To Lift Heavy Objects

Reduces Injuries

Increase In Productivity

Enhanced Agility
Guardian XO Max- Sarcos Robotics recently announced technology advancements to its Guardian XO Max full-body suit. This is an all-electric, battery-powered industrial exoskeleton robotic system that is capable of allowing a human operator to safely lift up to 200 pounds repeatedly without exertion, strain or injury.
Commercial Drones
One of the biggest game changers to the construction industry has been the use of drones, also known as unmanned aerial vehicles (UAVs) to identify equipment, the stage of construction and potential safety hazards. Komatsu, the world's second-largest building firm was using human surveyors to map sites, a process that typically occupies a small team for a few days. With drones, it takes just 15 minutes to scan and create an accurate 3D map of the terrain.
Limitless Verticality

Reduce Safety Risks

Many Software Capabilities

Save Time
Skycatch- Based out of California, Skycatch has supplied its quadcopter drones to more than 5000 building sites in Japan over the past three years. With Skycatch drones you can get high-precision 3D mapping and surveying.
The content & opinions in this article are the author's and do not necessarily represent the views of RoboticsTomorrow
---
Comments (0)
This post does not have any comments. Be the first to leave a comment below.
---
Post A Comment
You must be logged in before you can post a comment. Login now.
Featured Product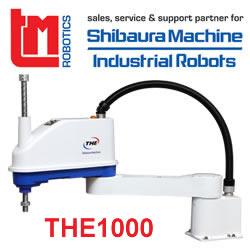 Designed for assembly and inspection applications in the electronics equipment and automobile components industries, the THE600 SCARA is a powerful automation tool. Advancing from the specifications of the existing THE400 SCARA, the THE600 has been developed to meet growing demand for fast-cycle automation. The THE600 model includes improvements in synchronised control and tracking precision. The THE600 is compact in design and offers improved high speed, with 60 per cent higher payload capacity than competing SCARA models in the same price range, making it the price-to-performance leader. Affordable price, impressive performance.