With labor shortages globally and consumer demand for products increasing, we are seeing the most demand for our system in the material handling space, companies that lease space and technology for e-commerce fulfillment and distribution centers.
Top Article from 2019 - Advanced Machine Learning Software for Robotic Systems
Q&A with Bastiane Huang | Osaro
Tell us about Osaro and your role with the company.
Osaro is an AI software company building vision and control software for industrial automation in San Francisco. The company specializes in Deep Learning and Reinforcement Learning software for industrial robots and is backed by Peter Thiel and Jerry Yang's AME Cloud. Osaro Vision enables factory facilities to automate processes including piece-picking, kitting, and machine loading.
Bastiane Huang leads the product efforts at Osaro with close to a decade of experience in the automation and manufacturing industries. Her experience in the field started in 2009 at e2v, a British space and industrial image sensor and machine vision camera manufacturer that is now part of Teledyne. She drove the formation of new AI software business at Advantech and has worked as a Senior Product Manager at Amazon Alexa. She is also actively involved with Harvard's 'Managing the Future of Work' initiative on AI and robotics, writing case studies and articles for Harvard Business Review and Robotics Business Review. Bastiane holds a B.S. in Information Management (2009) from National Taiwan University and an M.B.A in Technology and Entrepreneurship (2018) from Harvard Business School.
What type of products does Osaro make?
The company's first product, OsaroPick, integrates with automated storage and retrieval systems (ASRS) to perform various picking and placing tasks, enabling fully automated distribution centers. Osaro also offers a stand-alone Vision solution for factory automation, particularly in automotive, cosmetic, and food packaging facilities.
What do you feel differentiates Osaro from the competition?
Osaro is differentiated from the competition by superior machine learning expertise and operational efficiency in software development. Our team consists primarily of researchers and engineers working to optimize and deploy algorithms for object recognition and manipulation. Yes, we employ academic research, however, we are very focused on applications. Our solution recognizes difficult products that traditional 3D cameras cannot detect. We are also differentiated by our compatibility with existing warehouse environments. We work closely with customers to ensure a successful integration of our software with their warehouse configurations.
Top 3 Differentiators of Osaro's Product Offerings
Vision Solution: Can recognize objects traditional 3D cameras cannot detect:
Scalability: Machine learning allows lessons to be generalized, so learning is automated and no registration is needed.
Placement: Items can be aligned and either dropped quickly or placed gently, depending on SKU-specific handling requirements
Where are you seeing the most demand for your system?
With labor shortages globally and consumer demand for products increasing, we are seeing the most demand for our system in the material handling space, companies that lease space and technology for e-commerce fulfillment and distribution centers. The warehouse market is ripe for disruption. As mentioned in my medium post, the market is growing rapidly. Worldwide sales of warehouse automation technology are expected to increase from $8.3 billion in 2018 to $30.8 billion in 2022. In addition to warehouse automation, we have also seen increasing customer demands in other segments including factory and food automation. As the recent Mckinsey report suggests, there are an estimated $766 billion total wages in the US for predictable physical work, which is more likely to be automated by robots. The top 3 markets where the most predictable physical work resides are 1) accommodation and food, 2) manufacturing, 3) transportation and warehousing.
What types of products have proven most difficult to master for the system?
The products the system has the most difficulty picking are items for which suction and other modern grippers cannot grasp. These are of course edge cases for which people can handle. Osaro Vision can recognize objects that current structured light sensors cannot - jumbled items or tightly packed bins, deformable products, transparent packages or pouches, and reflective surfaces.
How does your team handle exponential SKUs that manufacturers create?
Exponential SKUs can be addressed with additional data and retrained models. In shipping warehouses, human workers need to pick and place millions of different products into boxes based on customer requirements. Traditional computer vision cannot handle such a wide variety of objects because each item needs to be registered and robots need to be programmed beforehand. However, machine learning now enables robot learning, allowing them to handle various objects with minimal help from humans.
If a robot has never encountered an item before, it will need help or demonstration from human workers. This is referred to as level 3 autonomy. Once the algorithm improves with enough data, and human demonstration is no longer needed, the robot can now learn from its own trial and error - we call this level 4 autonomy. OsaroPick will automatically collect data and update our proprietary grasping algorithms in the cloud so our system will get more and more accurate over time as it learns from human worker and robot data. This training data will steadily improve accuracy in object recognition and picking rates.
Why doesn't Osaro build hardware?
We've found that our customers (system integrators) really value flexibility. Each system integrator has their preferred robots, grippers, and sensors. The robotics industry is extremely fragmented. Every robot maker has their own proprietary interface and control languages so integration ends up taking a lot of time and resources. We would like to address this major customer pain point by providing hardware-agnostic software that's compatible with all major robotics arms. In addition, we prefer to stick to what we're good at, which is making robust machine learning (ML) software that can recognize and predict grasp poses for objects that traditional 3D cameras can't. Our mission is to build ML software that enables robots to learn and adapt to changes in the environment. Since our focus is building brains for robots, we've partnered with robotics companies, system integrators, and top material handling equipment companies to bring automated warehouse solutions to market.
With the rapid evolution of AI and machine learning how do you see robotics evolving over the next several years and how does Osaro play a role in that?
The most important difference that machine learning brings to robotics is enabling a move away from open-loop programming that relies on human data to closed-loop learning from collected data. You don't really see the difference between these two modes if the robot only does one thing. However, if the robot needs to handle a wide variety of tasks or respond to humans or changes in the environment, it needs certain levels of autonomy. We are currently witnessing a renaissance in warehouse piece picking thanks to AI-enabled robots. We will continue to see the forward progress of warehouse automation in other areas including automotive and electronics manufacturing and food assembly as companies tackle more complex tasks in less fault-tolerant environments. Osaro hopes to become a recognized leader in the piece-picking space - as our technology improves in precision and adaptability.
The content & opinions in this article are the author's and do not necessarily represent the views of RoboticsTomorrow
---
Comments (0)
This post does not have any comments. Be the first to leave a comment below.
---
Post A Comment
You must be logged in before you can post a comment. Login now.
Featured Product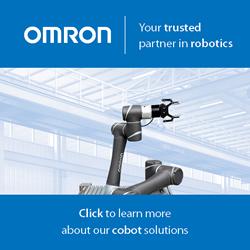 Humans and robots can now share tasks - and this new partnership is on the verge of revolutionizing the production line. Today's drivers like data-driven services, decreasing product lifetimes and the need for product differentiation are putting flexibility paramount, and no technology is better suited to meet these needs than the Omron TM Series Collaborative Robot. With force feedback, collision detection technology and an intuitive, hand-guided teaching mechanism, the TM Series cobot is designed to work in immediate proximity to a human worker and is easier than ever to train on new tasks.