Partnerships with robotic makers have been formed and robots have been tested and deployed in manufacturing facilities. These robots carry out mundane and low-value tasks.
Partnerships & New Products to Automate Growth in the Mobile Logistics Robot Industry
Research from | Allied Market Research
Manufacturers have realized the importance of automating logistic processes and deploying mobile robots. They have formed partnerships to find cost-efficient alternatives that would bring efficiency and free up employees for higher-value tasks. Partnerships with robotic makers have been formed and robots have been tested and deployed in manufacturing facilities. These robots carry out mundane and low-value tasks. Moreover, its vertical stacking can save spaces along with achieving operational efficiency. Mobile robots have been deployed and the demand is ever-increasing. According to the research firm Allied Market Research, the global mobile logistics robot market is expected to reach $11.26 billion by 2025. Following are some of the activities taking place in the industry that can bring transformation in coming years:
Partnerships to employ mobile robots for cost efficiency and productivity:
Partnership is one of the major strategies adopted by market players to improve operational efficiency. LogistiVIEW, a leading firm operating in AR connected workforce technology, partnered with Fetch Robotics. Autonomous Mobile Robots (AMRs) of Fetch will be integrated with software with LogistiVIEW's Connected Worker Platform. This will enable no-skill or low-skill workforce. Robot-assisted processes of the same complexity and level as that of conventional fixed automation can be achieved with extreme flexibility and low cost. Seth Patin, the CEO of LogistiVIEW, highlighted the firm intends to change the scenario of how robots can impact the logistic industry. Robots make the companies rethink about automation with focus on flexible and cost-efficient alternatives to fixed assets. The company would expand Flexible Automation Platform offerings with the help of Fetch's technology and carry out replacement of full conveyor systems with automation. The aim of the partnership is to enable warehouses automate in the flexible manner. There will be AI-enabled interactions between robotic solutions and workers. The ultimate objective is to shift more products and achieve tasks of more complexity with ease.
Another firm RK Logistics joined hands with Fetch Robotics and deployed robots in its distribution centers and warehouses. CartConnect autonomous mobile robots of Fetch Robotics have been tested and deployed by the firm for expanding robot-assisted support for distribution operations and warehouses. Rock Magnan, president of RK Logistics, outlined that the robots would assist in fulfillment and shipping operations for manufacturing clients. The company highlighted that the aim is not to replace 600 workers, but to help them with mundane activities. The crucial benefit of robots is to free-up employees from mundane, low-value activities such as moving cart to and fro. This automation would free up time of employees for high-value activities. Robots are helpful for final-mile operations in warehouses closer to customers. The vertical stacking is well handled by robots and they help in building warehouses upward. Robots can help in saving the space of warehouses and offer solution to issue regarding micro-fulfillment. Vertical packing in tighter space can save a lot of space. Retailers have been trying to solve the problem of final-mile with the growth of ecommerce. Micro-fulfillment robots have offered the solution. RK Logistics outlined that worker orders that were fulfilled per hour rose significantly as robots eliminated the need for employees to go back and forth to the shipping dock.
Implementation of robots to free up employees for higher value tasks:
Companies have realized the need to utilize mobile robots to perform lower-value operations and free up employees to carry out higher-value tasks. Boston Dynamics, a Waltham, Massachusetts-based company announced Handle, a mobile manipulation robot for logistics. Handle carries out mixed SKU pallet building and depalletizing once initialization and localization against the pallets are performed. An on-board vision system has been used by Handle to track marked pallets and find out individual boxes for placement. It has one hand and utilizes suction gripper to move boxes. When a box is placed on a pallet, force control to set boxes next to each other is used. The robots are designed to handle up to 15 Kg (30 lbs) of weight. The announced version has been designed for pallets that are up to 1.2m deep and 1.7m tall. The robot will be designed with optimized cost and efficiency in near time.
Another firm named Honeywell Safety & Productivity Solutions in Poole, the U.K. manufactures gas-detection equipment used for off-shore oil & mining activities. For optimizing its operations in factories, automation and robotics have been utilized comprehensively. The company automated assemblies and transportation of raw materials that were carried by trolleys pushed by employees. Two robots have automated the transportation of materials in the multi-story facility. They navigate, open doors, collect materials, and control a lift. This automation frees up employees for high-value tasks. The firm launched MiR robots into a semi-automated workflow, in which, they contained a box and were loaded in the warehouse manually. Employees used tablet to send the robot to a workstation. By employing the MiR robots on-site, the company frees up time staff members for manufacturing produce more and making the line efficient.
The content & opinions in this article are the author's and do not necessarily represent the views of RoboticsTomorrow
---
Comments (0)
This post does not have any comments. Be the first to leave a comment below.
---
Post A Comment
You must be logged in before you can post a comment. Login now.
Featured Product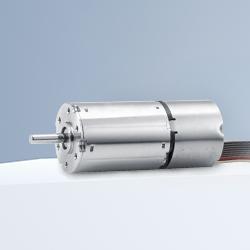 The FAULHABER Linear Actuator L series are designed to provide high performances in compact dimensions, these actuators can support large input speed, high output force and are suited for a wide range of applications like robotics, industrial machines and laboratory equipment.