The Smart Manufacturing Experience allows manufacturers to explore and get educated about emerging technologies such as additive manufacturing, automation & robotics, cybersecurity, artificial intelligence and machine learning.
Smart Manufacturing Experience 2020
Q&A about | Smart Manufacturing Experience 2020
What is Smart Manufacturing and why is it important?
Smart manufacturing is a collection of technologies that allow for key information about the manufacturing process to be available when it is needed, where it is needed, and how it is needed across the entire manufacturing value-chain to power critical decision making and deliver future profitable business advantages. It is universally seen as the Industrial Revolution that will fundamentally transform the efficiency of today's manufacturing facilities. Advanced manufacturing technologies are the key components that deliver future profitable business advantages in the manufacturing environment.

Tell us about the Smart Manufacturing Experience
The Smart Manufacturing Experience allows manufacturers to explore and get educated about emerging technologies such as additive manufacturing, automation & robotics, cybersecurity, artificial intelligence and machine learning, data analytics, augmented and virtual reality, industrial IoT and upskilling the workforce. Evolving their manufacturing operations to take advantage of these disruptive technologies provides many benefits including improving quality, productivity, and customer satisfaction.
Why are SME and AMT involved in this event?
SME and AMT are the two largest manufacturing event producers in North America. As leaders in and supporters of the industry, we know manufacturing and we understand the importance of intelligent manufacturing and its critical role in the future of the industry.
Capturing and analyzing the data generated by today's manufacturing equipment allows companies to know "what to do" and "when to do it." Robotics, artificial intelligence, data analytics, virtual reality and more help manufacturers really know what is going on in their factories and react to it in real-time. Evolving their operations into smart factories can increase productivity and quality, while decreasing downtime and costs.
Both SME and AMT strive to promote manufacturing technology and develop a skilled workforce. This event enables manufacturers to get inspired and develop their expertise in these key smart manufacturing technologies, develop the skills of their workforce and advance the future of their business.
What can a supplier of smart manufacturing technologies expect at the Smart Manufacturing Experience?
The event offers participation packages that go beyond the booth to a new level of brand awareness and industry visibility. Many of the packages provide results-oriented annual programs that include all the deliverables you need for a successful exhibit, but also lead generation, brand impressions, print and digital recognition and guaranteed leads. The bottom line is that the Smart Manufacturing Experience will deliver brand awareness, digital and print impressions and qualified leads long after the close of the show on June 4, 2020.
Couldn't manufacturing professionals find the smart manufacturing information and technologies they need online?
While smart manufacturing information can be found on the Internet, nothing replaces face-to-face engagement with suppliers; the opportunity to ask questions, build business relationships and establish trust. Also, the cost to close a sale generated from a trade show lead is much less than a lead generated any other way. Studies show that companies attend events to experience new products, talk to experts, generate ideas, and gather information for an upcoming purchase. Personal conversations can help attendees narrow their choices and get their crucial questions answered – so much more rewarding than talking to a bot.
And the Smart Manufacturing Market is projected to be valued at $299.19 billion by 2023 and grow at an average rate of 11.9% between 2018 and 2023. With the monumental size of this market segment, hoping prospects will find your website and inquire on-line is a risky decision.
Why is the event being held in Pittsburgh?
Pittsburgh is a hotbed of advanced manufacturing technologies. Its home to Advanced Robotics for Manufacturing (ARM), the leading catalyst of robotics innovation and expertise. The city has also become a cybersecurity hub created by researchers, faculty and students at several area universities. Also, thirty-five colleges and universities, including Carnegie Mellon and Penn State, are adding 4,400 new engineering grads to the workforce every year. With all this advanced manufacturing activity in the region, plus 50% of the nation's buying power located within 500 miles of the city, it makes Pittsburgh the ideal location for Smart Manufacturing Experience and the perfect forum for automation and robotic suppliers to build their sales pipeline.
For information on participating in the Smart Manufacturing Experience as an exhibit sponsor, please visit smartmanufacturingexperience.com
The content & opinions in this article are the author's and do not necessarily represent the views of RoboticsTomorrow
---
Comments (0)
This post does not have any comments. Be the first to leave a comment below.
---
Post A Comment
You must be logged in before you can post a comment. Login now.
Featured Product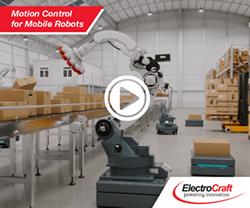 ElectroCraft is showcasing its award-winning mobile robot technology including their powerful and compact wheel drives, high-torque-density brushless DC motors, precision linear actuators as well as servo motor drive technology at a variety of conferences and tradeshows including the Boston Robotics Summit. Robotics Summit is the premier symposium for the sharing of ideas, technology, and market developments for robotic technologies across industries. Beyond a showcase and pitch of product, ElectroCraft is eager to participate in the collaborative discussion of challenges and opportunities that will shape the near and long-term robotic marketplace.