Some new technologies helped the evolution of mobile apps towards automation. It all started with the advanced data analytics engines and APIs incorporated by enterprise app developers to address user needs more precisely and contextually.
Robotic Automation is Reshaping The Future of Mobile Apps
Nathan McKinley, Business Development Manager | Cerdonis Technologies LLC
Mobile apps are increasingly getting smarter in respect of responding to user needs and in terms of helping usability in different contexts in enterprise and public environments. Think about all the time and effort a user needed to put a few years ago for getting simple things done through an app. In complete contrast, most of the day to day needful activities are done with little or no effort. Moreover, there are too many tasks that just can be automated now and can be completed without little or no human involvement. So, automation through a mobile app is now a bigger reality than ever before.
Some new technologies helped the evolution of mobile apps towards automation. It all started with the advanced data analytics engines and APIs incorporated by enterprise app developers to address user needs more precisely and contextually. Now, intelligent Chatbots and artificial intelligence (AI) based algorithms are helping mobile apps to advance the positive effects of automation for app user experience and usability.
Where the app-based automation stands now?
Since app-based automation has emerged as a driving force enterprise mobile app strategy, we need to take a closer look at the juncture where app-based automation stands now. Let us now dig out some statistics and data points that help us understand the advancement of app-driven automation across enterprise platforms.
Chatbots have become tremendously popular across all major instant messaging apps, including Facebook Messenger, Telegram, Whatsapp, Slack, iMessage, and several others. These messaging platforms are being used by a great many enterprises to stay in touch with their customers through automated Chatbot. The intelligent Chatbot integrated with these messaging apps are transforming the way businesses can address customer queries in an automated manner.
As per the research conducted by Grand View Research, the Chatbot market on a global scale is expected to grow to a figure of $1.23 billion by the time we reach 2025. Given the present state of the Chatbot market, this amounts to a 24.3% year on year growth in the adoption of the Chatbot. So, in the coming years, we can expect a vast number of companies are opting for Chatbot solutions.
Artificial Intelligence (AI) and Machine Learning are two technologies that are playing a significant role in popularizing chatbots and making the conversational bots more effective and efficient for business communication. AI is already being used by global giants like Amazon and Facebook to help to identify user intent, and recommending them to reduce and solutions accordingly. Instagram is also now using AI to showcase content as per the user intent and preferences.
Mobile App Automation: Growing Trends
While mobile app automation has emerged as a massive opportunity for the enterprises, we can only understand the expanse and influence of automation as a force by giving attention to some recent trends. Let's have a brief look at some of the key trends in mobile app automation.
Several traditional job roles that were responsible for handling repetitive tasks across enterprises will become extinct and give way for automation tools to take over.

Automation through mobile apps will primarily be utilized through the Internet of Things apps and the connected ecosystem of gadgets, sensors, and applications.

The latest data-driven analytics, AI-powered algorithms, and Machine Learning models will play the most crucial role in creating and leveraging mobile app automation across enterprises.

Customer service based upon intelligent Chatbot communication will be common across most industries and businesses, depending on prompt customer service.

Smart real-time analytics and remote monitoring will further help improving customer service communication through intelligent chatbots.

Smart mobile app automation tools will ensure a level playing field in favor of small enterprises and startups.
Fulfilling the Skill Gap
While automation has been a driving force of change for too many enterprises, the lack of skilled manpower and the skill gap have been the key concerns for most companies who are still clueless about adopting automation to their business advantage. Since small businesses are often run with old IT hardware and as their manpower often stays at the receiving end in terms of being updated with the latest know-how and skills, fulfilling this gap will be a significant roadblock to the widespread adoption of automation.
The out of the box solutions and ready to use services such as enterprise-grade Software as a Service (SaaS) and Platform as a Service (PaaS) solutions will be more popular for adopting automation and the latest tools. The small enterprises and startups that cannot embrace automation because of the skill gap and inadequate IT fund will find these out of the box solutions more useful and effective. In the future adoption of automation tools, these ready to use and affordable solutions will play a significant role.
Going Beyond the Rule-based Algorithms
Most of the industries, when it comes to automation, mainly refer to the rule-based algorithms for achieving predictable results in given situations. Well, while such rule-based algorithms are still the basic building blocks of most automation systems, including the mobile app automation tools, in the time to come, we can expect a gradual shift from such algorithms to more intuitive analytics mechanisms and solutions. The advanced AI-driven systems, Machine Learning models, and technologies like Natural Language Processing (NLP) are increasingly paving the way for this shift.
Conclusion
Robotic automation through mobile apps is increasingly paving the way for smart enterprises. But still, the mobile app automation is in the nascent stage, and it is continuously evolving. In the years to come, we can expect to see more pronounced effects of mobile app automation across industries.
About Nathan McKinley
Nathan McKinley is Business Development Manager at Cerdonis Technologies LLC - mobile app development company that bringing change in the mobile app development process with deploying Robotics, AI & ML into mobile/web application. He loves to write on various tech updates like the Mobile App, Robotics, Artificial Intelligence, Machine Learning and Internet of Things with sharing his perspective full of informative insights.
The content & opinions in this article are the author's and do not necessarily represent the views of RoboticsTomorrow
---
Comments (0)
This post does not have any comments. Be the first to leave a comment below.
---
Post A Comment
You must be logged in before you can post a comment. Login now.
Featured Product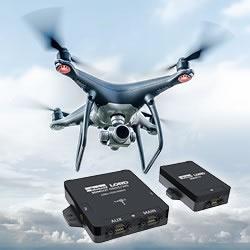 The new complete inertial navigation solution comes with GNSS/INS 3DMGQ7 sensor, 3DMRTK correction modem and real time SensorCloud RTK correction network. The sensor comes with Dual antenna GNSS, tactical grade IMU with centimeter-level accuracy with RTK. Low profile and light weight at 78 grams, this sensor is The sensor is optimized for size and weight in Unmanned Ground Vehicles, mobile robots and autonomous vehicles. The network interface 3DMRTK modem is seamlessly integrated into the 3DMGQ7 sensor supports industry-standard NMEA and RTCM 3.1 protocols. The network RTK support comes with cellular data plan. The SensorCloud RTK is a cloud-based RTK correction system with private encrypted data stream. Check out our G Series and C Series OEM products.