Last-mile delivery is the toughest and the most expensive endeavor in the supply chain. Thanks to the instant gratification of millennials, today's customer preference is extremely sensitive.
Aerial Drones And Launch Of Novel Technologies Opens New Opportunities For Autonomous Last-Mile Delivery
Swamini Kulkarni | Allied Market Research
Last-mile delivery is the toughest and the most expensive endeavor in the supply chain. Thanks to the instant gratification of millennials, today's customer preference is extremely sensitive. One wrong delivery can hurt the company's credibility and thus, inclination toward autonomy has skyrocketed over the last few years.
According to a survey, around 25% of the customers opt for the premium facility to get one-day delivery, which is possible due to autonomous technology. The trend is bound to stay. According to Allied Market Research, a research firm, the global autonomous last-mile delivery market is expected to garner $75.65 billion by 2030, growing at a CAGR of 23.7% from 2021 to 2030. The increasing demand for fast delivery and technological developments such as aerial delivery drones are the major factors that contribute to the growth of the industry.
Although the term last-mile delivery refers to the final step in the item's journey to end customers from the supplier, it does not restrict to customer parcel deliveries. What's more, the term can apply to the movement of people as well as industrial goods from their point of origin to the final destination. Thus, major market players have been investing big bucks to explore autonomous technology to minimize costs and delivering items according to consumer preferences.
Autonomy helps in cost-cutting
According to Bain, the transportation from the warehouse or hub to the parcel's final destination accounts for around 50% of a retailer's total fulfillment costs. On the other hand, the self-driving delivery vehicles could cut down the cost by 4–7% per mile. Moreover, an autonomous vehicle means no drivers to pay or protect. Autonomous vehicles are less costly to produce compared to the traditional delivery vehicles, once the expense of developing the vehicles is absorbed.
New arrivals in the market
The rise in launches of new autonomous vehicles has already begun. Recently, Container Store launched its service named Dolly that is aimed at delivering expensive items that are often tricky to deliver at the doorstep. The service has reduced the delivery time from four hours to a mere 30 minutes and it depends on handling a single order at a time that helps the deliveries on time.
In other news, the largest food-delivery network within Gulf Cooperation Council (GCC), Foodkart recently announced to collaborate with GetSwift Limited. The collaboration is dedicated to the last-mile logistics platform and now are under the software-as-a-services model. According to the company, Foodkart delivers around 18,000 parcels to more than 500 clients that are in local as well as multinational.
While the major companies are collaborating to launch a sustainable autonomous last-mile delivery system, startups are not far behind in this race. Boxbot, a California startup founded by ex-Tesla and Uber engineers announced a novel last-mile delivery system. The system is designed for e-commerce packages that incorporate a local automated hub with a fleet of street-based delivery vehicles.
The local hubs store as well as sort parcels before automatically dispatching them for delivery. According to the company, it brings these hubs closer to the residential area that makes the last-mile delivery cost-effective as well as quicker than ever. Boxbot plans to launch two types of vehicles including autonomous electric vehicles and parcel delivery vans. These vehicles can handle complex and expensive deliveries. The Boxbot vehicles can load the packages at the automated local hubs and its drivers can take care of more deliveries in less time.
Aerial drones to the rescue
With the rising demand for quick-delivery, the advent of aerial drones is absolute bliss as they offer a comparatively easy way to deal with challenges regarding last-mile deliveries.
Aerial drones hold the potential application in the logistics, especially when these services are in the hard-to-reach environment and when quick deliveries are essential, such as for transport of urgent medical supplies. In addition, drones can help reduce greenhouse emissions by 99% compared to conventional means of transportation such as trucks or cars. Keeping the opportunities drones might offer, the major market players such as UPS Inc., FedEx Corp, and even Amazon.com Inc. have launched deliveries with the aerial devices.
However, there are some challenges to overcome. For instance, technological development and regulatory framework hamper the widespread adoption of the drones in the last-mile delivery. Apart from aerial drones, there is a chance that other technologies such as electric bikes, motorcycles, and autonomous vehicles would enter the last-mile delivery market.
What does the future hold?
According to Gartner, the supply chain leaders must keep an eye on the progress of urban delivery pilot, which includes changes in legislation that allows the use of mobile robots on city streets and should assemble a team to calculate the cost, ROI, and acceptance of delivery robots across the populations. Moreover, the incorporation of autonomy should be accompanied by a change in workflow processes instead of replacing humans with machines.
For more information visit: https://www.alliedmarketresearch.com/autonomous-last-mile-delivery-market
About Swamini Kulkarni
Swamini Kulkarni holds a bachelor's degree in Instrumentation and control engineering from Pune University, and works as a content writer. She is deeply fascinated by the impact of technology on human life, and loves to talk about science and mythology. When she is not glued to the computer, she loves to read, travel, and spend time thinking how she could read and travel more often.
The content & opinions in this article are the author's and do not necessarily represent the views of RoboticsTomorrow
---
Comments (0)
This post does not have any comments. Be the first to leave a comment below.
---
Post A Comment
You must be logged in before you can post a comment. Login now.
Featured Product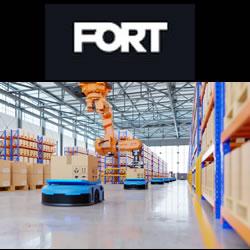 Machine safety and security are two critical components of any industrial operation. Our latest video explores this question and provides insights into how security measures can enhance machine safety. Nivedita Ojha, VP of Product at FORT, breaks down the key considerations when it comes to securing your machines and keeping your workers safe, explaining why there is no safety without security.