Which automakers are best poised to succeed in the future of mobility? That's the question prompting the appearance of many of the world's top automotive manufacturers – including Ford, Honda and BMW – at major technology shows like CES 2020 in Las Vegas.
How the Automotive Technology Showcased at CES Could Impact Vehicle Manufacturing
Article from | Omron Automation
As third-time presenters at the show, we embraced the opportunity to learn more about automotive companies' bold visions of the future and consider the ways in which our automation technologies can help these visions become reality.
Let's take a look at a few of the most prominent near-future trends on display at CES 2020.
Perfecting the in-vehicle experience
Today's consumers no longer see cars as just a means of transportation or a status symbol. The "in-vehicle experience" – including blind spot monitoring, connectivity, advanced automotive seat design and other aspects that impact the way drivers and passengers experience the vehicle – is gaining momentum and will continue to do so as autonomous driving takes hold.
BMW took this trend to the maximum with a new design that turns the interior car space into a luxurious, mobile roomette for one driver and one passenger – essentially, a purpose-built vehicle for travel with a chauffeur. The passenger can enjoy a large, cozy seat with a footrest, a screen that flips down from the ceiling and a "personal sound zone" for added privacy.
Other in-vehicle experience demos at CES included GM's integration of the Alexa voice-controlled virtual assistant from Amazon into a new Cadillac CT5 and Honda's new "Smartphone as Brain" technology that lets people safely use their phones while driving.
Bringing electric vehicles to the mass market
As concerns about the environment take front seat, many automakers are working quickly to develop electric vehicles that the average consumer will find appealing. For cleaner technologies to gain traction, they need to be affordable, reliable, and in no way inferior to other, less-sustainable options.
Electric vehicles on display at CES 2020 included Ford's 2021 Mustang Mach-E crossover, Fisker's Ocean all-electric crossover, and Nissan's Ariya electric crossover concept. Each of these vehicles is expected to have a 300-mile battery range, and the Ariya can go from 0 to 60 mph in less than five seconds.
Preparing for a multi-mode ecosystem of autonomous vehicles
Things got even more interesting as automotive manufacturers began to imagine the future of mobility not just as a collection of individual cars, but rather as a coordinated ecosystem of purpose-built vehicles that work together autonomously to bring people to their destinations, make deliveries, and even provide a mobile workstation just for kicks.
Perhaps the most elaborate and far-reaching depiction of the future came from Toyota, which unveiled its Mobility Services Platform (MSPF) that looks toward the next 100 years and beyond. Toyota envisions a versatile suite of flexible vehicles that function as a whole to provide a fully-connected mobility solution for any need that may arise.
Not to be outdone, Hyundai let its vision soar with a flying vehicle concept that could evolve into a system of flying taxis. It also showcased a flexible vehicle prototype incorporating some elements of autonomous driving.
What this all means for manufacturing
Given all the demands for versatility and customization, it goes without saying that flexibility will also be paramount on the factory floor. In order to provide drivers with the in-vehicle experience of their choice, automakers must be ready to produce a variety of cars in a way that minimizes downtime from changeovers.
Manufacturing flexibility, in turn, creates a need for better traceability. Flexible systems are inherently more complex than production lines dedicated to a single product, and it's essential to completely and accurately track all vehicle components. Traceability systems using barcode readers, RFID technology or machine vision (or a combination of these) will be paramount.
The added complexity of next-generation vehicles will create an even greater need for ensuring the viability of each part and the correct placement of components during assembly. Verification systems for labels and direct part marks will only grow in importance as the cars of the future take on more capabilities to enhance the in-vehicle experience.
Want to learn more about our solutions for automotive manufacturing? Check out our industry-specific page to discover technologies designed to help automakers overcome the challenges of today and implement their visions of tomorrow.
The content & opinions in this article are the author's and do not necessarily represent the views of RoboticsTomorrow

Omron Automation
Omron is an industrial automation partner that creates, sells and services fully integrated automation solutions that include robotics, sensing, motion, logic, safety, and more for manufacturers in the automotive, semiconductor, food and beverage packaging and other industries. Established in 1933, Omron helps businesses solve problems with creativity worldwide, with more than 37,000 employees serving over 110 countries. Adept Technologies is now a valued part of the Omron family.
Other Articles
Successful AMR implementation requires careful consideration of several key factors: space analysis, floor conditions, and environmental factors, among others.
One of the key advantages of AMRs lies in their adaptability. Manufacturing processes often require frequent changes, reconfigurations, or repositioning of equipment and materials. AMRs can quickly and easily adapt to these changing requirements.
As we will discuss in this article, cobots can add tremendous value to your operations, but you should be sure to pay attention to risk assessments and safeguarding requirements.
---
Comments (0)
This post does not have any comments. Be the first to leave a comment below.
---
Post A Comment
You must be logged in before you can post a comment. Login now.
Featured Product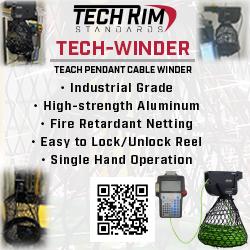 Tech-Winder is a robust solution for industrial cord management. Aluminum body, for hard impact protection. Flame retardant netting, for added protection against any sparks that may land on the cord. This industrial grade cord reel keeps your pendant cords protected and organized. Stores up to 50 meters (164 ft.) of cable in length with a diameter of 4.5 mm to 10.0 mm. Adapts to NAAMS or Modular Fencing when mounting. Help prevent your next $1,200 factory cable incident, by getting organized with Tech-Winder from Tech Rim Standards.