Linux has a lot to offer the automation industry. It is a stable and scalable alternative to Windows operating systems that allows for arguably greater connectivity between devices and systems.
Linux-based Software for Automation
Q&A with | CIMON Inc.
Tell us about CIMON.
We are an industrial automation company founded in 1999 that specializes in process control and manufacturing. While our company began in South Korea, we now have a burgeoning presence in North America, Europe, and other parts of the world. We offer award-winning products suited for a variety of industries, including factory automation, transportation, water and wastewater treatment, building automation, power management, and others. Our goal as a company is to provide advanced technology that will help facilitate the way for a sustainable and efficient future.
Some of your new products are now Linux-based. Why have you opted for Linux-based products?
Linux has a lot to offer the automation industry. It is a stable and scalable alternative to Windows operating systems that allows for arguably greater connectivity between devices and systems. It is open-source software, which is a plus, and therefore can allow a large amount of development flexibility. Linux also generally doesn't have as much downtime as Windows and is arguably less susceptible to cyber attacks. The fact is that as the industry leans towards Linux, so too must we adapt.
How do you think that will affect the future of manufacturing automation?
Well, some industries prefer Linux for the aforementioned reasons, and because of that, we could see changes in how new manufacturing technologies and techniques are designed. Overall, as Linux becomes more prevalent, we may see the OS evolve to suit a variety of needs that are specific to each industry. Advancements are in progress every day, and it's a possibility that automation will be made much easier as the OS adapts (at an increasing rate) to the needs of its consumers. Higher quality performance, increased security, greater versatility, and many other features are being looked forward to from the next iterations of Linux.
OPC UA is increasingly becoming the new standard. How is CIMON keeping up with these advancements?
Our PLC-S OPC UA module is fully compatible with OPC UA. Additionally, our UltimateAccess SCADA works with OPC UA. We know that the industry is leaning towards more open and compatible methods of communication, and OPC UA fits the bill quite nicely. There's no doubt that OPC UA is popular and will provide immense use in nearly all applications. Because of this, we are working hard to ensure that our newest products are OPC UA compatible.
Given the current situation with COVID-19, we are seeing a growing need for remote operation and management. How do your products address these needs?
We understand the convenience that remote operations provide clients, so we try to make our products as easy as possible to use. Our HMIs and SCADA, for instance, can be operated remotely, from any location and from any web-connected device, including mobile phones. We design our products to be highly intuitive and functional enough to meet the demands of the pervasive Industry 4.0 evolution. For instance, our team in Henderson is currently working on a brand new web solution.
Can you share with us some of the trends you are seeing in automation on the agricultural side?
Many companies are adopting the use of smart tech for their agricultural businesses. Such technology helps with every aspect of the agricultural business, from determining pollutant levels in soil to optimizing controlled weather conditions for crops. Machine learning, self-driving tractors, smart drones, and other devices all help maintain the ideal environment, collect crops, and complete other tasks that can sometimes be tedious. Additionally, such technology allows farmers to more easily analyze and organize relevant data so they know exactly what could be improved.
Can you share with us some of the trends you are seeing in automation on the manufacturing side?
We're seeing a real rise in MQTT protocol use, and for good reason. The protocol has existed for many years, and it's gaining traction because of cost efficiency and low power usage. Improvements have been made over time, and it's possible that MQTT becomes a dominant player in the communications protocols arena. We are also keeping an eye on cloud technology, which will allow for even greater versatility and highly adaptable data storage and analyzation techniques.
At the pace technology is advancing, what do you foresee 5 years from now?
It's difficult to say what can happen in 5 years, given that even tomorrow is uncertain. However, there could likely be advancements with digital twin technology that will allow greater project analysis with advanced simulations. AI will expand, and pretty soon, humans won't even need to be on site to monitor and complete tasks. Most things will be done by machines. Previously closed systems will become connected, and there is real potential for AR and VR to enhance automation systems by increasing the safety and reliability of data evaluation processes. We live in truly exciting times!
The content & opinions in this article are the author's and do not necessarily represent the views of RoboticsTomorrow
---
Comments (0)
This post does not have any comments. Be the first to leave a comment below.
---
Post A Comment
You must be logged in before you can post a comment. Login now.
Featured Product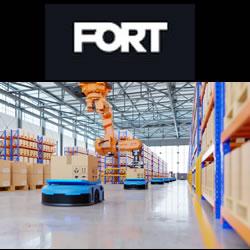 Machine safety and security are two critical components of any industrial operation. Our latest video explores this question and provides insights into how security measures can enhance machine safety. Nivedita Ojha, VP of Product at FORT, breaks down the key considerations when it comes to securing your machines and keeping your workers safe, explaining why there is no safety without security.