As for the TS5000, its communication functions enable real-time data transmission between the robot and controller, allowing manufacturers to integrate the system into a smart factory environment.
SCARA Robots for fast-cycle automation in a Smart Factory Environment
Q&A with Nigel Smith, Managing Director | TM Robotics
Tell us about Shibaura Machine and how long they have been making Robots.
The engineering origins of Shibaura Machine can be traced back more than a century, to Shibaura Engineering Works, established in 1875. Through the subsequent decades, Shibaura Machine has continued to grow and evolve. Today, Shibaura Machine is a global manufacturer of industrial robotics, machine tools, injection moulding and die-casting machines.
Shibaura Machine was recently known as Toshiba Machine, tell us what is behind the rebrand?
Shibaura Machine's name change from Toshiba Machine was formalised on April 1, 2020. The change reflects the company's formal separation from Toshiba Corporation in 2017. While the name may have changed, Shibaura Machine has achieved a seamless transition with no impact to business, customers or shareholders.
Moving forward, Shibaura Machine has focused on providing customers with greater flexibility and responsiveness. Takdahiro Mikami, president of Shibaura Machine explained, "Even though the name is changing, our commitment remains the same. Our goal as Shibaura Machine is to be a supplier of the highest quality machinery and systems, one that is well-positioned to grow and contribute to the global economy for decades to come."
Similarly, TM Robotics' commitment to its customers and global distributor network remains the same as it always has been. We're a supplier of the highest quality machinery and systems — be it Toshiba Machine, or the newly rebranded, Shibaura Machine.
What do you consider the advantages of a Shibaura Machine robot?
Shibaura Machine's expert Japanese engineering is present in every robot we supply and distribute. Customers can be assured that the quality of the robots we deal with are of the very highest that they are accustomed to and meet the previous high quality of Toshiba Machine iterations.
At TM Robotics, we have several decades of experience distributing industrial robots, this includes an extensive selection of 6-axis and Cartesian models, as well as the largest range of SCARA robots on the market.
What are TM Robotics/Shibaura Machine's R&D focuses for 2020? Any new product releases you can share with us?
Following several years of development, TM Robotics has released the new TS5000 robot controller this year. The new controller forms a launch pad for the next generation of industrial robots from Shibaura Machine, boasting faster position control, robot precision and shortened cycle times.
We also launched the THE600 SCARA robot, which builds on the specifications of the existing THE400 SCARA. THE600 robot boats twice the speed and 60 per cent higher payload capacity than competing SCARA models in the same price range.
What market factors led to the development of these new products?
As for the TS5000, its communication functions enable real-time data transmission between the robot and controller, allowing manufacturers to integrate the system into a smart factory environment. This improved communication also enables vibration analysis for predictive and preventative maintenance.
Whereas the launch of the THE600 SCARA robot was developed to meet growing industry demand for fast-cycle automation at a competitive price.
Where are you seeing this type of robot being utilized most? Can you share any examples with us?
Almost all manufacturing industries are increasing the level of automation used in their facilities. In fact, overall, 88 per cent of manufacturing companies are using robots somewhere on their manufacturing lines and we have witnessed a significant pick up in the electronics, pharmaceuticals, medical, automotive and packaging industries.
These sectors are all looking for speed, specification and easy integration with their existing automation systems, and the introduction of the THE600 SCARA fulfils this demand.
In the wake of COVID-19, what are your thoughts on the Robotics market and its growth the next few years?
Without a doubt, all sectors have been heavily disrupted during COVID-19. Witnessing unprecedented demand, as well as dramatic shifts in consumer buying habits, the industry has been forced to adapt.
Moving forward, reports suggest that the manufacturing industry is set for long-term changes in its operation and supply chains. Plus, the International Federation of Robotics (IFR) has suggested that manufacturers adopting and investing in robots will be key for achieving growth against the ongoing challenges of COVID-19.
To steer towards recovery, manufacturers may be looking to increase their operational efficiency and reduce overheads with automation and robots.
The content & opinions in this article are the author's and do not necessarily represent the views of RoboticsTomorrow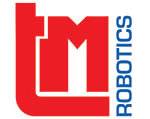 TM Robotics (Americas) Inc
TM Robotics, in partnership with Shibaura Machine, formerly known as Toshiba Machine until 1st April 2020, offers a comprehensive range of industrial robots ideally suited for high-precision assembly, machine loading/unloading and material-handling applications that can be dust proof, clean room, or IP65/67. The company's extensive product line starts with a Cartesian solution available in thousands of combinations from single actuators to four-axis solutions; six-axis solutions that can include precise vision-control; and a complete range of SCARAs from low cost to the industry-leading SCARA with 1200-mm reach that can carry up to 20 kgs. TM Robotics sells and services robots throughout Europe, the Middle East, India, Russia, and Africa, as well as North, Central, and South America, from headquarters in Hertfordshire, England and Elk Grove Village, IL, USA. For more information, visit www.tmrobotics.com or follow us on Twitter, LinkedIn and YouTube.
Other Articles
At the booth, visitors can see the TH650A robot perform a live screw feeding demonstration, developed by ASG. This is just one of many solutions TM Robotics is involved with.
You have lots of cartons coming into a typical warehouse, let's say 600 boxes per hour, and razor blades are used to cut these boxes while keeping up with intake speeds. This invites risks and employees still get injured, despite safety precautions.
Automate marks the US launch of Shibaura Machine's latest robot models — the THE800 and THE1000. These high-performance robots have been designed to meet demand for fast paced assembly applications with higher loads.
---
Comments (0)
This post does not have any comments. Be the first to leave a comment below.
---
Post A Comment
You must be logged in before you can post a comment. Login now.
Featured Product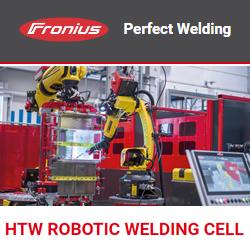 Modular, collaborative, and flexible: the "Handling-to-Welding" robotic welding cell joins parts of different geometries and materials. The task is carried out by two robots - the handling robot positions the workpieces, the second robot performs the welding. Depending on the cell configuration, lock gates are available for the inward and outward transport of parts. Furthermore, various positioners, a TCP measurement system, a torch cleaning system, a gripper station, and a contact tip change system are also possible.