The challenge for many companies is how to consistently maintain a safe workplace without creating barriers to productivity or innovation. Enter autonomous mobile robots (AMRs).
AMR Manufacturer, Integrator, and Owner: What Are Your Safety Responsibilities?
Article from | AutoGuide Mobile Robots
Understand how risk assessments and safety standards help you keep people safe
Moving materials does not need to be a risky business. Risk assessments, safety standards, technology, and taking responsibility for safety contribute to eliminating workplace risk.
From increasing profits and improved productivity to more confident employees – the benefits of a safe workplace run deep.
The challenge for many companies is how to consistently maintain a safe workplace without creating barriers to productivity or innovation. Enter autonomous mobile robots (AMRs). The very nature of AMRs and the processes involved in designing a high-functioning AMR system mean that risks are identified, and solutions are found to keep people safe and productive.
The AMR manufacturer, integrator, and owner all have important responsibilities in ensuring the AMR system is well-designed with safety at the core.
AMR Manufacturer: uses their knowledge of their robots, fleet control software, safety standards and compliance.
AMR Integrator: uses their understanding of how to design a safe AMR system.
AMR Owner: uses their knowledge of their operation, inherent risks, peak periods, payload demands, and employee concerns.
By working together and sharing knowledge, everyone has an essential role in ensuring a safe workplace where people and robots can work side by side.
In this second of our two-part series on automation and safety we focus on the roles and responsibilities of the robot manufacturer, integrator, and owner in designing and deploying safe AMR solutions. Read Safety, Your Operations, and AMRs, the first article in this two-part series to learn about AMRs and their role in safety.
Watch the Mobile Robot Safety: Risks, Responsibilities and ROI webinar to learn from Justin Holwell, Director of Hardware and Controls Engineering, about risk assessment and manufacturer, integrator, and owner responsibilities in workplace safety.
Safety Standards and Regulations Matter
There are two types of AMR safety requirements and standards crucial to creating a safer workplace:
Regulatory standards defined by OSHA in the U.S. These standards are compulsory and must be adhered to by law.
Industry standards defined by organizations to improve AMR safety requirements. While these standards are voluntary, it is in the best interest of the robot manufacturer, integrator, and owner to follow them.
Two new standards were released to address safety standards and requirements for AMRs:
ISO 3691-4 was published in February 2020. It specifies safety requirements and the means for their verification for driverless industrial trucks and their systems. Driverless industrial trucks (trucks of ISO 5053-1) can also be known as: automated guided vehicles, autonomous mobile robots, bots, automated guided carts, tunnel tuggers, under carts, etc.
ANSI/RIA R15.08 was published in January 2021. It provides technical requirements for the design of industrial mobile robots to support the safety of people who work near them. The primary audience for R15.08 Part 1 is mobile robot manufacturers. However, integrators and owners should also be familiar with these requirements. More detailed requirements for integrators and owners will be specified in R15.08 Parts 2 and 3.
It's essential to workplace safety that manufacturers, integrators, and owners read and adhere to these safety standards.
This infographic from the National Safety Council underscores the risk forklifts impose in the workplace and should motivate everyone to provide a safe workplace.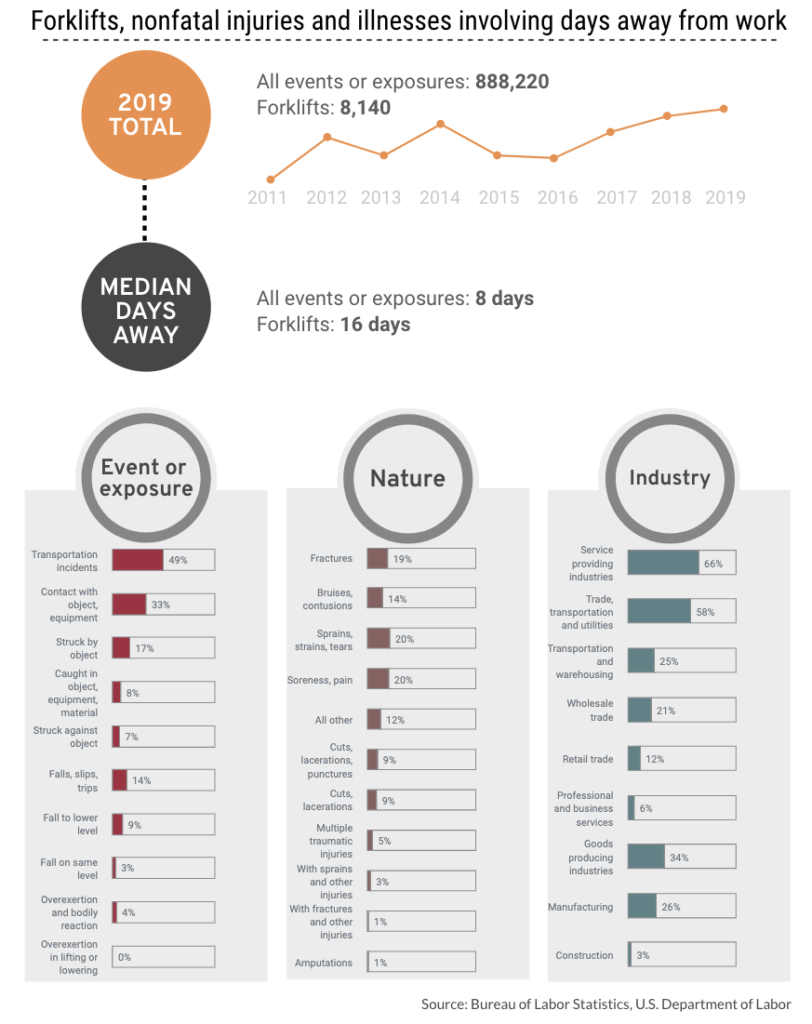 It is the clear responsibility of the robot manufacturer, integrator, and owner to complete thorough risk assessments, safety standards due diligence, and to design, operate, and maintain safe AMRs systems and a safe workplace.
AutoGuide safety and application experts can help with understanding safety standards, defining risk assessment best practices, and in the safety assessment of the overall AMR system.
Risk Assessment, AMRs, and You
The manufacturer, integrator, and owner share responsibility for safety and in ensuring risk assessments are thorough and system design is optimized for safety based on the risk assessment results.
The Canadian Centre for Occupational Health and Safety defines risk assessment as the overall process or method used to:
Identify hazards and risk factors that have the potential to cause harm (hazard identification).
Analyze and educate the risk associated with that hazard (risk analysis and risk evaluation).
Determine appropriate ways to eliminate the hazard or control the risk when the hazard cannot be eliminated (risk control).
As a robot owner, the risk assessment process gives you confidence and assurance that your AMR system is well-designed to control and eliminate risk.
An integrator, for example may use a risk assessment process that identifies specific risks and then evaluates them on a scale of low to high for seriousness, frequency, and probability for each risk. They then develop a solution architecture and deployment plan to eliminate, when possible, and mitigate these risks to ensure the system designed is as safe as possible.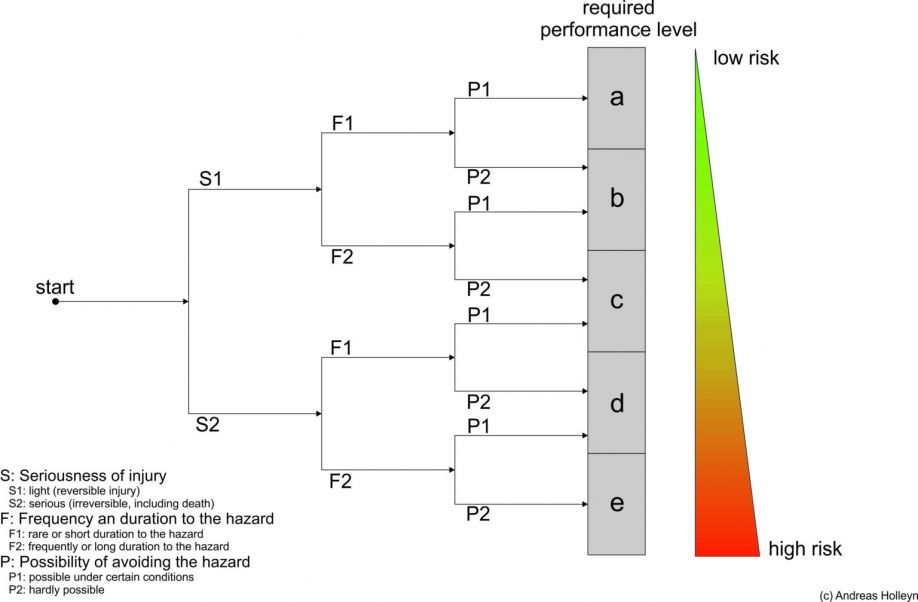 Watch our Mobile Robot Safety: Risks, Responsibilities and ROI webinar, for a detailed example of what is involved in a risk assessment and how to determine your level of risk.
A thorough walk through of the operation determines how the AMR system can help, the level of performance required of the AMR system, and how the robots need to operate in the system.
When risks are identified in a deployment, use mitigation to look for ways to reduce the severity, frequency, and probability of the risk. For example, this can include adjusting the robot speed, increasing enunciation, or adding in guarding or floor markings to eliminate the probability and frequency of the risk.
Risk assessments are a collective responsibility. The robot manufacturer, integrator, and owner should work together to define risk assessment checklists, mitigation processes, and a well-designed AMR system. Each role has a unique perspective on safety, risk, AMR capabilities, and the overall operations.
In part one of this two-part series, we discuss AMRs and their role in safety.
AMR Manufacturer: What are Your Safety Responsibilities?
The AMR manufacturer must prioritize designing an AMR that adheres to the latest OSHA and industry standards. Safety starts with robot design and the fleet control software capabilities.
The integrator, owner, and employees expect the AMR manufacturer to build a robot that uses the latest in safety and sensing technologies including:
Obstacle detection sensors, such as LiDAR scanners and simultaneous location and mapping (SLAM) capabilities.
Motor speed encoders are used for overspeed detection and a safe way to monitor robot speed, ensuring it does not exceed prescribed speed limits.
On-board safety controller that manages the robots' decisions as they navigate the facility and forces the robot to stop should an obstacle be detected. For example, a person standing in the robot's path.
Warning lights and audible alerts to warn people of the robot's presence and to indicate changes in behavior. For example, enunciating the approach to a docking area and moving into a lifting function or using turn signals to indicate a change in direction.
Emergency stop buttons that allow people to press a button and immediately stop the robot or prevent the robot from moving in an unintended start up should this be necessary.
CE certification for robots sold in Europe.
Fleet control software that maps the facility, identifies intersections and doorways, and communicates with the robots as they travel along pre-defined paths.
Watch our Mobile Robot Safety: Risks, Responsibilities and ROI webinar, for a detailed description of how AMR collision avoidance systems keep people safe and robots under control.
AMR Integrator: What are Your Responsibilities?
The integrator is responsible for assessing the entire workplace to ensure AMRs can be used safely, and designing the AMR system.
This role demands that the integrator review and understand every aspect of the operation from structural limitations and employee behaviors, through to how the AMRs will be used.
The risk assessment process must include an evaluation of:
The AMRs. Are the AMRs safe? Do they have the required safety functions and capabilities?
The environment. How big are the doorways? Where are the intersections and how busy are they? Where and how often are people and robots moving through the same area? What is the floor surface like?
Payload transfer areas. Where and how are packages conveyed? What is the location of the racks the robots will be using for pick and place? Where will loads be transferred? Are the loads stable?
Other material handling equipment. Is there other equipment being used? How is this equipment controlled and operated? How do the AMRs interact with this equipment?
People. What are the peak capacity times? How do people move through the environment? How are people currently interacting with machinery and equipment?
A risk assessment gives everyone the confidence that the AMRs can react and respond to unexpected people or other obstacles in their pathway. During the risk assessment, think about how the environment can best support people and robots who are focused on their jobs.
AMRs are designed to be safe, but this is only the first step in creating a safe workplace. The integrator needs to fully understand the environment and the expectations for the AMRs when designing the overall AMR system.
AMR Owner: What are Your Responsibilities?
The AMR owner is responsible for buying safe robots and ensuring employee safety at all times. The owner should work with the integrator during the risk assessment process to ensure the environment is assessed and understood correctly.
If the owner is also the integrator, the owner must complete a thorough risk assessment before designing the AMR system and deploying AMRs. It's crucial the owner, when acting as the integrator does not make assumptions about the environment, due to being immersed in the day-to-day operations.
To ensure workplace safety, the AMR owner is responsible for:
Buying safe AMRs that adhere to the latest OSHA and industry standards. Read Safety, Your Operations, and AMRs to learn how AMRs contribute to workplace safety.
Defining safe and functional AMR routes, and ensuring these routes account for any obstacles and people they may need to interact with.
Staying updated with changes to the environment that can impact safety and AMR travel throughout the space. For example, if shelving is moved or an extension is added, a risk assessment must be completed to ensure all routes are free from hazards and obstacles.
Ensuring payload stability, making sure the material being moved is safe and stable so the AMRs can function correctly and safely.
Maintain the floor surface conditions so the robots have the requisite traction to stop and move safely. Be aware of and prevent issues such as wet floor surfaces, debris, or obstacles blocking AMR routes.
Stay updated with local, state, county, OSHA, and industry standards, and how the AMR system is impacted. Review the latest industry standards and take advantage of safety guidelines and recommendations.
In our Mobile Robot Safety: Risks, Responsibilities and ROI webinar, Justin Holwell, Director of Hardware and Controls Engineering, uses real-world examples of how the risk assessments and safety standards fit together to help robot owners maintain a safe workplace.
An often-overlooked aspect to workplace safety is the awareness of and confidence employees have in AMRs. The robot owner should be proactive in communicating with employees how AMRs function, explaining the safety controls, and highlighting how AMRs eliminate repetitive, high-strain, and dangerous activities from the employees' workday.
AMRs and Your Safe Operations
It's time for new statistics that highlight the reduction in workplace injuries, accidents, and deaths. By designing and investing in safe AMRs, adhering to industry standards and risk assessment protocols, and educating employees, change can happen.
The content & opinions in this article are the author's and do not necessarily represent the views of RoboticsTomorrow
---
Comments (0)
This post does not have any comments. Be the first to leave a comment below.
---
Post A Comment
You must be logged in before you can post a comment. Login now.
Featured Product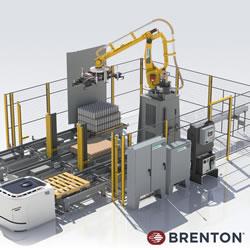 Brenton is a leader in robotic solutions with standard product offerings including palletizing and depalletizing for efficient an option for carrying hard-to-handle products, as well as larger scale systems with an optimized footprint; and case and carton loading solutions for numerous industries. In addition, Brenton works with customers on integrated solutions, offering robotics in a broad spectrum of robotics to fully integrate end of line systems. Brenton helps packaging customers protect their reputation and grow the trust of their consumers.