A recent Gartner survey showed 57% of manufacturing leaders feel their organization lacks skilled workers to support smart manufacturing digitization plans. Most agreed a long-term strategy is necessary to develop the connected factory worker.
Finding the Staff Needed: Connected Factories Driving Demand for Robotics Engineers
Article from | Thomas R. Cutler
The connected worker translates into demand for robotics experts in the manufacturing sector has never been stronger, according to Patrick O'Rahilly, founder of FactoryFix. This online platform matches vetted manufacturing workers with companies seeking specific skill sets. They set a new quality standard in how small to mid-sized manufacturers are hiring talent.
This solution is not another job board simply posting quality positions and candidates, rather a cost-effective subscription service that uniquely aligns robotics professionals with ideal skill sets. Small manufacturers are deeply reliant on these workers.
O'Rahilly suggests the responsibilities and duties in robotics vary extensively. The distinct functions require precision in selecting candidates with needed skills. Throwing a wide net to attract new quality staff is a waste of time that small manufacturers can ill afford.
A recent Gartner survey showed 57% of manufacturing leaders feel their organization lacks skilled workers to support smart manufacturing digitization plans. Most agreed a long-term strategy is necessary to develop the connected factory worker.
"Our survey revealed that manufacturers are currently going through a difficult phase in their digitization journey toward smart manufacturing," said Simon Jacobson, vice president analyst, with the Gartner Supply Chain practice. "They accept that changing from a break-fix mentality and culture to a data-driven workforce is a must. However, intuition, efficiency and engagement cannot be sacrificed. New workers might be tech-savvy but lack access to best practices and know-how — and tenured workers might have the knowledge, but not the digital skills. A truly connected factory worker in a smart manufacturing environment needs both."
Connected factory workers leverage various digital tools and data management techniques to improve and integrate their interactions with both physical and virtual surroundings while improving decision accuracy, proliferating knowledge, and lessening variability.
Change management: The biggest challenge
Organizational complexity, integration and process reengineering are the most prevalent challenges for executing smart manufacturing initiatives. Combined, these challenges reflect the largest change management obstacles.
Smart manufacturing needs technology and people
Companies are recognizing the value and opportunity for smart manufacturing. However, just introducing new technologies is not enough. The factory workers must evolve alongside the technology and be on board for the changes to come.
"The most immediate action is for organizations to realize that this is more than digitization. It requires synchronizing activities for capability building, capability enablement and empowering people," Jacobson said. "Taking a 'how to improve a day in the life' approach will increase engagement, continuous learning and ultimately foster a pull-based approach that will attract tenured workers. They are the greatest points of contact to identify the best starting points for automation and the required data and digital tools for better decision-making."
In the long term, it is important to establish a data-driven culture in manufacturing operations that is rooted in governance and training - without stifling employee creativity and ingenuity.
"It's great when workers use digital tools to build their own experiences, and in turn improve productivity. It's the manufacturing leaders' job to make sure to minimize the risk of shadow IT and ensure that digital knowledge is shared among factory workers," Jacobson concluded.
Robotics engineers
Robotics engineers are responsible for designing, testing, and building robots. These types of engineers use CAD (Computer Aided Design) and CAM systems to finish tasks. Robotics research engineers design robotic systems and research methods to manufacture them economically. Robotics engineers who work for robot manufacturers are sometimes called robotics test engineers or automation system engineers. The robots being designed are key in producing efficient products for manufacturing companies. Robotics engineers are very team-oriented workers and enjoy working within a collaborative team.
O'Rahilly insisted, "One day without a qualified professional robotics engineer on the manufacturing plant floor can be disastrous. FactoryFix has accumulated and continues to grow the largest database of candidates who each have unique expertise in performing problem identification, resolution, and continuous improvement."
O'Rahilly explained, "The result is a tremendous time and costs savings when compared to hiring through a traditional staffing agency or job board. Both have their advantages, but staffing firms are expensive, and job boards require a lot of time and effort to sift through unqualified candidates. The FactoryFix platform allows small manufacturing leaders the power to create long-term hiring strategies which empower connected factories."
About Thomas R. Cutler
Thomas R. Cutler is the President and CEO of Fort Lauderdale, Florida-based, TR Cutler, Inc., celebrating its 23rd year. Cutler is the founder of the Manufacturing Media Consortium including more than 8000 journalists, editors, and economists writing about trends in manufacturing, industry, material handling, and process improvement. TR Cutler, Inc. recently launched two new divisions focusing on Gen Z and the increasing role of Africa in the manufacturing sector. Cutler authors more than 1000 feature articles annually regarding the manufacturing sector. Nearly 5000 industry leaders follow Cutler on Twitter daily at @ThomasRCutler. Contact Cutler at trcutler@trcutlerinc.com.
The content & opinions in this article are the author's and do not necessarily represent the views of RoboticsTomorrow
---
Comments (0)
This post does not have any comments. Be the first to leave a comment below.
---
Post A Comment
You must be logged in before you can post a comment. Login now.
Featured Product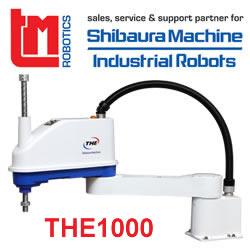 Designed for assembly and inspection applications in the electronics equipment and automobile components industries, the THE600 SCARA is a powerful automation tool. Advancing from the specifications of the existing THE400 SCARA, the THE600 has been developed to meet growing demand for fast-cycle automation. The THE600 model includes improvements in synchronised control and tracking precision. The THE600 is compact in design and offers improved high speed, with 60 per cent higher payload capacity than competing SCARA models in the same price range, making it the price-to-performance leader. Affordable price, impressive performance.