An average of 3,500 pallets are delivered and picked there every day. A large part of the pallets is depalletized with Piab's DURAFLEX® suction cups BX52P and fed into the order picking chain.
The dm Drugstore Distribution Center Relies on Piab Suction Cups
Case Study from | Piab
dm is currently the largest drugstore in Europe. The distribution center in Weilerswist, Germany, started operations in 2009. An average of 3,500 pallets are delivered and picked there every day. A large part of the pallets is depalletized with Piab's DURAFLEX® suction cups BX52P and fed into the order picking chain. The suction cups are extremely robust and enable a particularly high cycle frequency with a secure hold.
96 hours from ordering to the branch
For products to reach the branches as quickly as possible, dm has built a perfectly planned, highly efficient logistics chain. This ensures that there is only 96 hours between receipt of the order for a product in the distribution center and arrival to the branch. A central hub is the 44,000 sqm distribution center in Weilerswist near Bonn. Here, more than 2,000 employees compile the 12,500 different products for the branches day and night, which are delivered on an average of 3,500 pallets per day.
Manual and automated steps during storage
The pallets that are delivered by truck are loaded with repackaged goods. After the electronic entry via barcode and weight check, they are put into preparation for storage. In the first step, the upper pallet cover and the transport film are removed manually at the film removal station. Then three suction robots unload the pallets and place the products on the conveyor belt, where they are fed to places where employees cut and remove the VPE lids. Then the cut VPE is containerized and sent for further picking.
Fully automatic depalletizing robots ensure maximum efficiency
Preparation for storage is a central bottleneck in the logistics chain. The depalletizing robots have all the information about the pallet available via the inventory management system and unload the outer cartons in layers with a high cycle frequency. To do this, they work with a gripping head that is equipped with 350 Piab DURAFLEX® BX52P suction cups. The gripper head is placed on the pallet and presses the suction cups equipped with multi-bellows onto it. At the same time, an electromechanical blower placed next to the robot sucks the air out of the suction cups with a suction pressure of 300mBar through a flow control valve. With a capacity of 14.5 m3 / min, the vacuum holds the outer packaging securely and enables it to be transferred to the conveyor belt.
Suction cups made of a mix of materials combine durability and flexibility
The suction cups used must meet the highest requirements. On the one hand, they have to be as soft as possible in order to enable to generate vacuum quickly and safely on different, uneven and porous cardboard surfaces. On the other hand, they have to be extremely robust against mechanical influences and the abrasive effect of thousands of cycles. Since silicone suction cups would wear out very quickly, dm works with BX52P DURAFLEX® suction cups from Piab. These consist of two different components from a special mix of materials. The bellows of the suction cups is made of a stronger polyurethane PU60 with a degree of hardness of 60 Shore A, the sealing lip is made of softer, yet extremely wear-resistant PU30 with a degree of hardness of 30 Shore A. The tried and tested standard suction cups are also equipped with a fine-mesh filter screen in the bellows. This prevents dust and cardboard residues from being drawn into the vacuum system and reducing its efficiency or damaging it.
Special ventilation ensures high cycle frequency
The DURAFLEX® suction cups have a holding force of 5.5 kg and work with a special vacuum / de-vacuum process. When the bellows are placed on the pallet, they are lightly pressed together. Then the air is sucked out through a very small valve and the vacuum is created. The small valve size prevents problems when creating a vacuum if a bellows sits between two boxes or a box is damaged. After the boxes have been set down, the throttle check valve is opened, and the air gets back into the bellows extremely quickly via several holes. The system depalletizes boxes with a wide variety of surfaces and dimensions from 150 x 150 x 100 mm to 600 x 400 x 300 mm. The maximum height is limited by a downstream process. The maximum load per layer is 150 kg.
Experience from strenuous practical use
After almost ten years of continuous operation, the suction cups have proven their worth. José Luis Costa Blanco is Group Leader Technology Combi Distribution Center at dm and is very satisfied: "After the requirement profile had been determined, the general contractor commissioned by us recommended the suction cups from Piab. We are extremely happy with this choice. The suction cups convinced us with their reliability, their long service life and their absolutely problem-free handling."
Easy handling and robust practical tips
In the maintenance plan, dm specified that the suction cups should be replaced every two years. This measure is carried out proactively to ensure maximum operational safety at all times. No noteworthy damage or failures of the suction cups have so far been recorded. The handling of the suction cups is extremely simple, quick, and user-friendly. They are cleaned on the robot once a week and dismantled every four weeks for basic cleaning. For this they are washed in a standard washing machine at 60°C, dried and then reassembled.
COAX® ejectors for intermediate layer handling
In addition to the DURAFLEX® BX52P suction cups, other Piab products are used on the robot's working head. The innovative and patented Piab COAX® ejectors have proven their worth when removing intermediate layers. Thanks to the decentralized generated vacuum, they work extremely quickly, efficiently, and efficiently. After each layer has been moved, the working head first moves over the pallet and checks whether there is an intermediate layer. If this is the case, it is placed on a waste conveyor belt before the next product layer is implemented.
The content & opinions in this article are the author's and do not necessarily represent the views of RoboticsTomorrow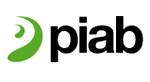 Piab Inc.
Piab provides smart solutions for the automated world, helping thousands of end users and machine producers in e-commerce logistics, food, pharma, automotive and other manufacturing industries to improve energy-efficiency, productivity and working environments. By leveraging the ongoing technological development in automation and robotics, and targeting high-growth segments and geographies, Piab's vision is to become the global leader in gripping and moving solutions.
Other Articles
A comprehensive approach to automation requires networking - not just between the individual components. Because for something really ground-breaking to emerge, already the development must be aligned.
While palletizing cartons is a regular automation application, doing so from a cold room that is regularly hosed with water to stay clean is a specific challenge. Motion Controls Robotics overcame these by using vacuum technology from Piab supplied by Neff Grp Dist.
The main advantage of having lightweight EOAT is the ability to handle the objects while not adding much weight to the end of the robot arm. This enables using smaller robots/machines as all their power can be utilized to handle the food products.
---
Comments (0)
This post does not have any comments. Be the first to leave a comment below.
---
Post A Comment
You must be logged in before you can post a comment. Login now.
Featured Product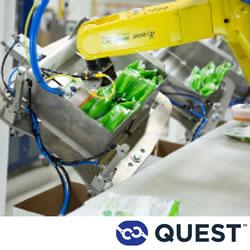 Quest is a leading manufacturer of industrial automation equipment focusing on robotics and vision-guidance. With expertise in the food, beverage, and dairy, Quest optimizes floor space for customers experiencing growing demand and helps improve their overall production line flexibility and efficiency. Quest offers application-specific software on their robotic products, including pick and place, case packing, and palletizing systems to simplify system setup and streamline configurability. Quest is a product brand of ProMach, a global leader in packaging line solutions.