Manufacturing

Marketing Partner
---

AV&R
A leader in industrial automation for 25 years, AV&R is a robotics engineering company with 80 employees worldwide. We design complex robotic systems with a high level of technology. The expertise of our team of engineering graduates has been developed on gas turbine parts (with or without coating), which today forms the core of our activities. Specifically, AV&R offers robotic finishing machines (profiling, polishing, deburring), and automated visual inspection to manufacturers of gas turbine engine parts, for both aircraft engines and power generation.
---
Mailing Address:
1203 Marie-Victorin
Saint-Bruno-de-Montarville, Québec J3V 6C3
Canada
Tel: 1 514 788-1420
Fax:
Email: info@avr-global.com
Website: http://www.avr-global.com
Company Category: Industrial Robotics
Geographic Region: Canada - East
Company Sector: Manufacturing
Keywords: Aerospace, Profiling, Polishing, Deburring, Robotic Finishi
Partner Status: Marketing Partner
---
Products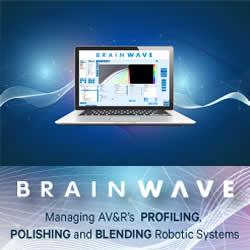 The AV&R team has developed a software for our robotic machines with the mission to make robotics accessible to everyone. This software is the glue which orchestrates the interaction between the system components in a single user-friendly interface. Comparing our machines to ourselves as humans, this software would be the control center of all faculties of the body, hence its name: BrainWave.
---
Articles
Robots and software work hand in hand, but what does this mean in concrete terms? How is software essential for robots? Why and how is it necessary to develop software specifically adapted to robotic applications? What are the future trends in software for robotics?
What are the differences between these two CNC and robotics systems? What are their characteristics and how do you determine which one is best suited to the needs of your industry?
---
White Papers
This Company does not currently have any White Papers
---
---