Manufacturing

Marketing Partner
---

Denso Robotics
DENSO offers a wide range of compact four-, five- and six-axis robots, for payloads up to 20 kg and reaches from 350 to 1,300 mm. Repeatability is to within 0.015 mm. ANSI and CE compliance allows global deployment. UL-listed models are available for both the U.S. and Canada.
---
Mailing Address:
3900 Via Oro Avenue
Long Beach, CA 90810
United States of America
Tel: (888) 476-2689
Fax:
Email: info@densorobotics.com
Website: http://densorobotics.com/?utm_source=Robotics_Tomorrow&utm_medium=Product
Company Category: Industrial Robotics
Geographic Region: USA - South West
Company Sector: Manufacturing
Keywords: Small Assembly Robots, Indusrial Robots, DENSO
Partner Status: Marketing Partner
---
Products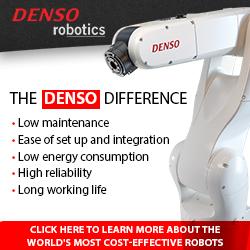 DENSO is the world's largest manufacturer - and user - of small assembly robots, employing over 17,000 of its robots in its own facilities. Over 77,000 additional DENSO robots are used by other companies worldwide. The compact, high-speed robots are used in traditional manufacturing sectors, as well as in advanced-technology applications in the medical, pharmaceutical and life sciences industries. Learn more about DENSO Robotics
---
Articles
Booth #4139 - DENSO's newest 6 axis robot, Cobotta, we have targeted the marketing of small, delicate parts handling, with the selection of both an industrial mode of operation, as well as, a collaborative mode of operation.
DENSO will be leading an Expert Huddle this year at Automate. The discussion topic will be "How do you Determine the True Cost of Ownership for Robotics?"
---
White Papers
This Company does not currently have any White Papers
---
---