Manufacturing

Marketing Partner
---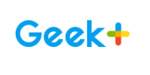 Geek+
Geek+ is a global technology company leading the intelligent logistics revolution. We apply advanced robotics and AI technologies to realize flexible, reliable, and highly efficient solutions for warehouses and supply chain management. Geek+ counts 300 global customers and has deployed more than 10,000 robots worldwide. Founded in 2015, Geek+ has over 800 employees and is headquartered in Beijing, with offices in Germany, the UK, the US, Japan, Hong Kong, and Singapore.
---
Mailing Address:
2051 Palomar Airport Road #105
Carlsbad, California 92011
United States of America
Tel: +1 (714) 321-9404
Fax:
Email: sales@geekplus.com
Website: https://www.geekplus.com/
Company Category: Mobile & Service Robots
Geographic Region: USA - South West
Company Sector: Manufacturing
Keywords: automation warehouse factory mobile robots
Partner Status: Marketing Partner
---
Products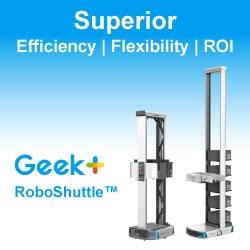 The Geek+ RoboShuttle™ bin-to-person picking solution can achieve high-density storage by using the innovative Geek+ C200 narrow aisle design while maintaining high operating and storage efficiency. The robot uses the Geek+ intelligent system, with AI algorithms covering order analysis and robot scheduling to make entire warehouse operations more flexible, scalable, and productive. The RoboShuttle™ can be connected to a variety of automation equipment such as conveyor lines and other robots, which is convenient for integration and customized project deployment.
---
Articles
As retailers forage for new ways to cope, many have decided to close down physical stores and focus on restructuring their business, either through expansion of online retail or introduction of novel business concepts.
To manage growth in eCommerce and its associated challenges retail companies will need to embrace automation. Smart logistics provider Geek+ and market research firm Interact Analysis cooperated to create a whitepaper to discuss the future for smart logistics automation.
---
---
---