Education / Training

Marketing Partner
---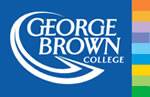 George Brown College Online Robotics Training
George Brown College (GBC) is a fully accredited post-secondary institution and has established a reputation for equipping students with the skills, industry experience and credentials to pursue the careers of their choice. It is the third largest provider of distance education courses in North America. The self-paced distance education programs in Automation, Electronics, Electromechanics, PLC's and Robotics are designed for adult learners seeking independent study in the rapidly growing field of manufacturing technology. Created for those who cannot attend college on a part- or full-time basis due to other commitments such as work and family, these programs have no post-secondary academic prerequisites. This Robotics Technician certificate program introduces the concepts of industrial robots and explains how they are used in a plant or manufacturing system. The primary focus of the program is on automated manufacturing processes, as well as the role of robots and their support equipment.
---
Mailing Address:
160 Kendal Ave. Rm C420
Toronto, Ontario M5T 2T9
Canada
Tel: 1-888-553-5333
Fax: 416-415-4683
Email: info@gbctechtraining.com
Website: http://online-tech-training.com/robo/
Company Category: Industrial Robotics
Geographic Region: Canada - East
Company Sector: Education / Training
Keywords: online, education, certification, Online Robotics
Partner Status: Marketing Partner
---
Products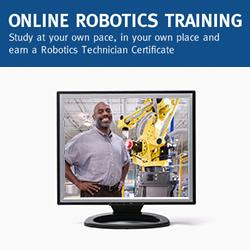 As one of North Americas largest distance education providers, George Brown College offers a self-paced training alternative for students who cannot attend the traditional college environment on a full or part-time basis. Our Robotics Technician program is designed for students interesting in building their technical knowledge and skills in industrial robots. Areas of study include: Motion programming, Palletizing and conveyor systems, Computer networking and integration, Automated sorting systems, Vision and tactile sensors.
---
Articles
The purpose of this program is to help graduates prepare for career opportunities in a variety of positions in field including automation, process control, PLCs, robotics, packaging, power generation, mining, machine design, and building automated systems, maintenance, transportation, systems integration, component testing, technical sales, quality control and a host of other fields.
The program is offered in an asynchronous format, which means you can study any time, any place. We also offer a "pay as you go" tuition option where students pay for each course as they complete it.
---
White Papers
This Company does not currently have any White Papers
---
---